Luxury is arguably the industry that has undergone the most disruptive changes. What are the key trends that will shape its future and what does it take to build a successful career in an industry that never ceases to reinvent itself? Dr. Federica Carlotto, Program Director of MA Luxury Business shares an overview on what to expect.
---
Conventionally associated with heritage and exclusivity, the luxury business has thrived thanks to well-known brands catering to a selected market while at the same time luring aspirational customers with affordable promises of elevation.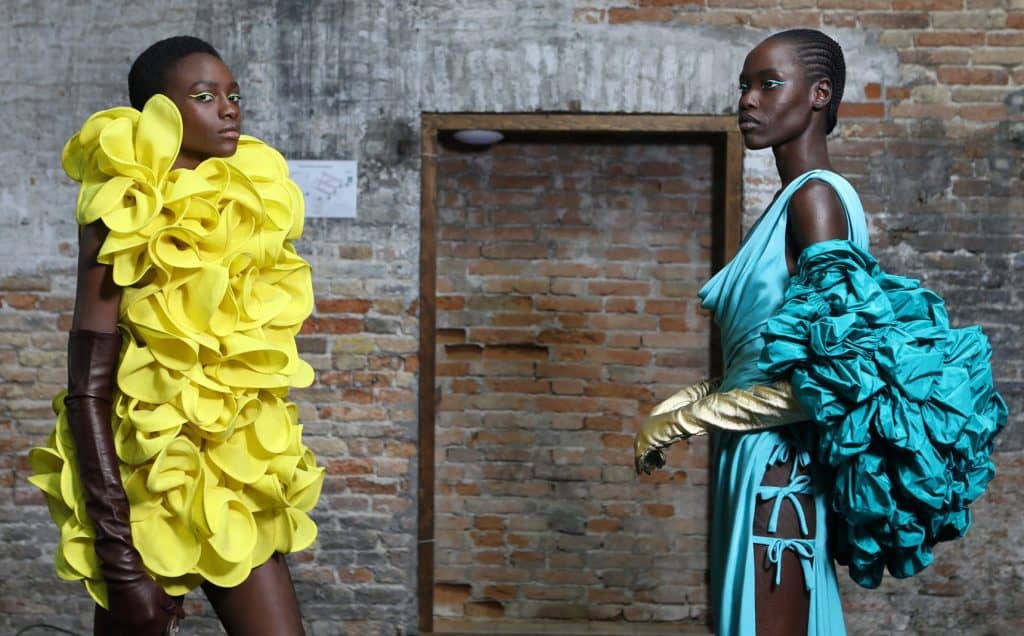 Valentino Fall/Winter 2021 Courtesy Maison Valentino 
However, in recent years, luxury companies and brands have begun to question the status-quo, and started embracing values such as sustainability, inclusivity, customer-centricity. As a result, the concept of luxury has morphed into something different, unexpected, almost contradictory. The recent pandemic has further accelerated this process, shaping the landscape that luxury brands will have to navigate from now on. Looking into the future, these are the key global trends for the luxury business:
1. Social Leadership
Recent environmental and social issues have called luxury companies to take a clear and active stance.
From LVMH to Kering, luxury conglomerates have devised long-term plans and institutional roles to implement sustainability and promote diversity. Luxury players are also promoting initiatives focussed on specific causes. Chanel has launched Mission 1.5° to tackle climate change. Hermès is experimenting with leather alternative materials (Mylo), while The Burberry Foundation has set up a 5-year program for sustainable cashmere farming. LVMH initiative "Elles VMH" encourages women's professional development. Through its Changemakers Scholarship, Gucci aims to facilitate the education of disadvantaged students from American HBCU (Historical Black College and Universities).
Going forward, luxury businesses will have to maintain meaningful connections with their environmental and social communities; champion ethical business practices; catalyze responsible behaviors. Ultimately, the expectation is for luxury companies to further build their social leadership and become activists for change.
2. Tech-engagement
During the pandemic, technology has been the lifeline for many companies to keep their operations going. It has also proved its crucial role in setting the next level of customer engagement.
Luxury companies have successfully ventured into gaming and VR implementations, such as Balenciaga turning its Fall 2021 Collection, Afterworld: The Age of Tomorrow, into a volumetric, interactive journey. Gucci and The North Face have teamed up with Pokemon-Go to offer a special collection of avatars, while Animal Crossing gamers can enjoy glamorous virtual island, courtesy of Net-a-Porter. Burberry's S/S 2021 fashion show has been live-streamed on gaming platform Twitch. In the latest Louis Vuitton videogame, Louis: The Game, players can collect 30 NFTs.
Increasingly so from now on, luxury companies will need to integrate the creative possibilities of technology with data-based customer intelligence.
3. Collaboration with Art
As first treated as a marketing stunt or a commercial fad, collaborative initiatives between luxury and art have proveen to be the conduit to creative and cultural depth.
The latest Valentino's haute couture collection is the result of the creative dialogue of 17 painters with the human body canvas. Curator Hans Ulrich Obrist joins Moncler's discussion on the role of creativity in the digital society, while Yana Peel, former director of the Serpentine Galleries, is now at the helm of Chanel's projects with art and culture. Sotheby's Talks offers a platform for thinkers, artists, creators to discuss culture today. Through their continuous engagement with artists, artisans, and creatives, Kim Jones (Dior), Jonathan Anderson (Loewe), and Virgil Abloh question the very same conceptual boundary between art and luxury: do we really have to separate luxury from art?
Luxury customers and audiences are now more than ever looking for meaningful stories behind what they consume, objects as well as content. In its interaction with the other creative and cultural industries, luxury will have an increasingly important role in shaping the future of culture.
Takeaways for a successful career in the luxury business
From a niche industry, luxury is headed to become one of the most relevant business activities at a global level. Since the 90s, the luxury industry has seen constant growth, reaching 280 bil. Euros in 2019.[1] It has also shown incredible resilience during the Covid-19 crisis, with the main luxury companies (Hermès, Louis Vuitton, Chanel) already bouncing back to their pre-pandemic sales levels. What does it take to build a successful career in an industry that never ceases to reinvent itself?
Whether working for a luxury company or leading their own businesses, the next generation of luxury professionals will need to understand the wider role that the luxury business plays for the environment and our society at large. Capture what is current and relevant for their customers, audiences and communities. Liaise with other creative and cultural sectors to make luxury current, exciting and unconventional – luxury companies already have specific professional roles to manage their special projects, while business consultancies have started appointing Creative Chairmans to drive creative excellence and customer experience.
The MA in Luxury Business offered at Sotheby's Institute of Art provides the students with the intellectual and practical skills to capture the complexities of luxury, leverage its current and future disruptions while looking at the synergies with other creative and cultural industries, such as the art world.
The master's program blends bespoke learning contents, industry guest speaking events, field trips in luxury capitals of the world, Milan and Paris. In the program, students interact with professionals from key luxury players (Sotheby's, Claridge's, Farfetch, Dior, Burberry, Chanel, Bottega Veneta) as well as start-ups, consultancies, agencies. Through behind-the-scenes visits to Louis Vuitton, Fortnum and Mason, Dom Perignon, Ferrari, Aston Martin, Chaumet, 5 Carlos Place, etc., students get privileged access to the operational aspects of the luxury business. They hone their professional approach to the luxury industry through tailored lectures and workshops about sustainability, strategy, branding, consumer behavior, customer experience design. Interested in beginning your luxury business career? Read more on how to get started in the luxury industry.
Dr. Federica Carlotto, MBA, Program Director of MA Luxury Business
---
Cultivate an in-depth understanding of the ever-changing business of luxury and set yourself up for success in one of the fastest-growing and most exciting industries globally. Explore the MA in Luxury Business.