Master's programs at Sotheby's Institute of Art cover five principal subject areas: Art Business, Arts Management, Contemporary Art, Fine and Decorative Art and Design, and Modern and Contemporary Asian Art. Within these subject areas students can take a wide range of tracks and concentrations, enabling them to create their own career pathway. Visit our campus pages to see the full curricula of each program.
---
MA Art Business
Our pioneering Art Business program was introduced in 1998 to provide a vocational bridge for traditional art history students into the wider commercial art world. Art Business is now a developed academic discipline in which Sotheby's Institute plays the leading role. Balancing academic rigor with real-world applications in a dynamic learning environment and privileged access to art market institutions, these programs equip students with the skills and knowledge in art markets and business management, connoisseurship and collecting.
---
MA Art Business + Fine Art
A first of its kind program, this innovative MA is designed for a new generation of artists looking for the entrepreneurial acumen that is necessary today to build a sustainable creative practice and professional life in the arts.
The new program merges studio practice from Claremont Graduate University's Master of Fine Art (MFA) program with coursework in the business, markets, history and theory of art, as well as core courses in finance, accounting, law, and marketing. Students maintain a fine art practice while learning broadly transferable business and management principles and techniques. In contrast to a conventional MFA, candidates for this degree pursue an entrepreneurship sequence, capped by the Startup Studio—a course in which creative initiatives are pitched to panels of artists, arts professionals, business leaders, and entrepreneurs from the Los Angeles community.
---

MA Art Business + Information Systems & Technology
Marrying the core curriculum of Sotheby's Institute of Art's degrees in Art Business and Arts Management with core courses offered by Claremont Graduate University's Center for Information Systems and Technology (CISAT), this unique "arts and technology" interfield MA is designed for students with an interest in the application of computer and data science to arts and cultural fields, or for students with an arts background who have a demonstrated interest and capacity for software engineering and information technology.
---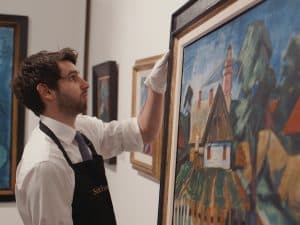 MA Art 

Logistics


Art world logistics and operations are rapidly expanding fields with accelerating employment opportunities.This pioneering Master's program provides students with the diverse practical training and theoretical overview necessary to excel in one of the most important career paths in the professional arts world. The art world is vast, complex and rapidly changing environment where the care, display and movement of art objects are multi-million dollar issues requiring high levels of thought and expertise. Students on this program will explore these operational approaches towards art objects and the logistical issues related to moving art from one location to another. They will become familiar with the power of positive disruption through technology and the growing use of big data and digital applications in business practice. The stewardship, management, and movement of art objects is essential to operating a successful commercial or non-profit visual arts organization.
---
MA Arts Management

Arts Management focuses on performing arts organizations and museums, as well as on the nonprofit infrastructure of arts and cultural organizations more broadly. Arts Management students typically pursue careers in program management and development, audience engagement and outreach, fundraising for the arts, arts education, arts policy and research, and arts access.

---
MA Contemporary Art
The Sotheby's Institute of Art MA in Contemporary Art, introduced in 1991, was the first specialized Master's program in the subject. Focusing on art from the 1960s to the present, the graduate Contemporary Art programs combine strands on art history, curatorial studies, critical theory and professional development. Located in these two art world centers, Contemporary Art students can expect to augment their lectures and seminars with guided study visits to artists' studios, galleries, museums, and private collections. Study will prepare students for a wide range of careers in the art world in the profit, public and not-for-profit sectors by providing them with a strong understanding of historical developments, critical theory, and institutional networks in the world of contemporary art.
---
MA Fine and Decorative Art and Design

The Fine and Decorative Art and Design Master's programs are the most closely linked to Sotheby's Institute of Art's original Works of Art program that started in 1969 and trained several generations of auctioneers from around the world. This is a Master's degree that takes an object-focused approach to the study of the fine and decorative arts and design. Old and modern masters spanning centuries of the art and design fields are studied in depth, often up-close. The hands-on approach equips students with sophisticated visual, critical and research skills, and extensive connoisseurship experience necessary to evaluate objects and to engage directly with the marketplace.
---
MA Modern and Contemporary Asian Art
The market and audience for Asian art has grown considerably in the past thirty years, and with that there is an increasing need for professionals with Asian art expertise in public museums, galleries, auction houses, art fairs and biennials in cultural centers around the world. This new Master's program provides students with the critical tools for understanding the growing field of Asian art by bridging rigorous intellectual input, in the form of lectures and seminars, and real-world experience of art in situ at exhibitions, installations, auction previews, art fairs and specialist showcases.