Tailoring studies at SIA provides a sense of agency and influences the overall student experience. The hands-on work placement elective supplements MA programs in a bid to provide first-hand insight.
---
This year 29 MA students successfully took part in a bespoke, experiential placement elective which allowed them to spend 2.5 days per week working for organisations across London's art world for 2 months.
The elective has been designed to enable students across our MA program to gain valuable work-based learning whilst undertaking their degree. The scheme also allows employers to work with postgraduate students – the next pool of talent – who bring fresh ideas, critical thinking, and enthusiasm to their businesses.
About the Work Placement Elective
Students undertook a diverse range of projects, from researching provenance of artworks and the rapidly evolving NFT market to archiving artists' estates and supporting with high-profile events including the prestigious Mayfair Art Weekend.
As a result of the elective, students developed professionally relevant competencies and relationships, gained exposure to a professional field and an understanding of the requirements and nuances of professional etiquette in the international art world.
Of the students who took part 6 were offered further paid work with their host organisations allowing them to successfully continue their art world careers here in London.
In Their Own Words
Here's a look at what students and employers had to say at the end of the semester-long experience.
The Fine Art Group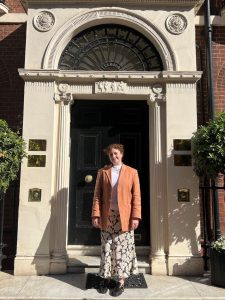 "Many thanks to Sotheby's Institute of Art for providing Sarah as a work placement student here at The Fine Art Group. As a supporter of Arts education (and an alumna of SIA myself), TFAG recognises the importance of supporting students, as well as the benefits they can bring to organisations such as ours. Sarah came to us with a wealth of relevant knowledge and provided value in her position immediately. As a result of the placement, we were happy to offer her a post within the company." Lisa Hockfield, Registrar, Collections Management at The Fine Art Group

Image: Sarah Kapp who was offered further employment with The Fine Art Group.
---
Mimosa house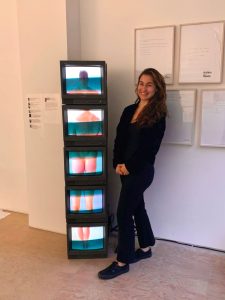 "It has been great getting to see the behind-the-scenes of a gallery, which is a busy environment, especially in the run up to an exhibition. I have been involved with the production process of a show, titled 'The Baroness', at Mimosa House in London. I have learnt a lot from my supervisor, Divya Osbon (Gallery Manager) including how important it is to be patient, hard-working and to keep a positive attitude in the workspace." Nese Selamoglu, MAAB student
"It has been a great experience to be part of the placement scheme and work with students from Sotheby's who are bright and attentive and take a keen interest in our work. We have been able to get their input on a range of tasks including the everyday running of the gallery as well as students managing their own projects such as the drafting an environmental strategy. We look forward to seeing what our next student brings." Divya Osbon, Gallery Manager, Mimosa House
Image: Nese Selamoglu
---
Browse and Darby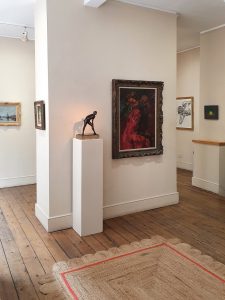 "We decided to participate in the scheme as a way to help someone looking to enter the art world gain experience in a gallery. We are a very small team and we are not usually able to offer internships so it was a great opportunity for us to be able to show someone how a gallery of our size operates. Neil has been helping us in the run up to, and the first two weeks of our major exhibition." Kirstie Davidson, Gallery Manager, Browse and Darby
"My work placement with Browse and Darby proved to be the perfect introduction to the commercial art world. My arrival coincided with their 45-year anniversary exhibition providing the opportunity to review and write about high-quality Modern British Art. Perhaps the most valuable opportunity the gallery gave me was to explore and understand the art gallery business model and the British Modern Art marketplace within London. This will prove invaluable when determining my next career step." Neil Graham-Wigan, MAFDAD student
Image: 45 Years installation at Browse and Darby

---
Participating Employers
This year 24 organisations from a diverse range of sectors took part. There were participants spanning commercial galleries, art advisory, publishing, non-profit spaces, and auction houses among others. Each of the following hosted one or more students:
3812 Gallery (Asian Art)
Amanda Wilkinson Gallery
Aspara Studio
Art Discovery
Art Loss Register
Art Tactic
Bastian Gallery
Browse & Darby Gallery
Cardi Gallery
Convelio
Dickinson
Fine Art Group
Gallery Climate Coalition
Gillian Jason Gallery
JD Malatt Gallery
Lindon Co & Gallery
Lund Humphries (Publishing)
Marian Goodman Gallery
Mayfair Art Weekend
Mimosa House
Omer Tiroche Gallery
Sadie Coles
Saatchi Yates
Sloane Street Auction