In a contemporary context, people talk about "curating" in the context of parties, bedrooms, and even meals. Traditionally, however, the curator is a steward of art objects, as indicated by the Latin etymology of "Curarae" or to take care of, attend to. Today, the role of contemporary curators rests between two interpretations: the art curator takes care of the works, but also gives them a larger context, framing objects intellectually, historically, and socially. A good curator provides information, connections, and even contrasts to understand what makes art relevant today, and not only reflects meaning but contribute to debates and new understandings.
As the field of curating, and the very definition of curator, shifts, here are three trends defining curating today, as identified by the MA in Contemporary Art program faculty at Sotheby's Institute-London.
---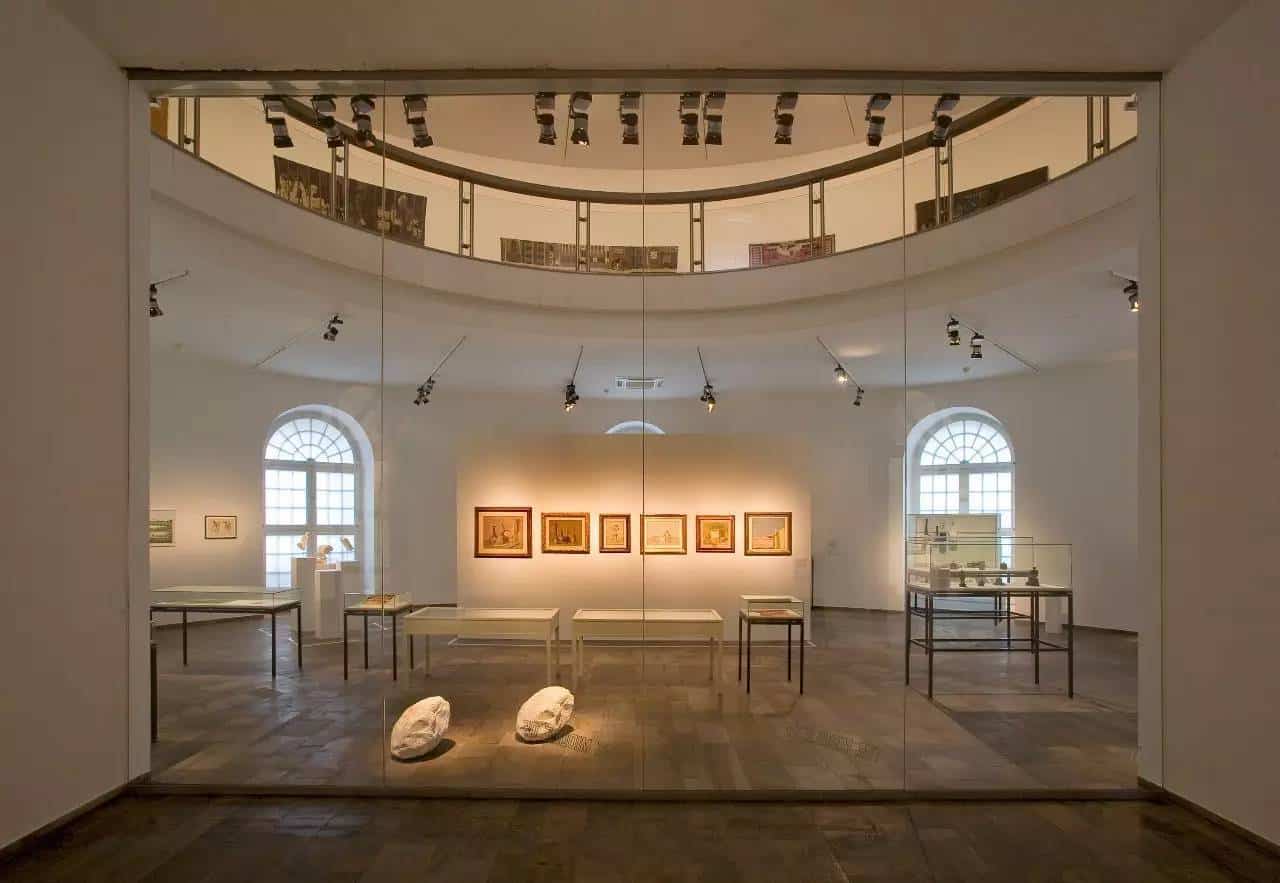 "The Brain" at Documenta 13, Kassel (2012), curated by Carolyn Christov-Bakargiev
Blurring of roles
Since the mid-1990s, curating has come to be seen as a creative activity, and there is more overlap between the artist and curator than before—they are increasingly engaged in similar activities. The curator is, more and more, an auteur who experiments with different formats, different ways of experiencing the art, and creating different meanings. Like an artist, the contemporary curator tests old formats and invents new ones.
Case Study: The Brain
Documenta is the single biggest event in the Contemporary art calendar. It spans the entire city of Kassel in Germany, and is so extensive that it is almost impossible to experience in its entirety. Documenta has a huge budget and a long lead time for planning, as it recurs every 5 years. Due to these factors and more, Documenta is seen as the peak of a curator's career.
In 2012, Carolyn Christov-Bakargiev created and curated The Brain, a small room positioned at the center of the sprawling exhibits and activities across the city. Instead of star pieces by prominent artists, The Brain showed fossils, diagrams, architectural plans, little objects from artists studios, photos of bomb craters in Cambodia or Lee Miller taking a bath in Hitler's bunker, and even small works by Sunday painters. In The Brain, not everything was an art object, nor were all contemporary. But together, the eccentric objects in the room indicated various lines of inquiry to apply to the exhibits throughout the rest of the city: the life of objects and what a damaged object means; how art helps us remember, or pushes us to forget.
This novel curatorial stance gave visitors a sense of what to look out for across the entire city and to navigate the rest of the vast show with a unique key, sparking new neural pathways and interpretations across the rest of Documenta. By creating a central legend to the rest of the fair, a type of Rosetta stone, the whole of Documenta became a different experience—and The Brain a new format for curating.
---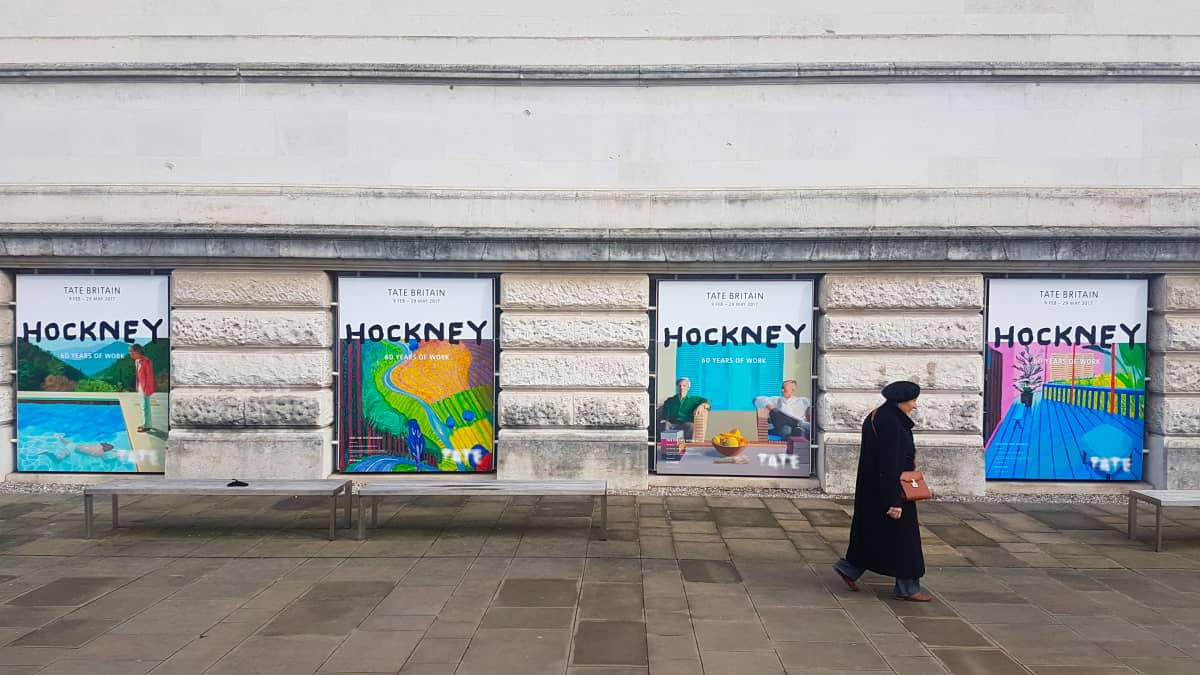 Posters for David Hockney show at Tate Britain, 2017
Blockbusters &
 

Interventions

A diverging curatorial approach is emerging between big institutions, such as the Tate, Pompidou, or MoMA, and those that are smaller but still in the public sector. Big blockbuster shows require a significant amount of money and fundraising, with increasing dependencies on sponsorship especially as public subsidies decline. They work hard to bring in new audiences, and fundraising is frequently contingent on the promise of appealing to younger demographics or those who might have felt historically excluded by the museum system.

In contrast, smaller institutions are taking new approaches, partly out of financial necessity, and curators around the world closely follow them. Some don't put on exhibits at all, but choose to engage with organizations like local schools, artist collectives, or activist groups. Others work with artists on long-term projects, with outcomes far from typical exhibitions, but spanning publications, conferences, or public events. Many of these curator-led approaches are grounded in academic or artistic research—both in their planning and as the outcome itself.

Case Study: The Blockbuster

The benefits of a blockbuster show are numerous, from the press and prestige to the potential for monetization, like commercial spaces and product licensing. One recent blockbuster was the David Hockney exhibit at Tate Britain in 2017, which sold 20,000 tickets before the show even opened; in the end, it attracted almost half a million visitors. With such foot traffic, large institutions can open more commercial spaces—the Tate Modern now has 5 commercial areas among their restaurants and gift shops.

Case Study: The Concept Piece

Basis voor Aktuele Kunst, in Utrecht, is one small but public art institution. Instead of working as a place for exhibiting artists and art works, their mission is to further the notion of art as a public sphere and a political space. They bring together artists, thinkers, and members of what they term "the precarious classes."

At Basis, artist Jonas Staal wanted to put on a "pseudo Parliament"—a parliament for excluded people with an open door to groups who are often excluded from traditional governments and conversations of state. The "New World Summit—Stateless Democracy" took place over 3 days in January 2015 with participates ranging from Basque activists, Catalan separatists, Kurdish politicians, immigration lawyers, and refugee groups. This type of intervention and invasion between art, politics, history, and culture is a powerful example of smaller institutions' contribution to cultural dialogue, even though it takes place far from the typical art exhibition.
---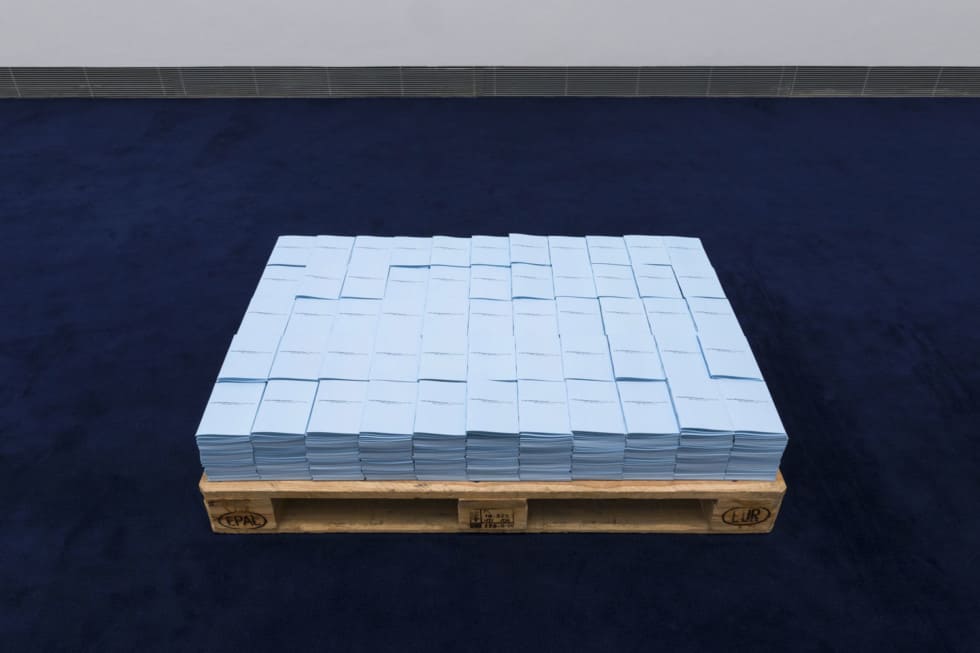 Meric Algun Ringborg, Ö (The Mutual Letter), 2011
The Rise of Biennials & the Celebrity Curator
Much of the literature on curating today focuses on the institute of the biennial. The renowned Venice Biennale was first established in 1895, when the first International Art Exhibition was organized. Biennials since have become one of most obvious manifestations of the art world's globalization and often feature artists who, until recently, were unlikely to be represented or exhibited in great metropolitan cities or museums of the art world. At biennials, a visitor can see works that spur new and novel thoughts about globalization and different cultures.
The rise of the modern biennial coincides with rise of the independent celebrity curator. The independent curator and the celebrity curator are mutually reinforcing trends—many influential curators today are independent, precisely because they're well traveled and established beyond an affiliation with one or two locally rooted institutions. As a result, the art world looks to them to mediate between different cultures, and serve as a centripetal force between different (art) worlds. Nicolas Bourriaud, Maria Lind, and Hou Hannu are just a few renowned independent curators, many of whom emerged in the 1990s. All have curated biennials.
Biennials are highly contested—critics and artists constantly find fault with them, creating curatorial challenges. Larger or more established artists featured at biennials can dominate, while smaller and quieter projects tend to be overlooked. For a curator, it is an additional challenge to create convincing threads across sprawling exhibits with a multitude of contributors. Curating a biennial is inherently amorphous; and navigating one according to a curator's vision is difficult.
Case Study: Translation
Turkish artist Meric Algun Ringbord's work, The Mutual Letter, in the Istanbul Biennial looks like a crate of passport booklets. In each "passport" there are 1,207 words that are identical in Swedish and Turkish. The work is truly a labor of love, taking an extensive amount of time to research and compile, and reflecting her own relationship with her Swedish partner and her relocation to Sweden. The piece speaks of moving to another place, falling in love with someone who grew up in another country, trying to adapt to a new culture. It reflects a relationship—both personal and cultural—that is grounded in translation. It is a poignant and powerful work that encapsulates what it takes to curate a biennial—to create translations, connections, and open intellectual borders between different cultures at a single event—what it takes to reflect a personal viewpoint on a global stage.
Featured image: "The World Goes Pop" at Tate Modern (2015-2016), installation shot by Guy Bell
---
Start your curating journey with our Master's programs in

 

London,

 

New York, and

 

Los Angeles.