Curators facilitate the translation of artwork from its place of production to a space of public display. In bringing a variety of artwork together in one space, the curator is communicating the collective impact of the artwork to the viewers. In a winter 2017 show at Sotheby's Institute of Art-NY, Master's degree students Laura Zarta and John Zinonos chose to focus on the politically-charged work of one artistic group. Below, Laura and John discuss their choice and the invaluable role the artists have played in the curator process.
---
Selecting the artist
We both had The Yes Men in mind when deciding which artists to approach for the final project of our curatorial studies at Sotheby's Institute of Art.
Having both appreciated The Yes Men's work, humor, and activism separately, it was an exciting surprise to discover that we each had our own previous interactions with their work, and wanted to collaborate together to help showcase their projects to others. By producing this exhibition, we hope for viewers to become better informed about international and domestic issues, while also serving as a call to action.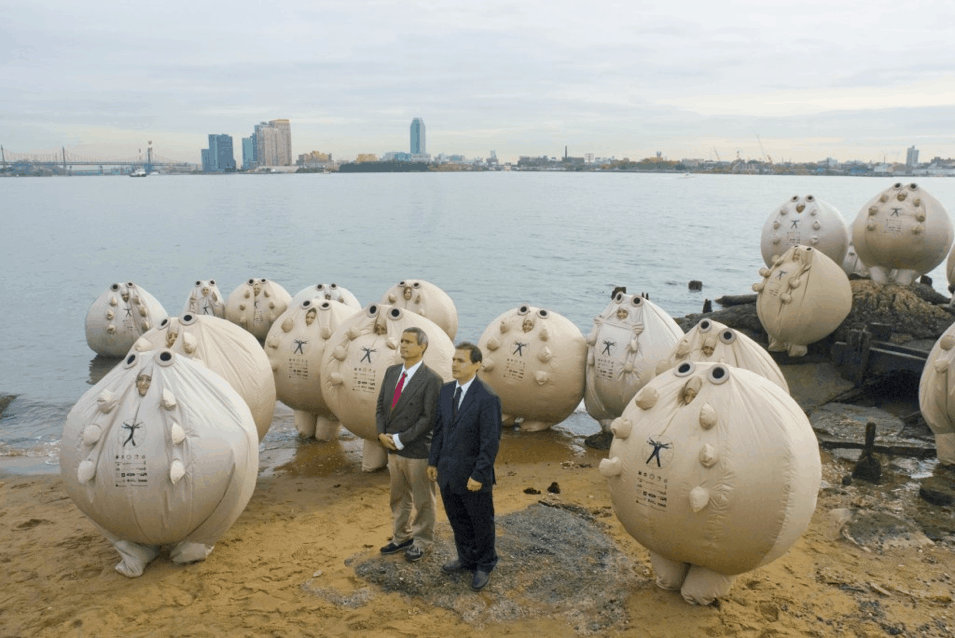 Production still from The Yes Men Fix the World (2009). The Yes Men debut the "Haliburton SurvivaBall," a self-contained living system for surviving disasters caused by global warming.
Taking on the personas of spokespeople, corporate representatives, government agents, and executives, The Yes Men are an inspiring artist-activist group who have had a long history of infiltrating meetings, conferences, and news broadcasts in order to spread awareness and attention to critical issues on an international scale. By pushing the limits and driving their audiences to redefine their own ethical boundaries, agencies, and allegiance, The Yes Men continually critique and reflect upon the instability and lack of ethics found in businesses and politics.
Understanding that The Yes Men have had a track-record of working and cultivating a community amongst other activist groups and students of educational spaces through initiatives like The Yes Lab, we decided to approach the group with the proposal of this exhibition. We were met with excitement, approval, and an incredible amount of generosity, as we were welcomed without any hesitation or restrictions to their working space to meet and to review their archives and projects.
Displaying the artwork
After visiting their work space and digging through years of archival material, we drafted a checklist of works we wished to include in the exhibition, which we sent to The Yes Men for approval.
We wanted to do their work justice by presenting several memorable interventions, videos, documents, and objects from the last decade that are still relatable and relevant to today's times. We were also quite interested to include two projects into our show that have never been previously exhibited before. These works were created during the last presidential election and in its aftermath. As we continually ask ourselves how to move forward from these events, it was important for us to include these projects in our exhibition as a reminder and as a trigger of response for what needs to be done and come next.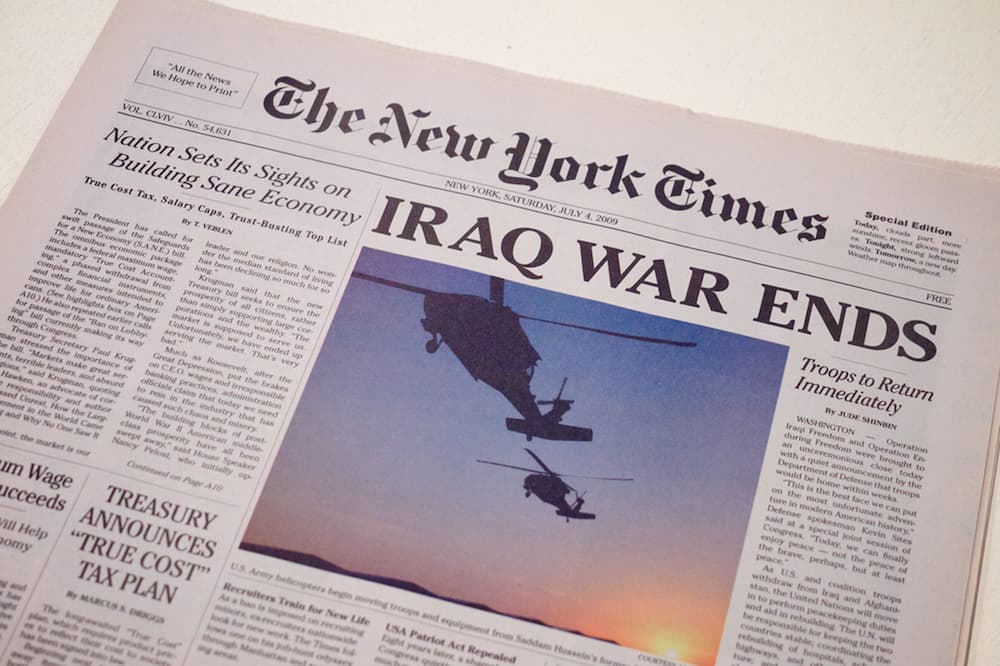 The Yes Men, The New York Time Special Edition, 2009
It has been important to us as curators to uphold the reputation and style of The Yes Men.  We have included them in the decision-making processes along the way. We, as curators, have developed a working relationship where we have been continually open to listening to one another, as well as the artists' ideas, feedback, and suggestions they might have for us regarding the exhibition.
Clarifying a vision for the show
The exhibition was a small but strong survey of several projects and interventions that The Yes Men have created over the last ten years. From a curatorial perspective, this exhibition was our response to the corporate and political uncertainty and urgency faced in the U.S. today.
Featuring various video pieces, archival documents, costumes, and objects, we hoped to produce a fun and engaging exhibition that raised awareness of problematic social and political issues while inspiring viewers to reflect upon the artists work, as well as their own individual agency in and to our society. We hoped that this exhibition inspired a call to action as viewers weigh the severity of the issues presented and, at the same, time found the humor and absurdity in it all.
Preserving artistic intention
The most challenging aspect of organizing this exhibition was making sure that the works exhibited, and the manner in which they were presented, were reflective and true to the intended message of the artists. In their elaborate hoaxes and pranks, The Yes Men provide fleeting glimpses of a more humane world while spreading awareness and attention to critical issues on both national and international scales. We hope that the exhibition was informative and action provoking, and portrayed with the characteristic humor of The Yes Men the ridiculousness of corporate greed, the current incredibly abysmal political landscape, and inspired viewers to partake in change.
Written by Laura Zarta and John Zinonos
---
The exhibition, "It's a Bird, It's a Plane, It's THE YES MEN!!!" ran from November 29-December 4.