Alongside his teaching on the MA in Contemporary Art at Sotheby's Institute of Art - New York, Tim Goossens is also an internationally renowned curator. His latest project is the exhibition This is the Sound of ™, part of the Stadstriënnale Hasselt-Genk in Belgium. From Bjork's first ever VR music video to the premiere of a visual documentary by the unlikely duo Vanessa Beecroft and Kanye West, Goossens seeks to explore the territory shared by visual art and music through an ambitious gathering of contemporary work from all over the world. Program Director for Contemporary Art, Kathy Battista, sat down with Tim to find out more about the Triennial...
---
Can you tell me about the theme of your show?
For the 2016 edition the multidisciplinary arts festival Stadstriënnale Hasselt-Genk (located in the eastern part of Belgium) focuses on TRADEMARKS. It addresses how trademarks blindly define the landscape of our daily lives and how everything that you touch, see, taste, or communicate with today is branded by logos and stories. These figurative marks are often so intertwined with the product that they become invisible. The Triennial hopes to disclose the stories behind the originality, innovation, and even personal branding with several exhibitions, socio-artistic projects, and a myriad of invigorating activities over the course of the 100 days of Logomania.
I have curated an exhibition—on view at a giant converted coal mine site— titled This is the Sound of ™. It explores the Triennial-wide questions about trademarks by taking visitors on a journey into the territory shared by visual art and music through an ambitious gathering of contemporary work from all over the world.  Today, more than ever, musicians need to function as a brand, and in recent decades pop stars have become experts in assimilating visual influences. With recent art vs music copyright scandals in mind (Beyoncé versus Anne Teresa De Keersmaeker), and certainly because of a newfound openness from the art world for such collaborations, musicians turn to visual artists directly in search of the iconic images they need to define their brand identity.  The mutual benefits for both the art and music worlds for exposure in a world dominated  by "likes"  can't be denied.
I also looked at how music inspires the creation of art. Honoring the cultural importance of the almost 40-year old music video, I was very keen on including the mastery of stage design and we managed to do so by working with the number one designer in the world.
What kind of artwork can we expect to see at your exhibition?
Collaborations between the worlds of art and music are hardly new. We can look back as early as Renaissance street plays, or the history of opera, or the infamous 1917 ballet Parade for which Sergei Diaghilev collaborated Pablo Picasso and Jean Cocteau for examples. One of the most memorable collaborations in modern pop times is that of The Velvet Underground and Andy Warhol. Many exhibitions have been dedicated to these iconic synergies, with lots of them repeating the same famous examples. For my exhibition, the only historical example I have included is a still lesser known Robert Mapplethorpe and Patti Smith short film, which premiered in their first ever art show  in 1978.
---
"This is The Sound of ™ lets you discover what is happening today, bringing together innovative collaborations that intertwine the human expression with prime technology."
---
This is The Sound of ™ lets you discover what is happening today, bringing together innovative collaborations that intertwine the human expression with prime technology. This can be seen in Bjork's first ever VR music video for Stonemilker and the premiere of a visual documentary created for the exhibition by the duo Vanessa Beecroft and Kanye West about their 2015 Madison Square Garden extravaganza. There is also a new commission by Es Devlin, renowned for her stage designs.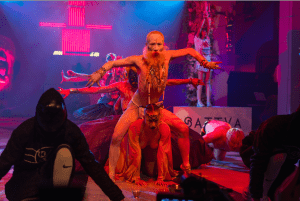 Spread throughout the historical C-mine complex are a multitude of works by Asian Dope Boys, Cibelle Cavallo Bastos, Naama Tsabar, and Rashaad Newsom, each taking inspiration from pop music and pop culture. A screening room on the top floor provides a space for large scale ceiling projections and brings together over a hundred music videos produced since the rise and decline of MTV. The thematic videos were co-curated by New York-based musicians/songwriters/producers and social activists Nomi Ruiz celebrating and tracing the iconic female image in pop culture and DonChristian Jones on queerness in soul and hip-hop music. This part of the exhibition aims to honor the visual and social-cultural importance of these short-but-impactful videos. The music video represents the direct convergence of music and image as it grew throughout the 20th century, and is an important tool in branding for the music industry. Its importance seems to have found a new breath in recent years with so called "visual albums". In summer 2016 we saw American R & B star Frank Ocean not only drop a traditional music album but also a separate visual album, taking the importance of the visual culture in pop music to new heights.
Can you tell me one anecdote or inside story from the development of this exhibition?
The installation of Es Devlin's commission for the exhibition carried on quite late on a Sunday night. Es was only able to be in the country for less than 24 hours and a whole crew came from London to build and fine tune the PlayBox installation. At one point Es and I were even sleeping on the concrete floor! By the time we left the venue in the early hours of the morning it was impossible to find any transport to bring the crew and Es to their hotels in the city, a few miles away. So we ended up walking with our suitcases through a forest to the nearest guest house —which historically housed the single male workers of the coal mine— where we were able to sleep for a few hours before press interviews and Es's flight to the US to finish the stage design with The Weeknd on SNL.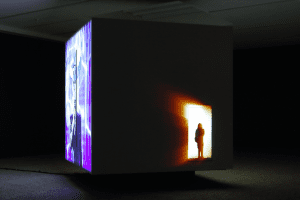 While walking that night through the first fall leaves she was reminded of how she and Kanye West —both perfectionists— once got locked in a stadium while fine tuning an installation until late and ended up sleeping on the venue's floor and sharing a bag of pretzels!
---
"If you feel intimidated about meeting artists start with the emerging artists of your generation, and build your studio-visit skills from there."
---
What advice do you give to our our students who want to be curators?
Embrace your passion for art and artists and be a sponge for information. Visit studios weekly, especially while on vacation so you have the chance to learn about the reality of artists in that region. See all the shows you can while you're studying. London, LA, and New York offer plenty of everything, and don't shy away from what is called "the periphery". Foster your opinions as a future curator and know the history and dynamics of the current canon, which includes the art market.  You will learn from each visit, and you can carve out a vision of what you want to bring to the discourse. Read the reviews of the shows you visited and keep your own blog about what you saw to develop your writing skills.
If you feel intimidated about meeting artists start with the emerging artists of your generation and build your studio-visit skills from there. Also, look at the bigger picture, and be aware of the issues at play in the art world bubble, but also be knowledgeable about social and political realities in the world.
How important were your own art historical studies in relation to your work as a curator?
I had a very in-depth classical art history education at some of the oldest universities in the world. As a student I even had to put oil lamp artifacts from the Roman catacombs in the right historical order for an oral exam! As is often the case at these institutions contemporary art wasn't their forte, but I think understanding how historical, religious, and cultural histories are intertwined with art production is the most important thing I learned. My museum and curatorial education afterwards, at the Louvre, certainly gave me awareness of the need to incorporate the visitor in the exhibition concept from the start.
---
Stadstriënnale Hasselt-Genk runs until January 8, 2017
Participating artists:
Cory Arcangel (US), Vanessa Beecroft (USA/IT) & Kanye West), Björk (IS) & Andrew Huang (USA), Cibelle Cavalli Bastos (BR), Asian Dope Boys (CN), DonChristian Jones (US), Frieke Janssens & Stromae (BE), Es Devlin (UK), Inez van Lamsweerde & Vinoodh Matadin (NL/USA), Robert Mapplethorpe & Patti Smith (US), Rashaad Newsome (US), Nomi Ruiz (USA), Naama Tsabar (IL), Tori Wrånes (NO).