Ahead of his new two-week Summer course on British Art and Architecture 1700-1900 in London, course leader Adam Busiakiewicz examines three legendary 18th-century portrait painters.
---
If, like me, you are a lover of British Art and its cultural history, we have to resign ourselves to the fact that Britain produced few composers of any note during the late 18th century. The Austrians and Germans had Mozart, Beethoven, Haydn, and Schubert. We in Britain produced the likes of Boyce, Stanley, and Crotch. These are, it might be fair to say, hardly household names.
No matter though; because if Britain did possess a strand of truly great and creative genius, it must have been in the realm of portrait painters.
This was particularly true during the last half of the 18th century, where British painters were capable of infusing poetry into their paint brush. They could transform their sitters from mere mortals, akin to taxidermy, into heroic or melancholic figures imbued with ferocious energy or inward-looking thought. Although France and Austria did produce their own portrait painters, many of these works of art can be considered as mere "peaches and cream" compared to the full-blooded canvases of their British contemporaries.
---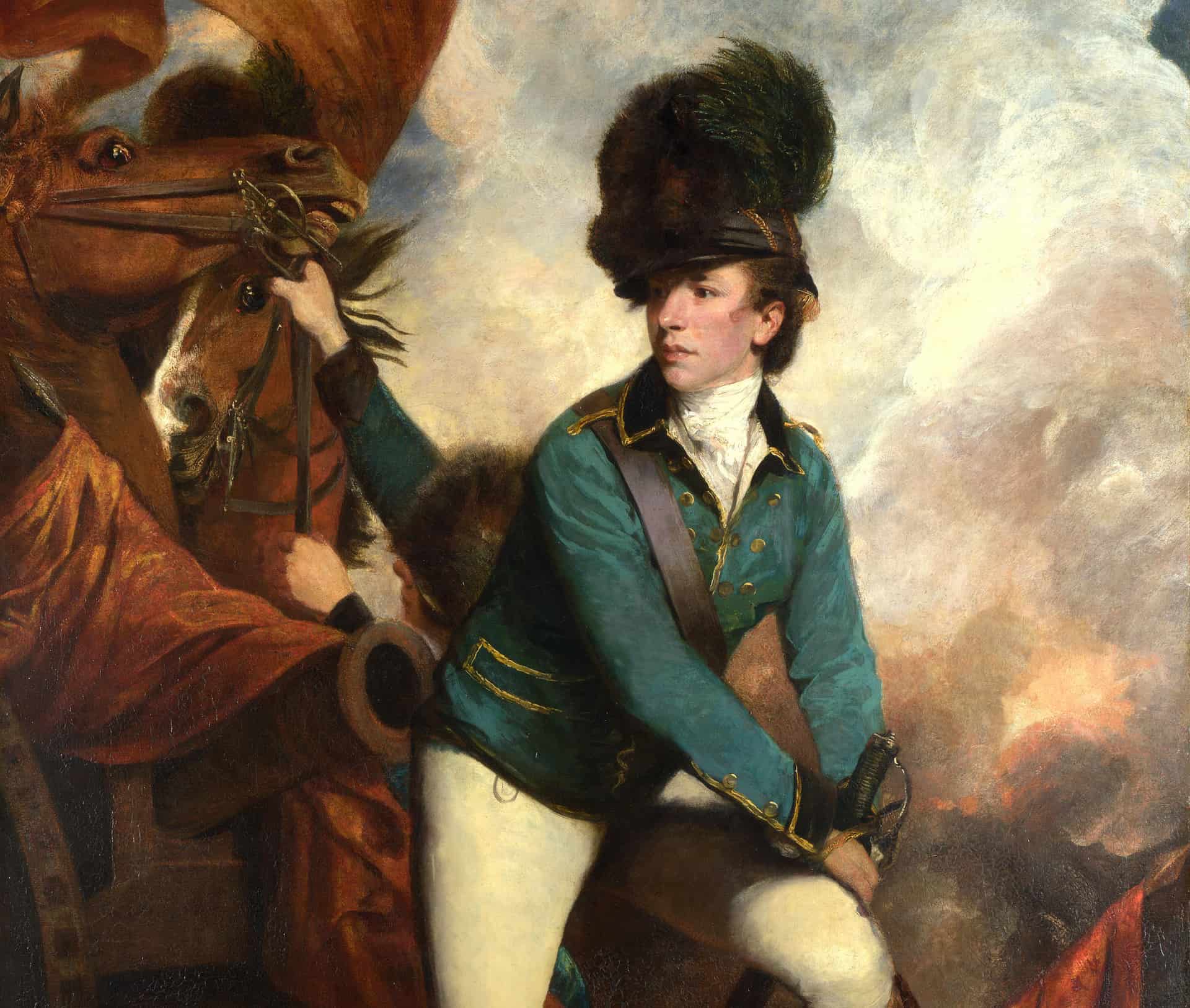 Detail of Sir Joshua Reynolds' Portrait of Sir Banastre Tarleton (1782), National Gallery
Although seen as anathema to modernists of the 21st century, their inventiveness was born out of a deep understanding and love of all art that had come before. This was particularly the case of the portraits by Sir Joshua Reynolds (1723-1792), the first president of the newly established Royal Academy, whose predilection for the "Grand Manner" epitomized this approach. He concluded in one of his annual lectures in 1774 that "when we have had continually before us the great works of art to impregnate our minds with kindred ideas, we are then, and not till then, fit to produce something of the same species…" Intimate study of the great masters of Italian and Flemish art, therefore, was considered vital. Like his forebear William Hogarth, Reynolds was instrumental in cultivating the notion of the British School, and attempting to define its unique features and contributions to art. Learning from the likes of Van Dyck and Venetian painters of the sixteenth century, Reynolds's Portrait of Sir Banastre Tarleton in the National Gallery achieves a force like no other. In fact, it is so well painted that one might well overlook, or plainly forget, this young commander's involvement in the loss of the Americas.
---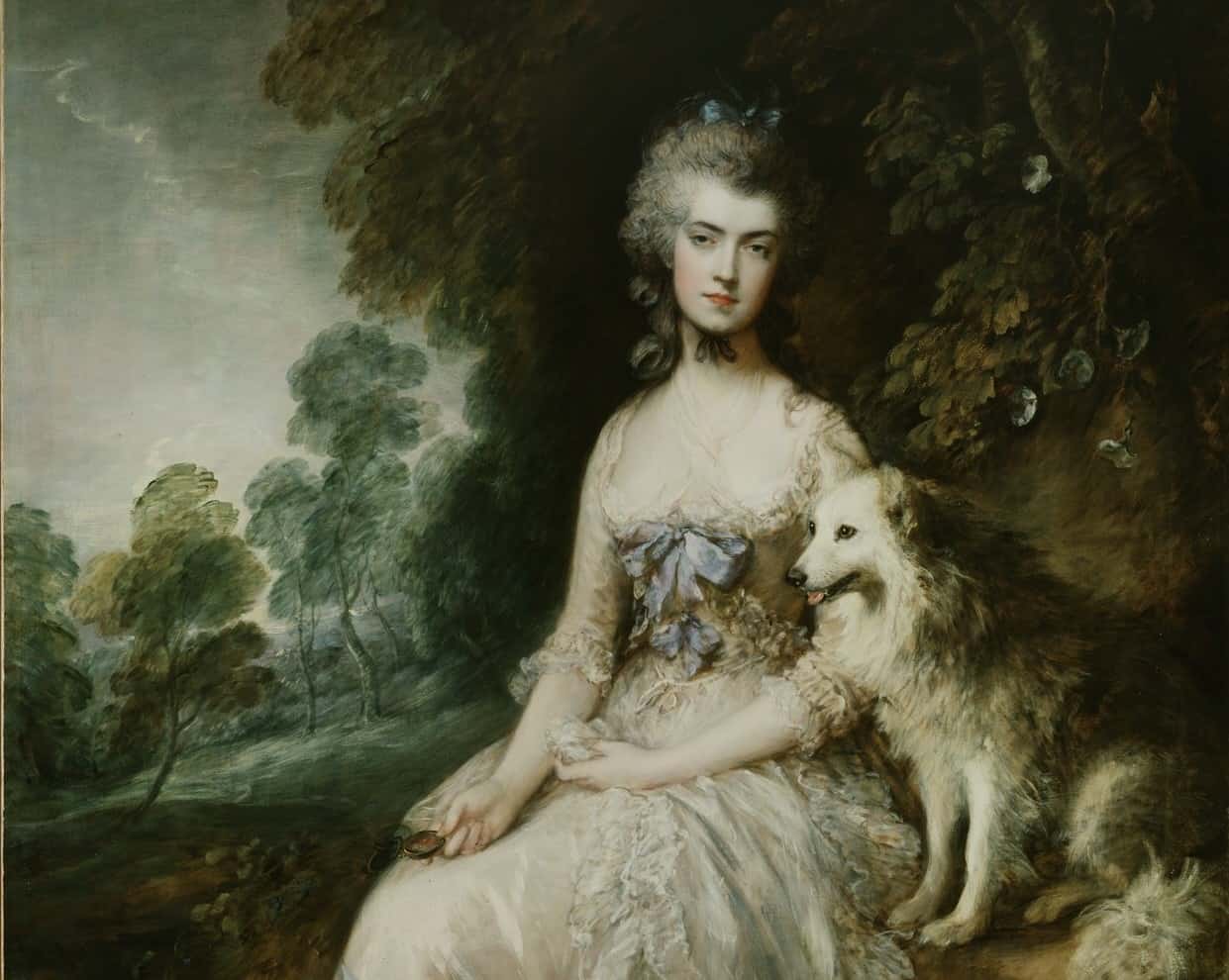 Detail of Thomas Gainsborough's Mrs. Mary Robinson as Perdita (c. 1781), Wallace Collection
A similar, yet uniquely arcadian approach, was taken by Reynolds's contemporary Thomas Gainsborough (1727-1788). A painter deeply imbued with the spirit of landscape painting, Gainsborough's portraits speak to a slightly different aesthetic. A master of his medium, the artist's approach in using thin glazes over a warm brown ground give his portraits a dancing shimmering quality. When standing in front of his full length painting of Mrs. Mary Robinson as Perdita, now in the Wallace Collection, one truly senses that this famous Georgian actress has become a part of the leafy bower and typically rainy British landscape that surrounds her. After all, this portrait was commissioned by the Prince of Wales, later King George IV, who had fallen in love with Mary whilst watching her on the stage in his late teens. Her melancholic smile invites us to peer at the miniature portrait that she is holding, a miniature and memento of the Prince who would eventually forsake her and give away this portrait to the 2nd Marchioness of Hertford. It is hard to deny that the effect Gainsborough had painted over two centuries ago still manages to captivate and inspire sympathy for Perdita the "forsaken one."
---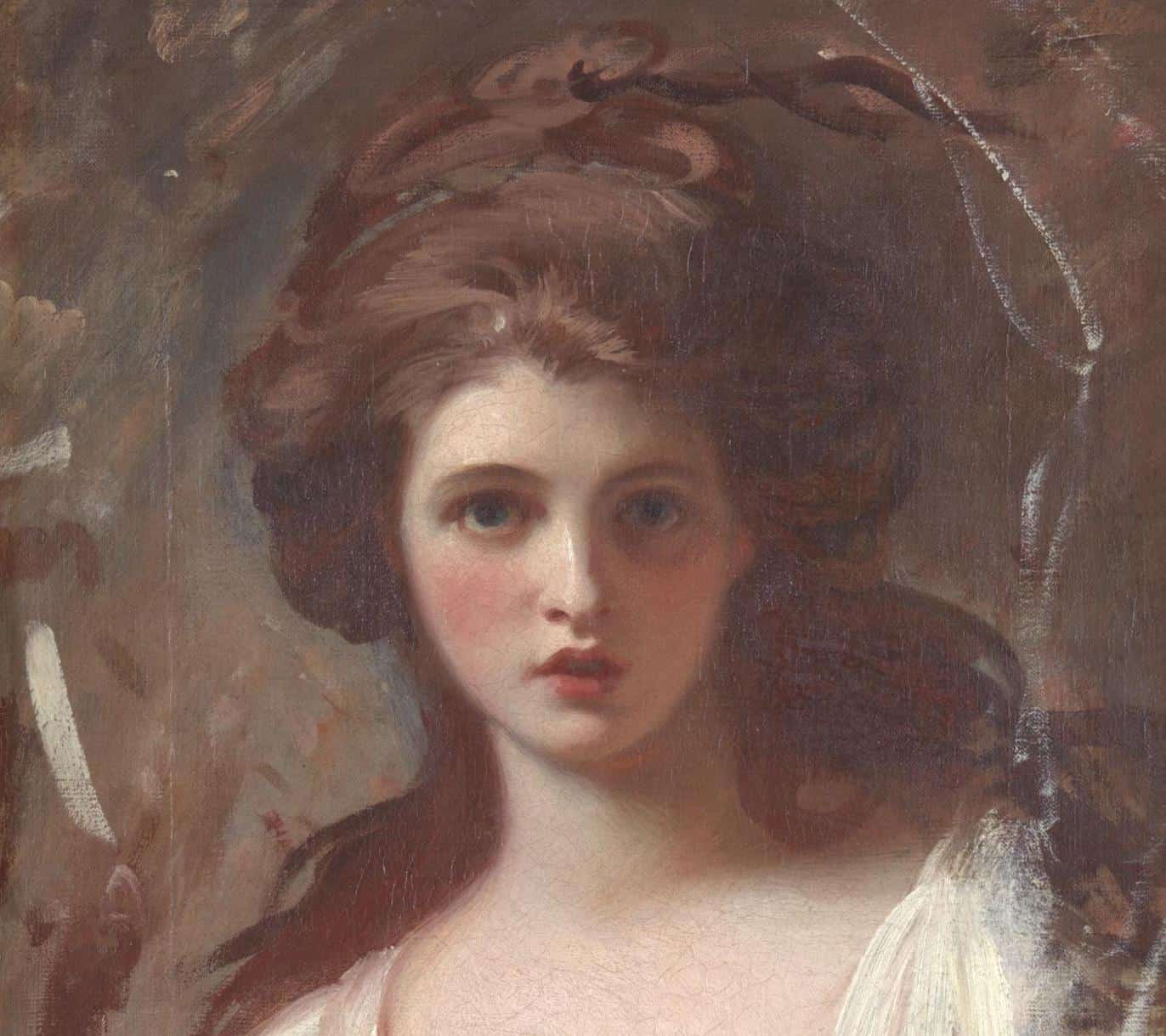 George Romney's Emma Hart as Circe (c.1782), Tate
Finally we might consider the paintings of George Romney (1734-1802), whose fame eventually surpassed those of the two painters above. Born in Cumbria to a furniture maker, the young talented Romney eventually moved down to London to begin a career jostling amongst the leading painters of Georgian London. Although his mind was continually mulling over scenes from history, mythology and literature, which resulted in many fine drawings, it was into the "trap" of portraiture that he eventually fell. The beauty of his muse Emma Hart, wife of Sir William Hamilton and later mistress of Nelson, inspired the painter's brush more so than any other. Romney's Emma as Circe at the Tate must rank amongst some of the most perfect paintings of a face in British Art. Its unfinished quality, possibly a sketch for a larger picture that never came to be, gives this image a directness and immediacy that is extremely "contemporary."
Written by Adam Busiakiewicz
---
To deepen your knowledge of these painters and view their work up close with expert guides, sign up for our two-week British Art and Architecture 1700-1900 course in London.