In his own words, Contemporary Arts faculty and artist Stephan Pascher on Los Angeles history and the artist Henry Taylor.
Henry [Taylor] told me about a project space he was opening in his downtown loft, and asked would I like to do something. I didn't know how to respond, but was intrigued by the invitation and would give it some thought. Most of my work regards a place or situation; sometimes it's destined for one.
For a while, I had wanted to give a work to Henry, but was not sure what it should be.  After we talked about doing an exhibition, something came to mind - a photograph of Huey Newton and Bob Dylan from the 1960s that Henry had turned me on to, an image that somehow signified the intersection of our own personal histories. So I decided to make a drawing based on that photograph, and would develop the exhibition from there.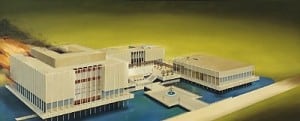 The loft at 810 East 3rd street is smack in the middle of the LA Arts District; diagonally across from Hauser, Wirth and Schimmel*, a complex of renovated 19th and early 20th century buildings that take up an entire block - some 116,000 square feet of exhibition space, a book store, restaurant and courtyard - what once had been an old flour mill. Henry walked me around its perimeter one evening. We circled the entire block.
A few blocks away lies Skid Row, an area of Downtown Los Angeles that has been habitat to a transient population since the 1880s. By the 1930s, about 10,000 homeless people resided there. The folk singer Woody Guthrie wrote a song about it in 1939, describing Skid Row as embodying "the forces of an unbalanced social order." Today it is one of the largest concentrations of homeless people in the United States. Most visible are the hundreds of tents and makeshift shelters lining its sidewalks. How close, the LA Arts District and Skid Row. In fact, they overlap.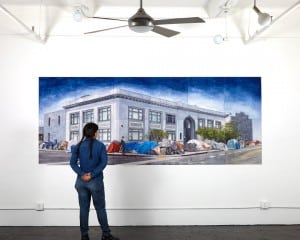 My show at Henry's would have to reflect these realities in some way. I decided to make a large mural based on Ed Ruscha's 1965-68 painting, "The Los Angeles County Museum on Fire." I call my picture, "The LA Arts District on Fire." This, and the drawing I made for Henry comprise the exhibition. I've struggled for months over the relationship between these two images, and the histories they represent.
*Editor's note: since the time of the writing, the gallery has changed to Hauser and Wirth Los Angeles.
---
Stephan Pascher's recent exhibit at Henry Taylor's in Los Angeles, ties in to LA history and Sotheby's Institute of Art itself - not only because he is one of our key Contemporary Arts faculty but as the second recent exhibition in the City of Angels with Sotheby's Institute roots: Kathy Battista, program director for New York's Contemporary Art MA, curated "Escape Attempts" at Shulamit Nazarin's new space in Hollywood to rave reviews.
More Sotheby's Institute connections relate in the origin of Pascher's work "The LA Arts District On Fire" - it is inspired by Ed Ruscha. This celebrated artist recently spoke at the Sotheby's Institute "L.A. Art Legends" panel at the Broad stage [Watch video].  
And of course, our West Coast campus housed at Claremont Graduate University and Downtown LA offers students doing their MA in Art Business or Arts Management programs unparalleled access to the city, a global hub for media, music, and entertainment, and contemporary visual and performing arts.
---
Faculty, MA Contemporary Art, New York
MFA, California Institute of the Arts; BA, Oberlin College; BFA, Cooper Union
Stephan Pascher is an artist, writer, and educator. His work has been exhibited and collected in the US and abroad, most recently at Artists Space, Kunstmuseum Basel, culturgest (Lisbon), Orchard (NY) and CIFO. His writings appear in Afterall, Merge, Springerin, Metropolis, The Museum as Arena (König), Institutional Critique (MIT), October Files, et al. He has lectured and appeared on panels including those at the Santa Monica Museum of Art, ARCO (Madrid), the Drawing Center, and Bard College, and has taught at The School of the Art Institute of Chicago, the University of Chicago, Columbia University, Malmö Art Academy, among others. Pascher is on the Board of Directors of the Michael Asher Foundation.