The Sydney Biennale is the third oldest biennial behind Venice and São Paulo, focusing particularly on an appreciation of the native cultures and the land on which the event is located. The 2022 Sydney Biennale, titled rīvus, examines the dynamics of living systems in which non-human entities such as animals, plants, mountains, and bodies of water are individual beings placed in a dialogue with humans – the observers of these exhibitions. 
Below, Sotheby's Institute's faculty and our roving curator on the ground Lilian Cameron gives her reaction to four different artworks at the Sydney Biennale.
---
The Biennale of Sydney, 2022, rīvus
Curated by José Roca with Paschal Daantos Berry, Anna Davis, Hannah Donnelly and Talia Linz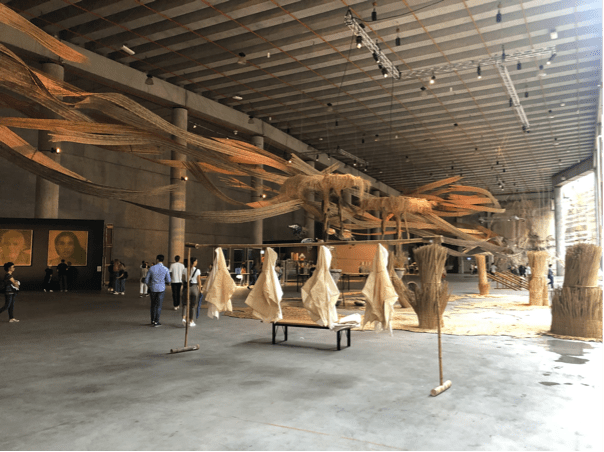 The Cutaway, Water ecosystem (2019-2022) by Ana Barboza and Rafael Freyre
In the foreground at The Cutaway, Water ecosystem (2019-2022) by Ana Barboza and Rafael Freyre explores the role of water in the cultural heritage and ecosystems of Peru. Visitors can walk through the multi-sensory wetland installation, which includes reed mats woven from cattail and torora fibers that cleanse and purify water by absorbing matter. Behind, Cave Urban's suspended bamboo sculpture, Flow (2021), twists and curves through the cavernous space. To the far left, Ackroyd & Harvey have created 'living portraits' of Uncle Charles "Chicka" Madden, a respected Gadigal Elder, and his grand-daughter Lille Madden, a climate organization director and activist, using seedling grass, hessian, clay and a process of photosynthesis.
---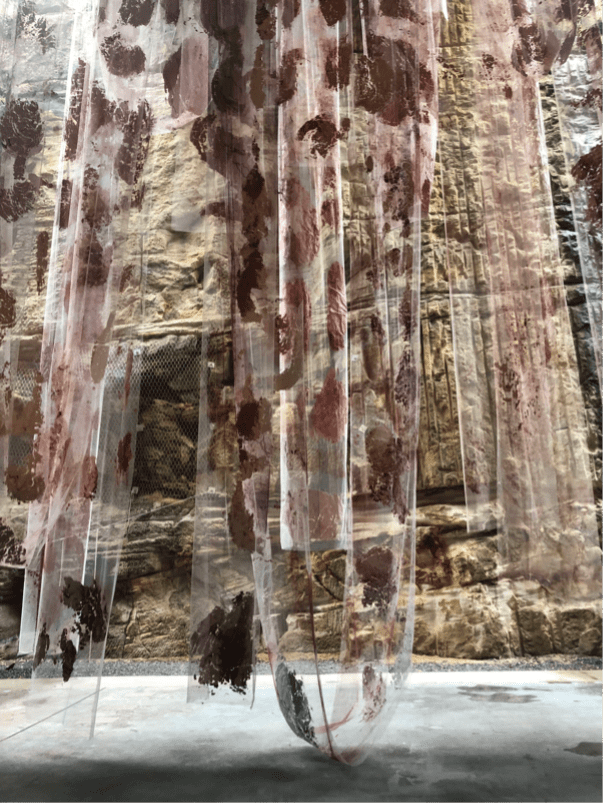 YIRUNG BILA (SKY HEAVEN RIVER) (2022) by Nicole Foreshew
Nicole Foreshew's YIRUNG BILA (SKY HEAVEN RIVER) (2022) hangs high in the air with the natural rock of The Cutaway near Sydney Harbour behind it. Foreshew is an artist from the Wiradjuri nation, Central West New South Wales, and has used gypsum, ochre, clay and mica on vast translucent sheets of nylon netting in this work.
---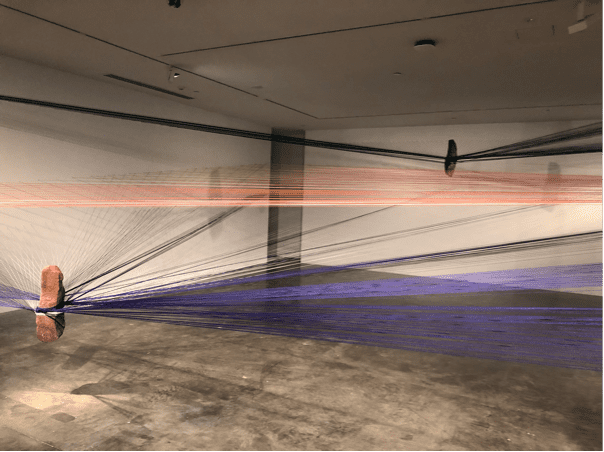 Lost Paradise – Vibrational Energy H2O by Milton Becerra
At the Museum of Contemporary Art, Becerra uses rock and nylon fiber to create a site-specific installation commissioned for the biennale. The repeating lines of string are like a 'drawing in space' evoking a radiating energy surrounding the rocks. Becerra draws from an array of sources and inspiration in his work, from natural forms and ancestral stories to Venezuelan traditions of abstraction, sacred geometry and quantum physics.
---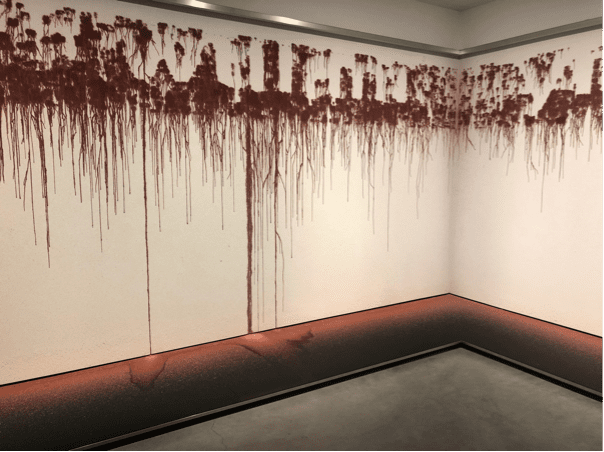 A Connective Reveal (2022-ongoing) by Robert Andrew
Two 'palimpsest machines' spray water on the walls of the Museum of Contemporary Art, washing away mineral layers to reveal lines of text in Yawuru language. Andrew is a descendent of the Yawuru people of the Broome area in the Kimberly region, Western Australia. His work brings together programmable machinery, 3D printing, earth pigments, clay and soil to reveal histories that have been buried or obscured by Western colonialism.
Written by Lilian Cameron, Sotheby's Institute faculty.
---
About Lilian Cameron
Lilian Cameron is a member of Sotheby's Institute's faculty. Her research specializes in gallery and museum memory environments, looking particularly at the ways contemporary artists intervene in and converse with historic or traditional gallery spaces. She is author of the book 'Curating Art Now', which is part of the 'Hot Topics in the Art World' series and is set to release at the end of May. 
About 'Curating Art Now'
The 'Hot Topics in the Art World' series is a collaboration between Sotheby's Institute and art-book publishers Lund Humphries. Lilian Cameron's 'Curating Art Now' is a timely reflection on the practice of curating and the role of the art curator during a period of rapid change. Curating has a pivotal position in the art world: it is embedded in the identity and expertise of the museum and plays an ever-increasing role in the commercial art sector too. Current curatorial practice encompasses a wide range of activities, from the care of collections in museums to the presentation of large-scale contemporary biennials, and from collaboration with artists to presentations of work on digital platforms. 
Find out more at www.lundhumphries.com and pre-order your copy today.