Each year, students on the Gap Semester program take London by storm as they explore the city and embark on a journey of self-discovery and cultural immersion. We caught up with Amanda Grant and Zoe Park to delve deeper into their unique experiences at Sotheby's Institute of Art.
---
The Sotheby's Institute Gap Semester program is offered in 6-week and 12-week terms, and ideal for art lovers who want to embark on a journey of cultural immersion in London. The program is open to students aged 18-21 who want to take a year out of college, or simply want to spend time studying intensively in one of the world's great cultural cities.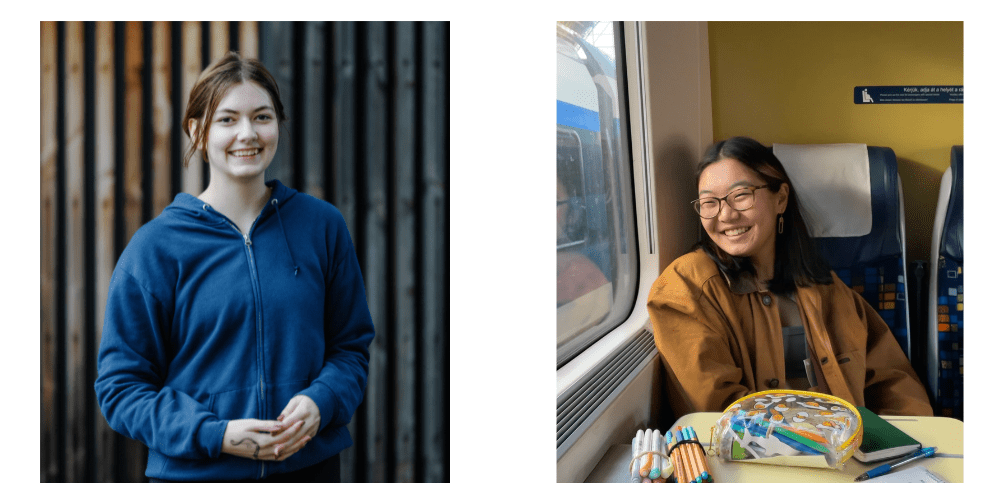 Amanda Grant                                                                                                   Zoe Park
How did you decide to enroll into the Gap Semester program at Sotheby's Institute?
Amanda: I wanted to take a gap year and after comparing Sotheby's to a few others, it looked like the best fit!
Zoe: My favorite place to go on a day off is an art museum. In high-school, I only took one art history course, but that further enriched my museum going experiences. When I was planning out my gap year, I knew I wanted to do things that I would not be able to do once in college. The majority of my gap year was also self-motivated and curated, so it was nice to be a part of a program that provided structure, but also allowed for a good amount of freedom. I had never been to London, and it was on my bucket list partially due to its extensive art scene.
What other courses/experiences did you have during your gap year?
Amanda: I only took a semester off before starting university in the spring. However, after finishing the program, I travelled to a few other European countries for two weeks.
Zoe: I WWOOFed (Worldwide Opportunities on Organic Farms) at a coffee and fruit farm. Then, I interned at a winery in Siena, Tuscany, from the heart of the harvest up until the new year. Right before attending Sotheby's Institute, I went on a month long kayaking trip in the Sea of Cortez. I also spent a good amount of time as a exploring the UK and Europe.
What was the most interesting thing you learned / experienced during your time in London?
Amanda: I really enjoyed hearing from curators, like Lewis Biggs, and seeing the process behind the exhibitions.
Zoe: The V&A is my favorite museum because of the extensive types of media on display. There are so many crafts that I didn't know existed and that I wished other museums had. For example, there was a micro-mosaic table on display that I made sure to see every time I entered the museum. There was also an exhibit on masculine fashion, which by itself was phenomenal, but I have also never seen an exhibit like it before. In one of the last weeks, we were in smaller groups preparing for a project. My group made a podcast, and to prepare we met with professionals in the broadcasting world.
Describe your favorite day of the program. Where did you go, who did you meet?
Amanda: My favorite day was the day we went to the National Gallery. At this point, I had gone on my own to the National Gallery a few times and thought it was incredible. I had never been in an art museum that big before, it was kind of mind-blowing. The day we went as a group, we met with one of the conservators. She walked us through some of the processes they use to preserve the paintings. It was incredibly interesting to hear the journey the pieces had gone through to look the way they do.
Zoe: After a delicious lunch somewhere in central London, we were meeting up in Crystal Palace, a neighborhood in south London. In Crystal Palace, we visited an artist collective run by a man who made books of obscure materials. We also got to tour one of the studios within the space where a stop-motion film was being made. I really resonated with the collective ethos of the space, and hope to return one day. Afterwards, we headed a little bit north to another artist's studio. The artist we met with told us about how she is a private person, but people are always trying to find and intrude on her studio. I felt so honored that she invited us to her space and talked with us about her art. I never would have been able to see London in the way I did without Sotheby's Institute.
How will you take these experiences from the program into your life moving forward?
Amanda: The program taught me that careers in art are possible. I think it's a common sentiment that an art degree is useless. Taking part in the Gap Semester program taught me that there's a whole other world out there.
Zoe: My experience landed me a summer job! One of the spaces we toured in London has an outpost in New York that has jump started my interest in radio production. When I go to museums and galleries, I think about what went into the art beyond the artist. I have also made friends that I am still close to and talk with regularly.
How do you think art or the art world will be part of your life in 10 years?
Amanda: I'm hoping to pursue a career in the art world, so I would like to think I will be participating in it. Although, even if that doesn't work out or I change my mind, I'm an artist. I can't imagine a time when I won't be making some kind of art.
Zoe: I'm not sure if I'll be part of the art world on a professional level, but I will always value and support it. What Sotheby's Institute taught me is that art is not just in large museums, so I will definitely seek out smaller spaces and galleries.
What are you considering as a profession once you graduate?
Amanda: Probably fine art or textile conservation.
Zoe: I'm interested in pursing some form of media studies or environmental science, possibly both.