To celebrate what would have been 
Robert Rauschenberg's 

92nd birthday on October 22nd, 

we take a look back at his past experiments with art and technology.
---
Robert Rauschenberg always had the urge to experiment. Although he launched his career during the 1950s Abstract Expressionist craze, he did not adopt this art movement's spontaneous, emotional aesthetic. Rauschenberg rejected the Pollock posse of paint-flingers and utilized non-traditional materials instead. The artist employed new materials and methods that could relate art more closely with everyday life.
Rauschenberg's role as co-founder in Experiments in Art and Technology (E.A.T.), a non-profit group of engineers and artists, is an example of his boundless curiosity in the relationship between art and life. The group promoted the merging of art and technology through lectures, technical collaboration, performance series, and interactive exhibitions.
Kathy Battista, Program Director for MA Contemporary Art, guest curated a retrospective of E.A.T.'s activities at the Museum der Moderne in Salzburg in 2015. In the exhibition catalogue, Battista explains that E.A.T. was primarily interested in "the possibilities of technology when applied to art and the challenges in broaching the divide between artists and engineers." The artists and scientists of E.A.T. shattered the barriers separating these disciplines. They liberated the fixed art object and embraced a limitless potential for art's role and manifestation in the real world. E.A.T.'s work was necessary during this era, a time before collaborating with experts was typical for artists.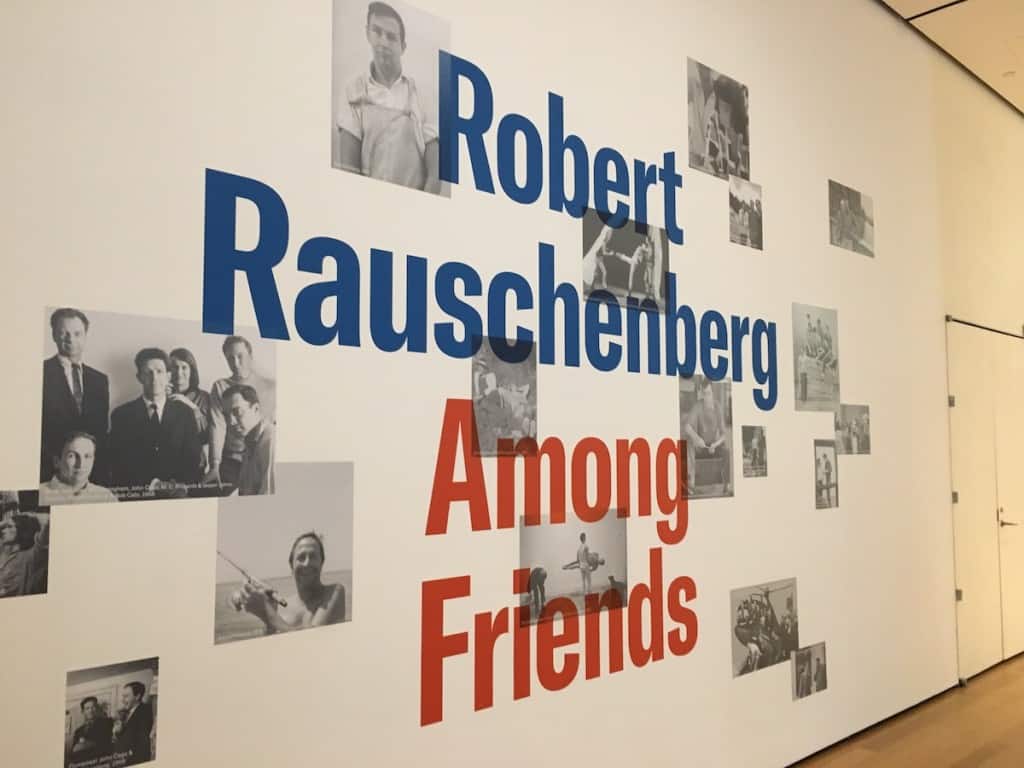 Entrance to MoMa's Robert Rauschenberg: Among Friends
Several pieces Rauschenberg made as a member of E.A.T.were recently on view at MoMA as a part of the museum exhibition, Robert Rauschenberg: Among Friends. Among them is the artist's spectacular Money Thrower from 1960. This small electric heater was designed as a part of the artist Jean Tinguely's performance in MoMA's sculpture garden. For this performance, Tinguely created a monumental kinetic sculpture that could destroy itself. He called the work Homage to New York, inspired by the "energy of a city that continuously rebuilds itself." Rauschenberg introduced his sculpture in the seventh minute of the performance. He ignited the small heater with gunpowder, and the work of art came alive, emitting a flash of light and spewing silver dollars into the audience.
Another E.A.T. collaboration piece, Oracle (1962-65), was featured in the MoMA retrospective. Rauschenberg worked with the engineer Billy Klüver, a Swedish immigrant who worked at Bell Telephone Laboratories in New Jersey, and co-founder of E.A.T.. Oracle is a sound sculpture made of five found-metal pieces, like an exhaust pipe and a car door. In each piece, Rauschenberg hid a remote-controlled radio and equipped the sculpture with wireless transistor circuitry. Viewers were immersed in the noises, talking, and music resonating from the assembled objects. Klüver's cutting-edge technology combined with Rauschenberg's artistic rendering of sound showed that technology could make new types of art possible, and that art could inspire engineers to shape the future of technology.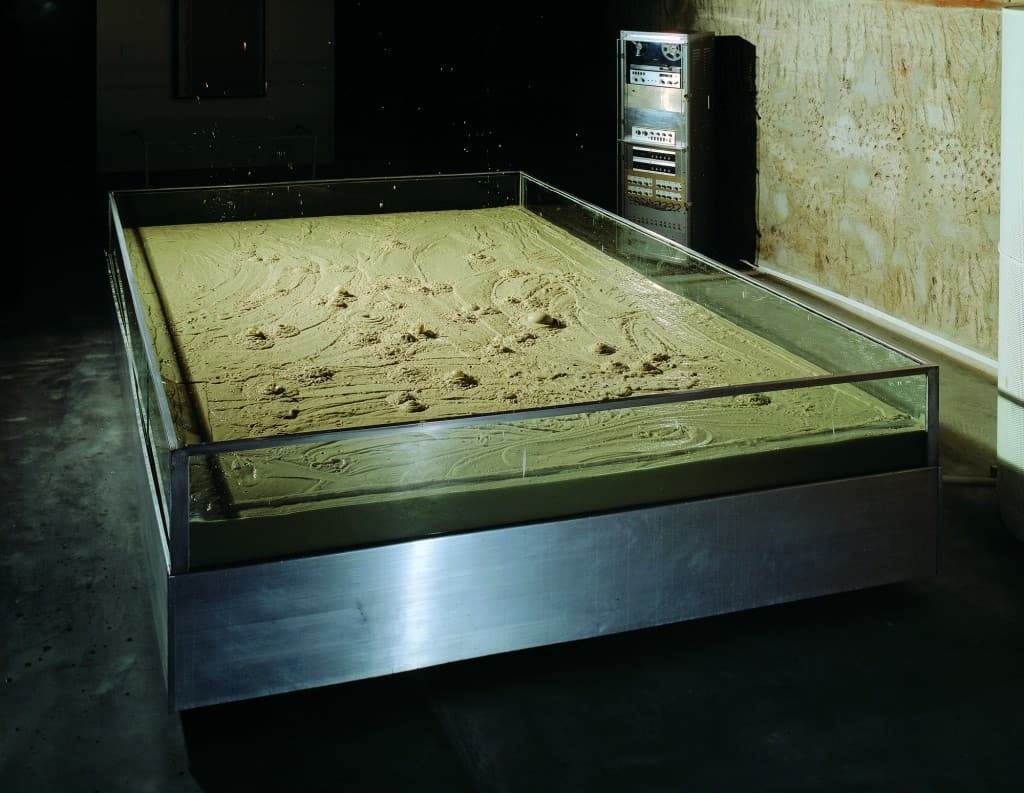 Robert Rauschenberg's Mud Muse (1968-71), from the collection of the Moderna Museet in Stockholm. Photo via the Rauschenberg Foundation.
One must-see piece absent from the 2015 Museum der Moderne retrospective, but on view in the MoMA show, is Mud Muse (1968-1971). Battista wanted to show this in Salzburg, but the city wouldn't allow a truck big enough to get it up the road to the museum. Made in collaboration with engineers from Teledyne Corporation, it is a spectacular sculpture that performs for the viewer, activated by its own sound. Battista calls it "a real crowd pleaser!" It is in the collection of Moderna Museet, in Stockholm, so it is a rare and wonderful opportunity to experience it right in New York.
E.A.T. went beyond the use of technological advancements as a way to fuse art and life. The artists involved in the collaboration began using their bodies as works of art. They produced theatrical, loosely scripted performances that generally contained no character development or plot. 9 Evenings: Theater & Engineering consisted of several nights of performances by ten artists. The artists incorporated sound, movement, and lights to evolving, ephemeral works of art that drew curious crowds and shocked critics. Energized by the tremendous response to this show, E.A.T. members decided to form into an official non-profit organization and declared their goal to establish an "effective working relationship between artists and engineers [that] will lead to new possibilities which will benefit society as a whole."
While the utopian goals of E.A.T. may not have been fully realized, the group developed a lasting relationship between artists and engineers and set the precedent for technology's role in artistic innovation of the future. Battista explains, "Today it is common practice for artists to work with musicians, architects, engineers, scientists and other professionals. E.A.T. was the model for such collaboration and its egalitarian spirit was an inspiration." The current MoMA retrospective celebrates Rauschenberg's openness to collaboration and experimentation, and demonstrates the power of exchanged ideas. In 1959, Rauschenberg wrote, "Painting relates to both art and life. Neither can be made. (I try to act in that gap between the two.)" His work with technology, found objects, performance, and dance testify to this artist's undying artistic connection to the everyday world, and his desire to share that experience with audiences then and now.
Written by Samantha MacAvoy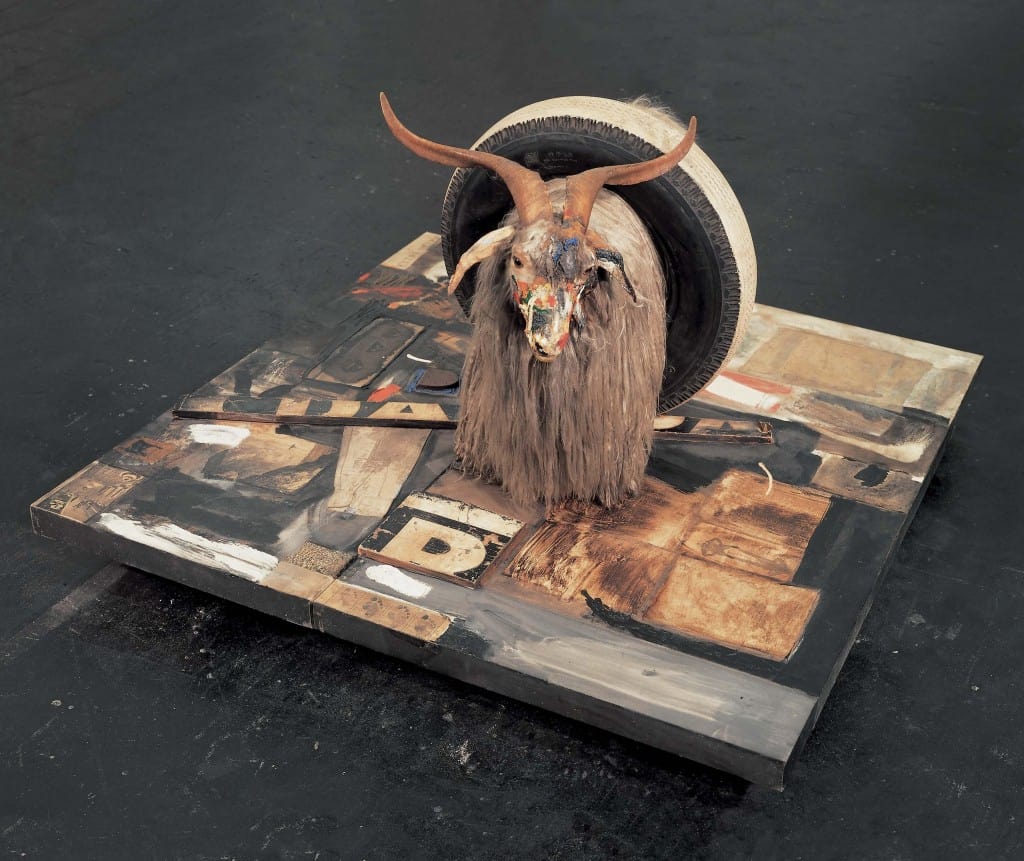 Robert Rauschenberg's Monogram (1955-59), from the collection of the Moderna Museet in Stockholm. Photo via the Rauschenberg Foundation.