During Digital Design Weekend 2023, Sotheby's Institute of Art-London Master's degree students collaborated on the Institute's first ever 'real world' contemporary art commission alongside art world experts.
---
Hope as an Act of Resistance – a sonic monument was a participatory sound artwork by Katriona Beales as part of a student curating project initiated by Institute faculty, Dr Juliet Hacking and Dr Amy Mechwoski. The project premiered at the Victoria and Albert Museum in September 2023 and sought to reconsider what and how we monumentalise in our culture. Beales' ASMR-inspired sound bath enhanced and celebrated collective well-being out of people's whispered hopes and encouraged unexpected interactions between strangers and friends through the shared experience of sound, physical space, and the collective activity of contributing and contemplating hope.
Visitors entering the space were given an artist-designed postcard with the phrase 'I HOPE…' and a pencil to write their thoughts down. They were then invited into a small recording booth to quietly contribute their own whispered hopes which became part of the sonic monument in real-time. Katriona Beales' work responds to the social implications of new technologies and affective experiences in post-digital culture. This was echoed in Hope as an Act of Resistance – a sonic monument through her acknowledgement and celebration of different perspectives, of the complexities of people's lives as well as their commonalities.
"The Reimagining the Monument brief was a really interesting one to respond to. Monuments made out of anything fixed seem very dated", says Katriona Beales. "Monuments often commemorate violence in some form or another, and are often dedicated to special individuals who enacted violence. The brief posed the opportunity to completely reinvent the form and I took it with both hands. I wanted to make something that reflected the types of monuments I want to be part of - things that are collectively authored, fluid, that mutate over time, but are also soft, gentle and hold people."
For the participating Sotheby's Institute of Art Master's degree students, working together in a world in which the post-pandemic condition collided with the permacrisis of global conflict and climate-disaster provided an impetus to consider how a monument might play a positive, even healing role. The student curators worked with a team of professional experts including independent curator Hannah Redler-Hawes, art historian Dr Barbara Lasic, and arts professional Rachel McHale. Collectively, they were keen to recognize that the pandemic had transformed our relationship with technology and each other. As young adults who had recently experienced social isolation at a point in their lives that would normally be a time of peak social contact, the student curators had a keen sense that now is a time for community and relationship building.
Hannah Redler-Hawes comments: "The Reimagining the Monument project was a wonderful experience for students from across Sotheby's Institute's four MA programs. I loved working with them to share my skills as a commissioning curator and I learnt a tonne from them too! Through regular workshops and meetings they collectively imagined a creative brief for an artist which questioned the purpose and role of the monument in contemporary culture. Katriona Beales took their ideas around mutual exchange and offered a surprising twist – what if exchange is the sharing of the personal, the deeply felt or even the intimate rather than a physical transaction? It brought all sorts of questions around notions of gifting as well as what we decide to celebrate as monumental, or is of great importance in our lives. Marc Barto at the V&A and his Digital Design Weekend team were amazing collaborators. They helped Katriona shape the final details of work to be most accessible for their large numbers of audiences. We were delighted to be at capacity for the entire display period and to collect hundreds and hundreds of 'Hope cards' and collected whispers. People fed back that it was a hugely moving and emotional experience. Not only to be given care, space, time and lovely lavender-infused plushy cushions to lie on while they considered their own hopes, but to be trusted by others with the gift of their own hopes too, which created an environment of collective connection as well as the deeply rewarding and mesmerising soundtrack."
The project presented the participating students with a hands-on opportunity to delve into the realm of public art commissioning, allowing them to engage in every aspect of conceptualizing, crafting, and executing the project. Through their active involvement in this process, students not only acquired practical skills but also experienced the intricate journey that goes into bringing a public art installation to life.
Take a look back at some of the highlights, below.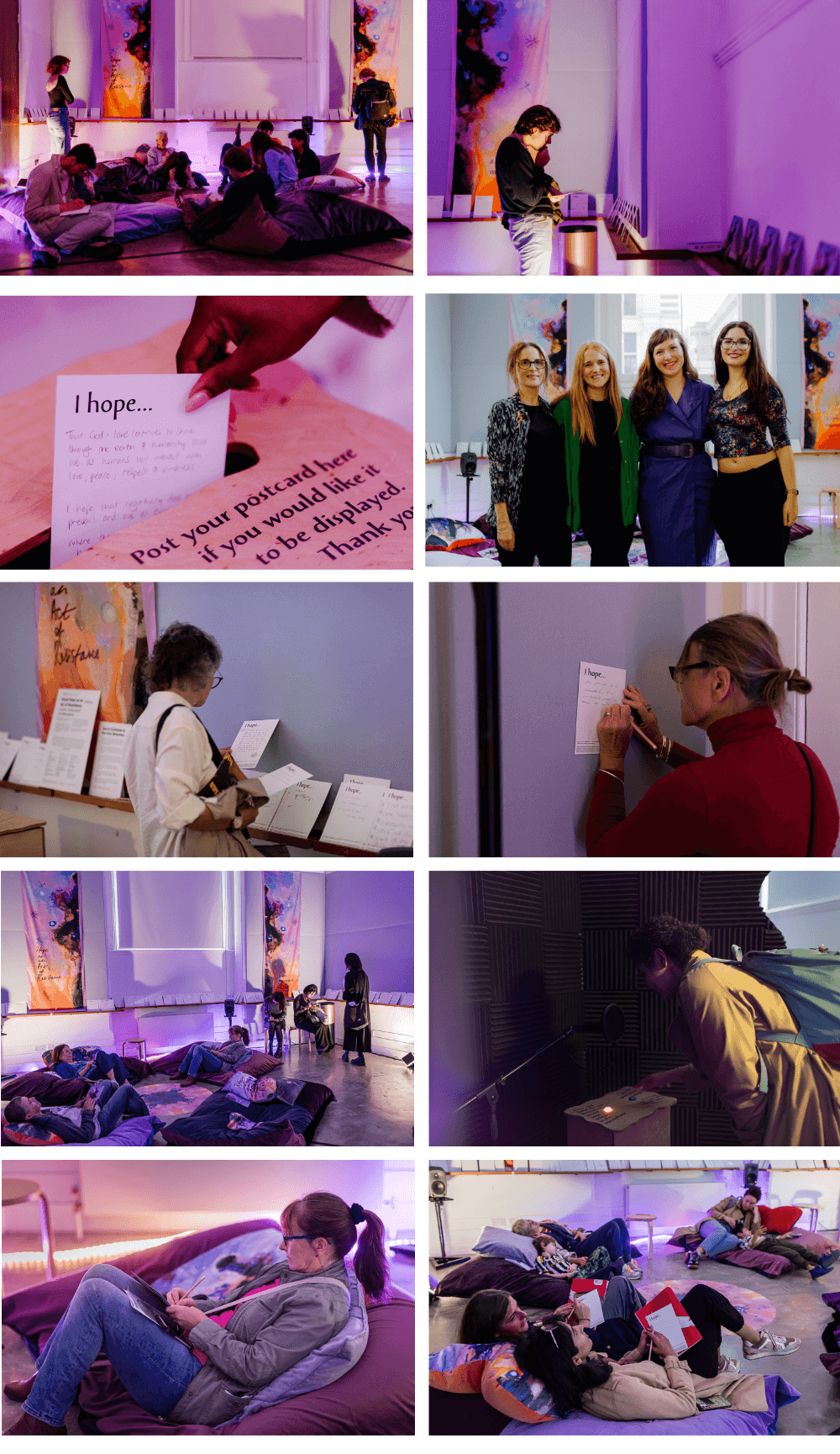 Katriona Beales 'Hope as an Act of Resistance' 2023. Commissioned by MA students at Sotheby's Institute of Art working with industry experts. V&A Digital Design Weekend 2023, including photos by Hydar Dewachi.
Project credits
Artist: Katriona Beales
Artist's Creative team: Rob Prouse at 10PM Studio - AV & Rasp Pi technical support. Weber Industries - CNC milling. Shane Beales - musical composition and sonic consultant. 3d models by SergiVFX licensed under Creative Commons Attribution.Font 'Solveig' (2010) by Looseleaf Fonts licensed under the SIL Open Font License.
Hope as an Act of Resistance: a sonic monument is dedicated to Katriona's children Ada and Orly.
Student curators: Francesca Christodoulou, Pedro De Siqueira Soares Costa, Olivia Nelson, Alexandra Oliver, Findlay Reece, Quan Wan, and Lena Wiesmuller. T
Curatorial lead / producer: Hannah Redler-Hawes
Curatorial and academic advisor: Dr Barbara Lasic
Curatorial and production support: Rachel McHale
Project initiators: Dr Juliet Hacking and Dr Amy Mechwoski.
Design: Sotheby's Institute of Art Design Studio
With thanks to all the Sotheby's Institute of Art and Victoria and Albert Museum staff who have contributed to the project and made it possible.
More information about the artist: www.katrionabeales.com