Sotheby's Institute has a long-standing partnership with the London Art Fair, from faculty talks to Master's degree students providing VIP tours. In 2023, Ruth Millington, Head of Careers at Sotheby's Institute of Art-London will curate the 5th edition of Platform.
---
London Art Fair returns to its traditional January slot from 18-22 January 2023, launching the international art collecting calendar once again with an exceptional collection of modern and contemporary art. The Fair will offer both seasoned and aspiring collectors a diverse presentation of modern and contemporary art, alongside curated displays, and an inspiring programme of talks, panel discussions and artists insights.
In addition, London Art Fair continues to champion and support regional museums through its annual Museum Partnership, which this year invites the Ben Uri Gallery and Museum who will present key highlights from their preeminent collection to the Fair showcasing the rich contribution to British art made by Jewish, immigrant, and refugee artists.
London Art Fair reflects contemporary practice and collecting trends within the art world through its critically-acclaimed sections curated in collaboration with leading experts.
Platform
For the 5th edition of Platform, art historian and author Ruth Millington presents a collection of galleries whose artists collaborate with inspiring individuals, reframing the muse as an empowered and active agent in the story of art. This year's edition of Platform, titled 'Reframing the Muse', invites viewers to consider the instrumental role played by diverse, real-life individuals, past and present, beyond the frame in which they are immortalised.
On display from Rebecca Hossack Art Gallery, a contemporary art gallery specialising in Aboriginal, Australian and Western art, will be works by Nikoleta Sekulovic, who subverts the tradition of Odalisque portraiture, and portraits by Carla Kranendonk. Gala Fine Art will be showcasing powerful new work by Golnaz Afraz, whose muses are young Iranian women protesters. Male muses are also being showcased by RAW Editions, through the male-on-male gaze of Peter Doig, Grayson Perry and David Hockney, whose portrait Reclining Figure pays tribute to one of his most significant subjects, Gregory Evans. Audiences, too, are invited to take themselves as their own muse, as they pose before the interactive mirror, No Photos Please by Eve de Haan.
This Muse Platform will be accompanied by an events programme, including a related performance and a panel discussion in partnership with Sotheby's Institute of Art, about the role of the muse in the modern world.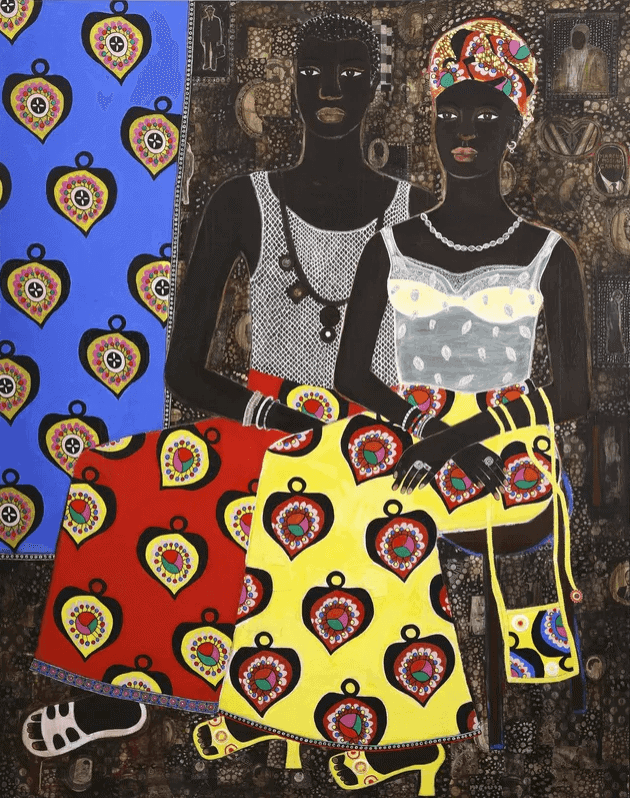 Carla Kranendonk, Couple in Balance, 2012. Courtesy of Rebecca Hossack Art Gallery