An ancient craft, ceramic production is one of the earliest forms of human expression. Ceramics have long fascinated artists, from ancient Greek amphoras emblazoned with depictions of gods to dreamy art nouveau creations.
Today we are seeing more and more artists taking on clay and raising the bar of the medium's artistic limits. Making appearances at art and design fairs and renowned auctions—such as Paddle8's "Contemporary Ceramic" sale in the Summer of 2017 and key works featured at Sotheby's "Made in Britain" sale—standout clay works are carving out a space of their own. Architectural Digest recently described ceramics as "officially having a full-fledged moment."
As in the other arts, ceramics have broken new ground, challenged past traditions, suggested new meanings and possibilities to old functions and habits of seeing, and have won the startled attention of a world prepared for the unexpected.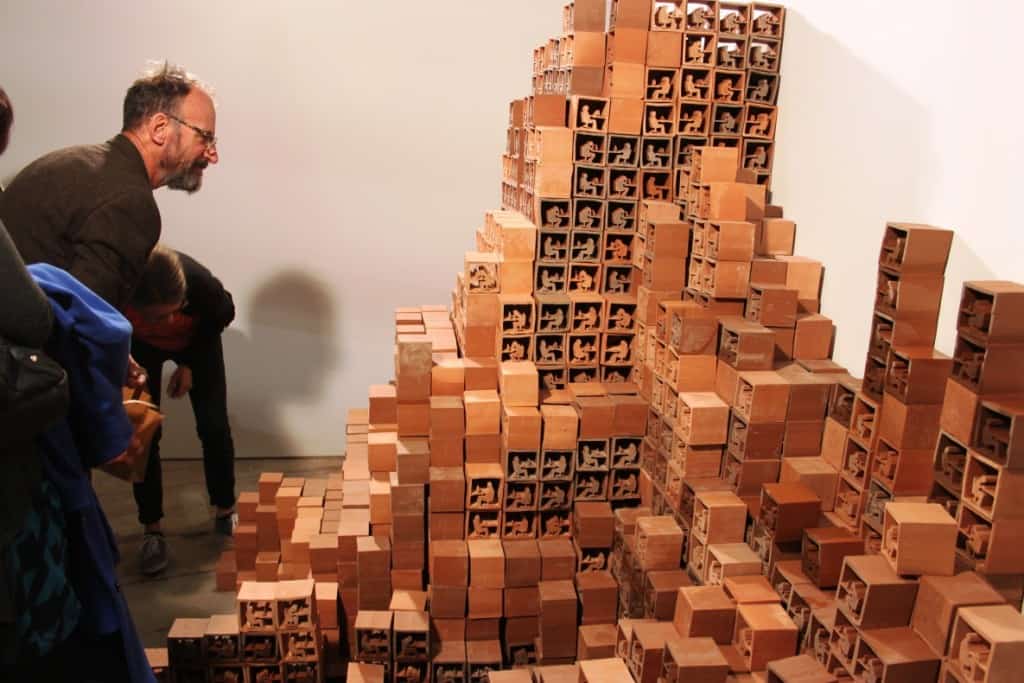 Lawrence Epps, Take Stock (2013) at British Ceramic Biennial
The acclaimed British Ceramic Biennial, hosted in the old Spode Factory in Stoke-On-Trent, celebrated its 5th edition in Autumn of 2017. The inaugural edition of the TRESOR Contemporary Craft fair launched in June this year in Basel. The event is a new international platform for high-end craft and contemporary applied arts, focused on presenting "the collectibles of the future"—an answer to a design world increasingly interested in craft and materiality, and secondary market prices accordingly on the rise. Proving the zeitgeist of contemporary craft is upon us.
Rose Slivka
Rose Slivka was a writer, critic and editor and a major figure in the advancements of crafts. As the editor in chief for Crafts Horizons from 1959 to 1979, Slivka helped define the philosophy of crafts and the terms in which they were discussed at a time when the field was experiencing fast-growing popularity and professionalism. She favored a shift away from emphasis on traditional skills and techniques and toward more innovative forms of creative expression. Her groundbreaking 1961 article, "The New Ceramic Presence," highlighted the movement of clay artists toward the abstract.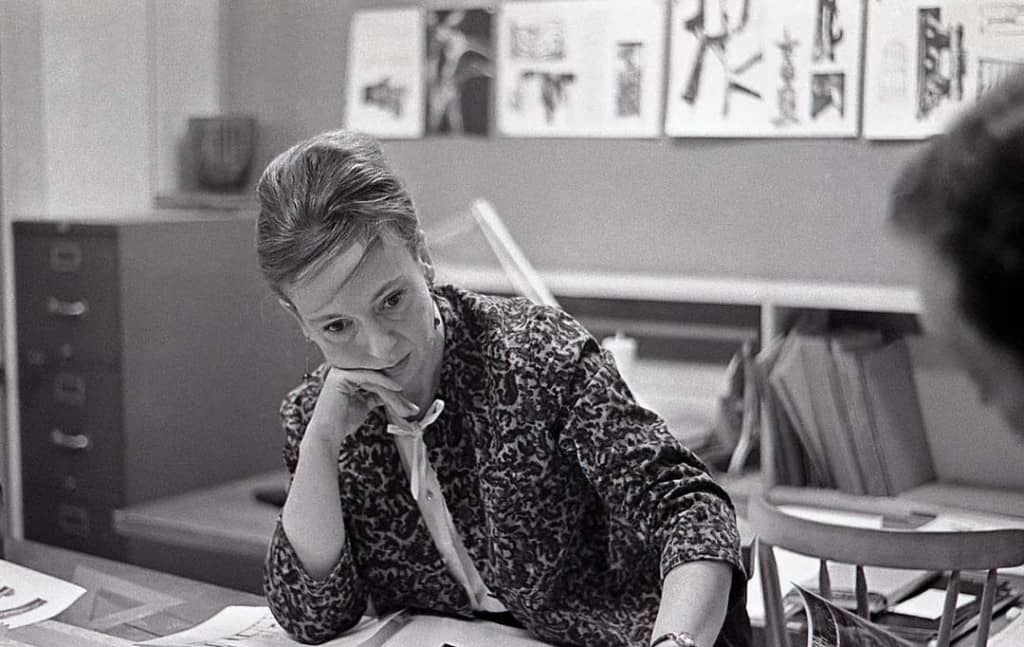 Rosa Slivka / Photo: American Craft Council
Writing about the ceramic boom in the US at that time, Slivka highlighted the turn in the importance of form over function in ceramics. Her point was that during the time when the world was becoming dominated by machines, what people really desired is the real and the handmade. In today's technology-obsessed society, this is more prevalent now than ever, and the London-based ceramics exhibition, Vigourous Form, explored the complex sources of modern ceramics, its widespread reintegration into the wider context of contemporary art, and the genesis of vigorous new forms.
Peter Voulkos and others, like Paul Soldner and John Mason, used the medium to create very challenging work. Colors, shapes, textures, and size were juxtaposed in sculptural work against classical functional forms. Slivka championed these artists and the marriage of these Abstract Expressionist ideas and clay resulted in big change. 'The New Ceramic Presence' article cemented this movement in the greater art world. There was a lot of praise for the work, but also a lot of outrage. The functional studio potters of the time hugely disagreed with Slivka's emphasis on non-utilitarian artworks.
Non-Functional Works: The Challenges and Tradition
All over the modern world, the creative potter has been re-evaluating his relation to function. "What we see now are these unique sculptural objects that are colorful, dynamic, and biomorphic that create space around them," Megan Mulrooney, Paddle8's senior specialist for contemporary art, told Architectural Digest.
"These works are far from the untouchables found in your grandmother's china cabinet. Contemporary ceramics are meant to exist mainly as art, not functional objects," Carly Olson wrote for Architectural Digest.
As an art form, ceramics is steeped in tradition, despite trying to be radical and new. Valuing tradition on a small or great level leads to a deeper impact of the appreciation of art.
However, more than any other form of art there is a tradition of the "accident" in ceramics—clay undergoes a fabulous creative transformation—from a palpable substance to a stone-like self-supporting structure. The unpremeditated fortuitous event that may take place out of the potter's control, in the interaction between the living forces of clay and fire, which may exercise mysterious wills of their own.
The individuality of each artist – their wide-ranging aesthetics and techniques – display a commitment to risk and experimentation backed up by a competence in technical skills.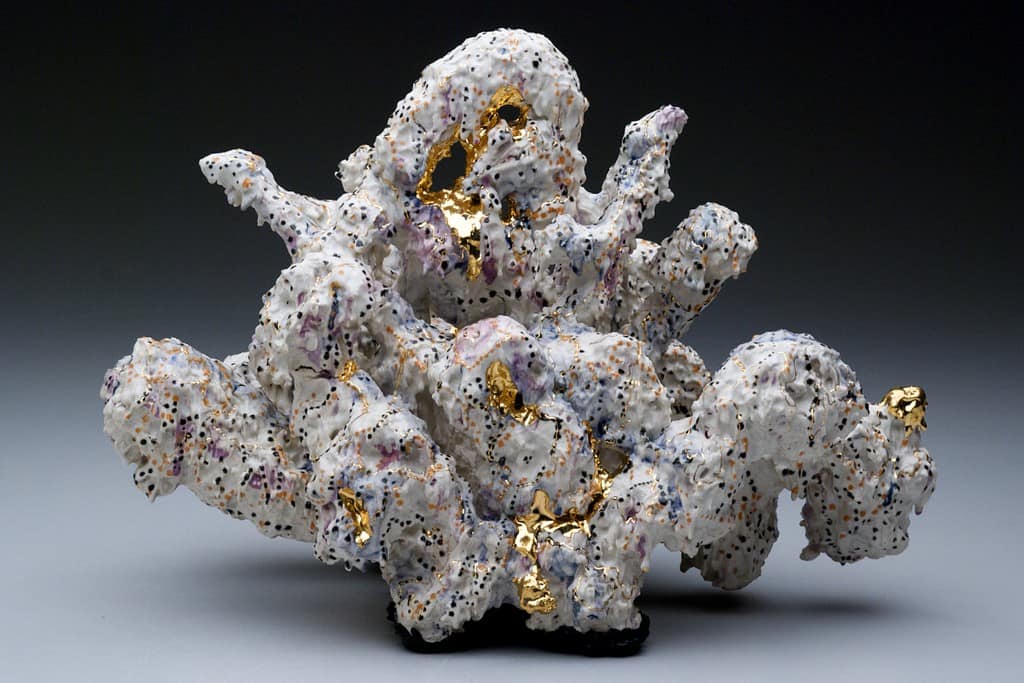 Andrew Casto, Untitled Assemblage #34 (2011)
A Return to the Handmade
In a world consumed by technology, we admire the opportunity for individuality and character in the work where no two pieces can be the same. The touch of the makers' hand and the feel of their expression is revealed on every surface.
Each individual ceramic work stands strongly as its own aesthetic statement, translating the experience and emotional force of the artist into direct physical form and ultimately transcending craft to become a full force amongst high art.
In the modern world, we are accustomed to our functional problems being solved efficiently and economically by mechanical means. Yet we are acutely aware of our particular need for the handcrafts today to satisfy aesthetic and psychological urgencies. Thus, this resurgence in the age-old craft taking the contemporary art world by storm!
Written by Courtenay Moon
Featured Image: Linda Lopez, Gold/Pewter Dust Furry, 2017
---
Courtenay Moon (Alumna, Art Business and Contemporary Art) is an independent curator based in London, specializing in contemporary art and ceramics. Born and inspired by her Caribbean roots, Moon is concerned with the search for a new ceramic presence, the energy and excitement of surface and the attack on classical, formal rendering. She was educated in the UK and has recently moved back to London after a stint in New York obtaining her MA from Sotheby's Institute.