On the occasion of International Women's Day, Anna Lucchinetti (Master's in Contemporary Art student) explores ways in which renowned performance artist Marina Abramović has used contemporary and digital technologies to change the way people think about and interact with performance art.
This text was written in anticipation of the third talk in the "Temporalities" series, co-organized by Sotheby's Institute of Art and Camden Arts Centre in London. In the talk, "Recurring Imponderables," the writer and curator Adrian Heathfield will argue that performance works are not static historical occasions but artistic events that continue to evolve over time.
---
For years Marina Abramović has been troubling her viewers by undertaking performances that not only put her—her body and mind—under stress but also unsettle her relationship with them, with her audience.
Today, she has become such an iconic figure that she does not even need to be present to perform. If before she based her work on her own physical presence, today she is gradually withdrawing from her works.
Indeed, nowadays viewers mostly experience Marina Abramović's art through videos, pictures, and re-enactments. Not only is her art accessible principally through documentation, but Abramović seems intent on making it independent from her bodily presence. When considering Abramović's latest works, such as Five Stages of Maya Dance, commissioned for Masterpiece 2018, and The Life, currently on show at the Serpentine Gallery in London, it is clear that Abramović is distancing her body from her art. For Five Stages of Maya Dance, the artist created five alabaster self-portraits that mix light, sculpture, and performance. As the viewer moves around them, the artist's figure decomposes, morphing into carved landscapes. Discussing this work, the artist said, "Performance is an immaterial form of art. At this point of my life, facing mortality, I hence decided to capture my performance in a more permanent material than just film and photography."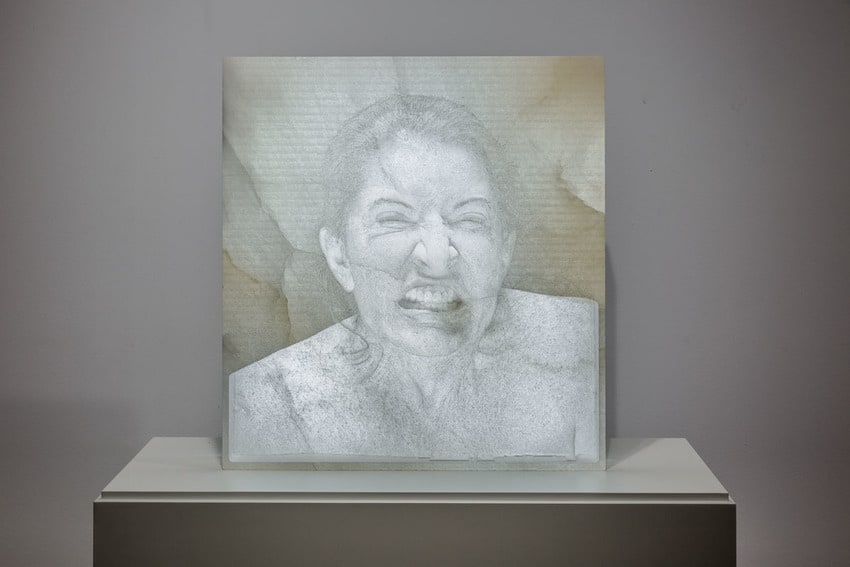 Marina Abramović, Five Stages of Maya Dance, Four Out of Five (2013)
Abramović goes further in exploring the limits of her presence in The Life. The work combines Mixed Reality (a form of virtual reality) with performance. Viewers wear VR googles that project Abramović's figure in the centre of a circle where she performs for them. As her hologram appears and disappears while entering and exiting the circle, it is clear that the artist is playing with the idea of presence. Her body is seen by the audience even though she is not physically there. Mixed Reality gives Abramović the chance to be anywhere while the exhibition tours. On this matter the artist has claimed, "the fact that the project can be repeated anywhere in the world while I am not there is mind-blowing. I can be present in any spot on the planet."
Whether these new ways of projecting her presence can compensate for her absence as a flesh-and-blood performer is an open question. One week after the release of tickets for the Mixed Reality performance, the Serpentine Gallery had to make an announcement to the effect that the artist would not be physically present at the event, disappointing many ticket holders. Thanks to Mixed Reality, Abramović has found a more compelling way of projecting her performing presence than film and photography. However, some viewers will see The Life not as a performance, but as the documentation of a performance.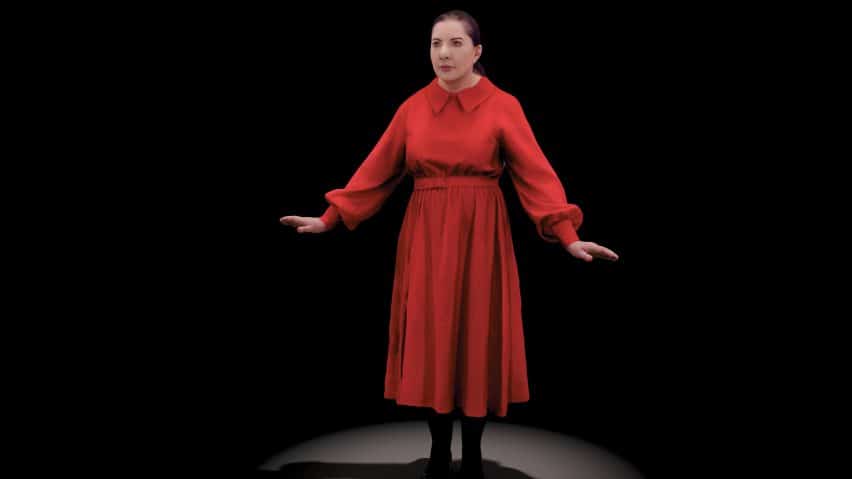 Marina Abramović, The Life (2019), Photo by Marina Abramović and Tin Drum
Nevertheless, Abramović's absence seems not to have affected the popularity of the event, which has completely sold out. The same happened with The Cleaner at the Palazzo Strozzi in Florence in 2018-2019, Abramović's first retrospective in Italy. The show featured works in different media, including film, photography, objects and re-enactments. Even though the artist did not perform in person, fragments of her autobiography were displayed next to works, giving visitors the sense that she was speaking directly to them and so compensating for her absence.
In her latest work, Abramović's increasing absence can be seen as an attempt to become immortal and omnipresent. Only by emancipating her work from her body can she ensure that it will continue to be viewed even after her own passing and, given the place she has secured in the story of performance art, it surely will.
Written by MA Contemporary Art student, Anna Lucchinetti
Featured image: Marina Abramović, Five Stages of Maya Dance (2013)
---
Conquer the art world with our Master's degrees in London and New York. Learn more.