Launched in 2012, Artsy has been busy revolutionizing the art industry ever since. With over 3,000 galleries and a million and a half works of art available on the platform, it has become the biggest art marketplace, attracting collectors from more than 160 countries. But who are the people behind the scenes of this art market giant? What do they do and how did they get there? We tracked down not one, not two, but five Sotheby's Institute alumni currently employed at Artsy to get the scoop on what it took to get there and what it's like on the inside.
Becoming an Art Insider
"Right now, it feels like home," says Stas Johnson Chyzhykova of being immersed in the art world. As the Director of Collector Relations at Artsy, Johnson Chyzhykova has indeed become a key member of the industry. Though her role has changed tremendously over the past six years with Artsy's rise to fame, it is focused on managing the company's growing e-commerce offering. What does this mean in the day to day? Working closely with everyone from the product team to the marketing team and, of course, with the collectors from around the globe, advising on the artwork, the purchasing process, and everything in between.
But Johnson Chyzhykova didn't start out with a vision of success in the art world. "I never even thought that there would be a possibility to work in this industry," she shares. Fresh out of Brown and new to New York, Johnson Chyzhykova was faced with the daunting task of getting a job in the notoriously opaque art industry, which didn't seem to be accessible to "a regular person." She started by becoming an intern at Artsy in 2012 — then a startup with just a handful of employees — and quickly realized that she needed help to make sense of all the information she was being faced with on the job. That's when Johnson Chyzhykova turned to Sotheby's Institute and joined the Art Business Master's program in New York. Over a course of a year and a half, Johnson Chyzhykova eagerly learned from her professors and peers, gaining knowledge about how the art world works and its main players. "It helped me gain confidence, gave me a sense of community, and exposed me to a huge network," she says of her experience at The Institute. Johnson Chyzhykova graduated in 2014, proudly taking on the alumni badge as an honor. "It's a highly respected institution and saying that I'm an alumna feels very good in the art industry," she adds.
---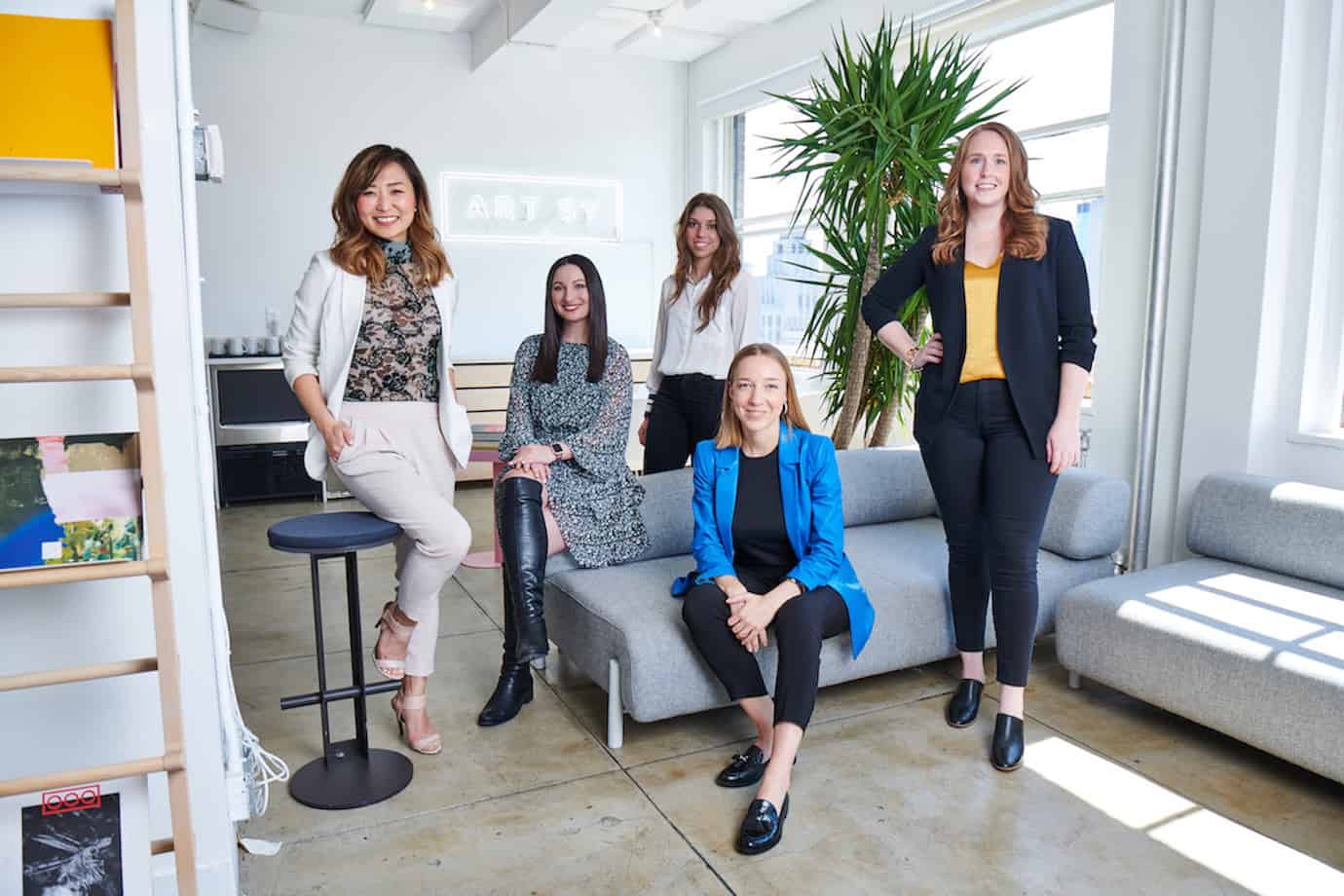 MA Art Business Alumni at Artsy in New York (left to right): Soojin Seelye, Isabel Telonis, Sofia Arruda, Stas Johnson Chyzhykova, and Jane Larson
---
Collecting the Right Skills for Art Tech
"At first, it kind of felt like failure," says Soojin Seelye of her path to figuring out what she liked doing the most in the arts. Currently the Gallery Relations Liaison and Consultant at Artsy, where she works alongside galleries to help build their business strategy and set them up for success on the platform and the digital market place, Seelye started out learning metal pouring foundry at the School of the Art Institute in Chicago. A difficult skill to master and an even more difficult one to continue practicing in the city of New York, she went back to the drawing board to find a new application for her skills. She tried her hand at everything from wax working to jewelry to non-profits before developing an interest in the digital space. It was this interest that Seelye pursued further with her Master's in Art Business at Sotheby's Institute in New York. "The classes that the Institute provided were about auctions as well as the digital art market and new developments in startups," she says. During her time at The Institute, Seelye got to experience the global market and learn about startups working on increasing the exposure of art using digital means. She started brainstorming about how she could contribute to the sphere and met fellow graduates that have done it. "Some of the people that have really great startups — and are now coming into their own — were started at Sotheby's Institute," she proudly remarks.
Seelye went on to learn more about art in the digital sphere with jobs at ArtNet, Art Binder, and, eventually, the company she was watching grow and expand for several years — Artsy. How did she know it was the right fit? "I think my role at Artsy really plays into some of my best skills, [including] connecting with people and finding ways to leverage the tools that we have" — all to help people engage with art and make it as accessible as possible. Over the past two years in her role, Seelye got to be a part of exciting new features now being launched, like the selling tool that allows people to make instant purchases and a city guide that lets people enjoy gallery shows and art events wherever they go. "What I love about Artsy is that it's looking to try to further whatever engagement you have and bring people back to actually experience the art."
For The Institute's recent alumni newly employed at Artsy – Sofia Arruda, Isabel Telonis, and Jane Larson — the pull to work at the company was likewise rooted in its mission and what it offered to applicants in the industry. "I liked that it is still a tech company because I am doing something a little bit different than the more traditional art world route," says Arruda, a 2017 grad of the Master's in Art Business program and the Gallery Partnership Associate at Artsy. And what advice would they give to current students aiming to one day make their own mark on the art world? Learn about what you like the most by trying out the different classes at The Institute "because they're so diverse and different from other schools," says Telonis. Take advantage of the faculty — they're really invaluable as experts in their fields. "That's not something you're always going to have access to," advises Larson. And as soon as you can start, "get as much experience on the side" as you're pursuing your degree, says Arruda. "That's what really gives you a taste for what it's like" working in the art world.
Written by Alina Girshovich
---
Ready to join the next generation of art world leaders? Explore Master's programs.