Iwona Blazwick, the British art critic and lecturer, who had a transformational effect on contemporary art in the UK and beyond, addressed the London Class of 2021 and 2022 during their Graduation Ceremony in Bedford Square.
---
Remarking on the unique experiences of studying at Sotheby's Institute, Iwona Blazwick noted, "You have been given a 360-degree tour of the ecosystem of art. Not only have you examined histories and ideas, its legal logistic and commercial frameworks, but you have also looked at art in the flesh. Believe it or not, many other university courses never leave the campus."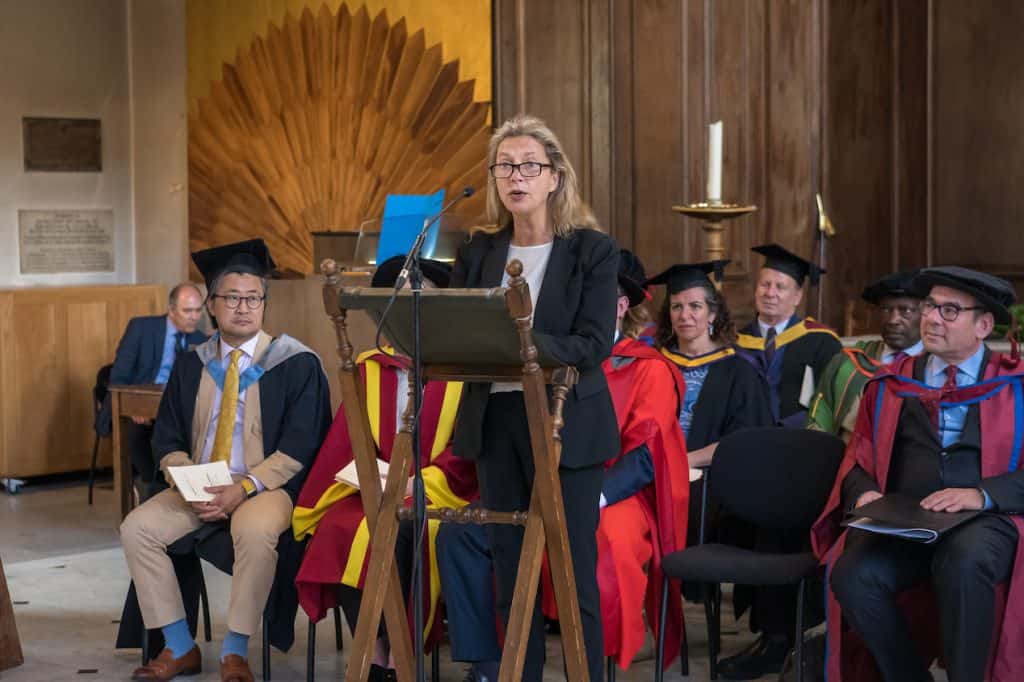 Blazwick then raised four questions about Art: "How does a history of art inform the present? What is the nature of perception, the psychology of understanding the abstract as well as the figurative? How do we define and judge aesthetics? What are the ethical and social dimensions of art? Wrestling with these big ideas is the best qualification of embarking on the many wonderful careers now open to you in the art world."
She followed this by encouraging graduates to explore and question, "Where are the female artists? How do we foreground non-western art histories? Why is there a hierarchy between art and craft," she said, "There is important work to be done."
Blazwick has presented the rich possibilities of working with the museum ecosystem. She said, "You might choose instead to define the art of your time by writing about artists and makers of your generation, championing their work to wider audiences. You could publish your own magazines, books, or digital platforms that circulate, contextualize, and preserve for the future, the art of today. You may consider becoming a curator, working with a museum or private collection, or public gallery, or biennale," she also noted, "you could be an educator, a conservator, a fundraiser, a media communications specialist, finance office, a head of operations."
Eloquently phrased, Blazwick also warned of the "darker side of the art world", including "cyber currencies masquerading as art and the entertainment of spectacle and gimmicky", going on to poignantly say, "stay true to the visionary, the poetic, the profound, and a rich career will follow."
Blazwick concluded her speech with a piece of guidance about the nature of identity, "We should celebrate the cross-pollination of cultures and life experiences through the art we nurture and promote," she added, "by celebrating art and artists so that they can realize the visions, you will enrich all our lives."