The London MA Contemporary Art team reports on this year's documenta in Kassel.
Exceptionally, the celebrated megashow, which is put on every five years, is divided between two cities, Kassel, its traditional home, and Athens, where the curatorial team headed by Adam Szymczyk elected to stage part of their show in a gesture of sympathy towards a nation buffeted by economic hardship. Here are some of the Kassel highlights:
---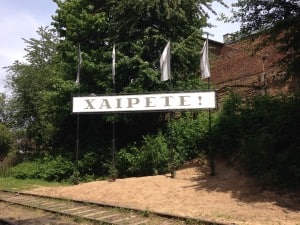 The Welcoming Gate (2017) by Zafos Xagoraris
Exiting from the disused underground rail station now dubbed the "Kulturbahnhof", one of the more atmospheric of the many exhibition venues in Kassel, the visitor is confronted with a gate bearing the word "XIAPETE!" (Hello). This turns out to be a recreation of the gate made to greet Greek soldiers who, though Greece was neutral, were captured and kept in relative confinement in a town in Germany from 1916 till the end of the First World War. While there, some of these soldiers made early recordings of traditional Greek music, which are used by Xagoraris as a haunting musical backdrop to his gate. This bittersweet work is one of many that respond to Szymczyk's curatorial decision to hold documenta simultaneously in Germany and Greece by tracing historical connections between the two countries.
---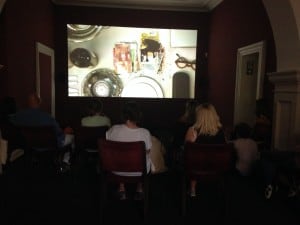 The Dust Channel (2016) by Roee Rosen
Showing on the top floor of the Palais Bellevue, this video operetta features young protagonists who live in a well-tended Israeli home and sing in praise of their state-of-the-art hoover. Rosen comically suggests that their obsession with cleanliness is at root sexual, while also including clips on the refugee detention centre at Holot to draw a parallel between compulsive cleaning and the quest for cultural homogeneity pursued by the current Israeli administration. Also on view at the Palais Bellevue are the intricate botanical drawings of Abel Rodríguez, who uses them to document the curative properties of plants growing in the Amazonian rainforest, as described to him by his uncle, who practiced traditional medicine in the Caquetá region of Colombia.
---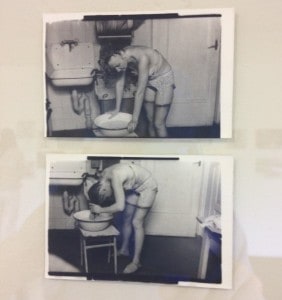 Algirdas Šeškus, Photographs
A visitor could easily miss the black and white photographs of Algirdas Šeškus, affixed to columns and walls in the cavernous Neue Neue Galerie, which was Kassel's mail sorting centre for decades after its completion in 1975, the year Šeškus took up photography. Informally composed, his images of the late 70s and early 80s show spartan interiors and wide open, often bleak avenues and squares in Vilnius. Like family snapshots without the signs of conviviality, his works dwell on the traces of World War Two and the militarisation of public space in Soviet Lithuania. These tiny images serve as a modest thread running through the vast spaces of the Neue Neue Galerie, offering a relief from the more imposing projects while also testifying to a taste for archival materials and formats that is discernible throughout this documenta.
---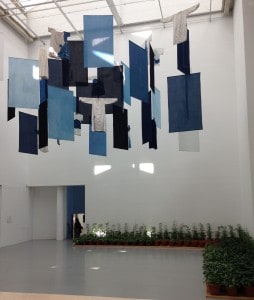 Fundi (Uprising) (2017) by Aboubakar Fofana
Fofana lights up the largest space in the documenta Halle with a giant mobile of white and indigo-dyed textiles that hang over an open space ringed with plants. The Malian-born artist worked with a greenhouse business near Kassel to grow indigotin-producing plants native to different parts of the world before dying the shirts and flag-like sheets now hanging from the ceiling various shades of indigo. Visually seductive though it is, the installation has a dark undertow: it is designed to draw the visitor's attention to the grimly revealing history of a dye that was once so valuable it fuelled the demand for African slaves in the Americas (in the 18th and 19th centuries), later sparking a rebellion in Bengal against its enforced cultivation under British colonial rule (the Indigo Revolt of 1859).
---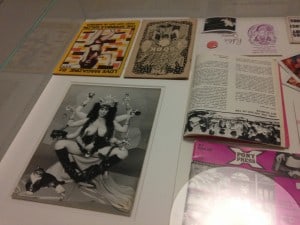 Annie Sprinkle and Beth Stephens
The curatorial team have devoted a room to the artists and "ecosex" activists Annie Sprinkle and Beth Stephens in the Neue Galerie, filling it with paraphernalia from their shows and performances alongside a couple of artworks and a video documenting their public weddings, the duo having married the sun, moon, sea, earth and other planetary bodies in a series of celebrations held in locations around the world between 2005 and 2012. Here the restraint that characterises so much of this rich and thoughtful documenta is thrown off. The weddings were riotously life-affirming events involving nudity, inventive costumes, large cross-generational casts of participants and onlookers and speeches that were by turns solemn and irreverent. Another highlight on the ground floor of the Neue Galerie, much of which is given over to projects exploring gender identities and new sexualities, is the relatively little-known work of the Kassel-educated transgender artist Lorenza Böttner, who lost her arms as a child and investigated a range of forceful poses and personae in a series of self-portraits before her premature death in 1994.
documenta runs in Kassel until September 17th (and in Athens until July 16th). After that, we will all have to wait another five years for the next edition.
---
Photos and article by: Marcus Verhagen, Program Director, MA Contemporary Art, London
Main image: Marta Minujín, The Parthenon of Books (2017)