No one could have seen it all at Art Basel Miami Beach with over 300 galleries exhibiting over the course of just 5 days. Betty Briceño, art consultant and MA Art Business alumna, offers a selection of 7 artists from the fair to keep on your radar.
---
Works by female artists took center stage in this year's edition of Art Basel Miami Beach. The Kabinett sector—a highly praised segment of the show in which galleries display concise, curated installations within their booths—was dominated by the work of female artists, who were the creators of more than half of the projects exhibited in this year's celebrated segment. The Kabinett's diverse curatorial concepts included thematic group exhibitions, art-historical showcases, and solo shows for rising stars.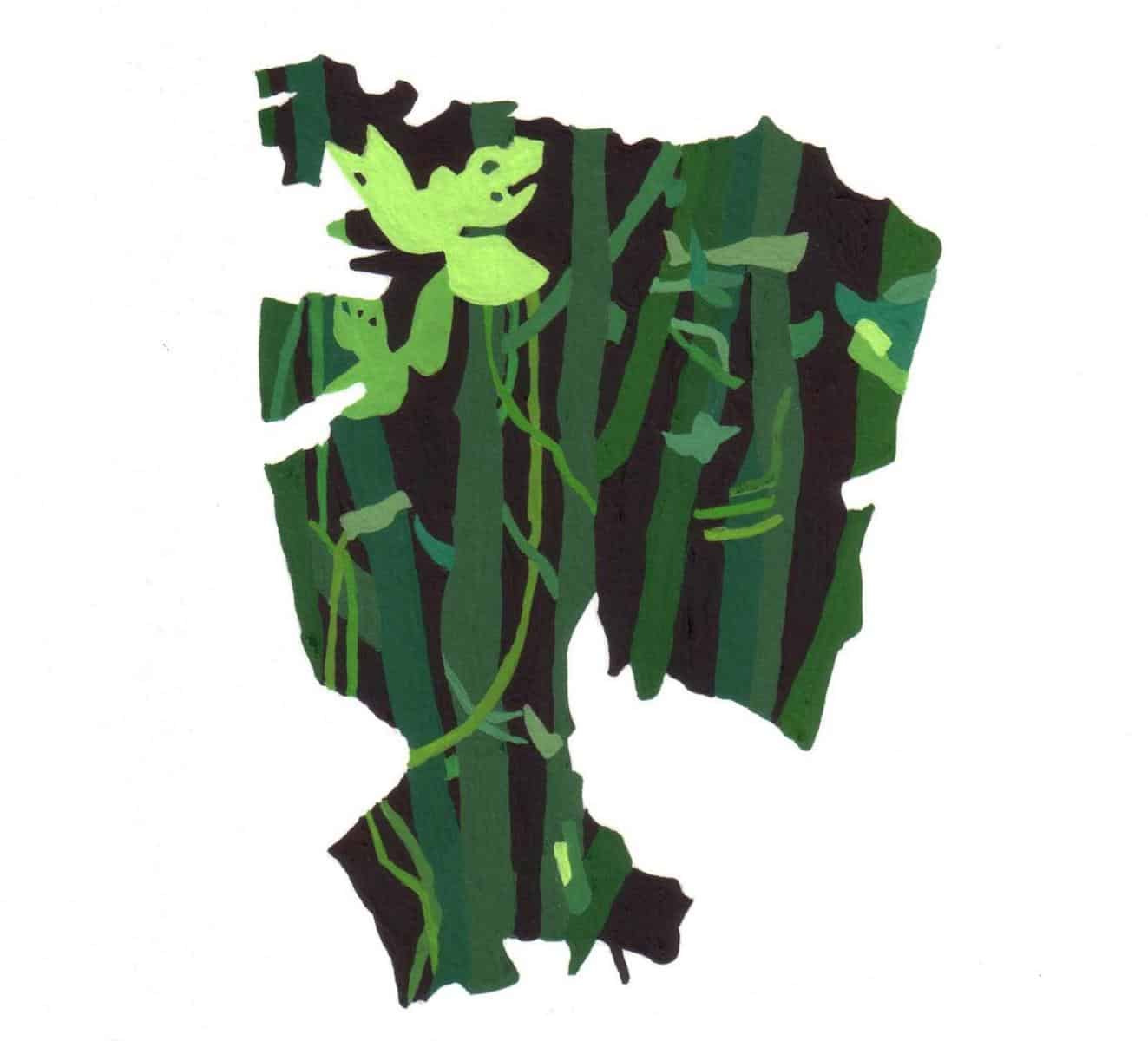 Irene Kopelman, from the series "Forest Windows," 2012
Among this year's Kabinett exhibitions was Mexico City's LABOR Gallery, featuring Irene Kopelman's Forest Windows (2012), a group of works produced during the artist's month-long expedition to the nature reserve at Manu Learning Centre, a UNESCO World Heritage Site and one of the largest protected areas in Peru. The series of gouaches and graphite drawings also developed after Kopelman's month-long visit to Antarctica. Following the two distinct expeditions, the artist seeks to understand the most contrasting landscapes: going from extreme heat to extreme cold, from exuberance to emptiness, and from the most lush landscape imaginable to the most stark.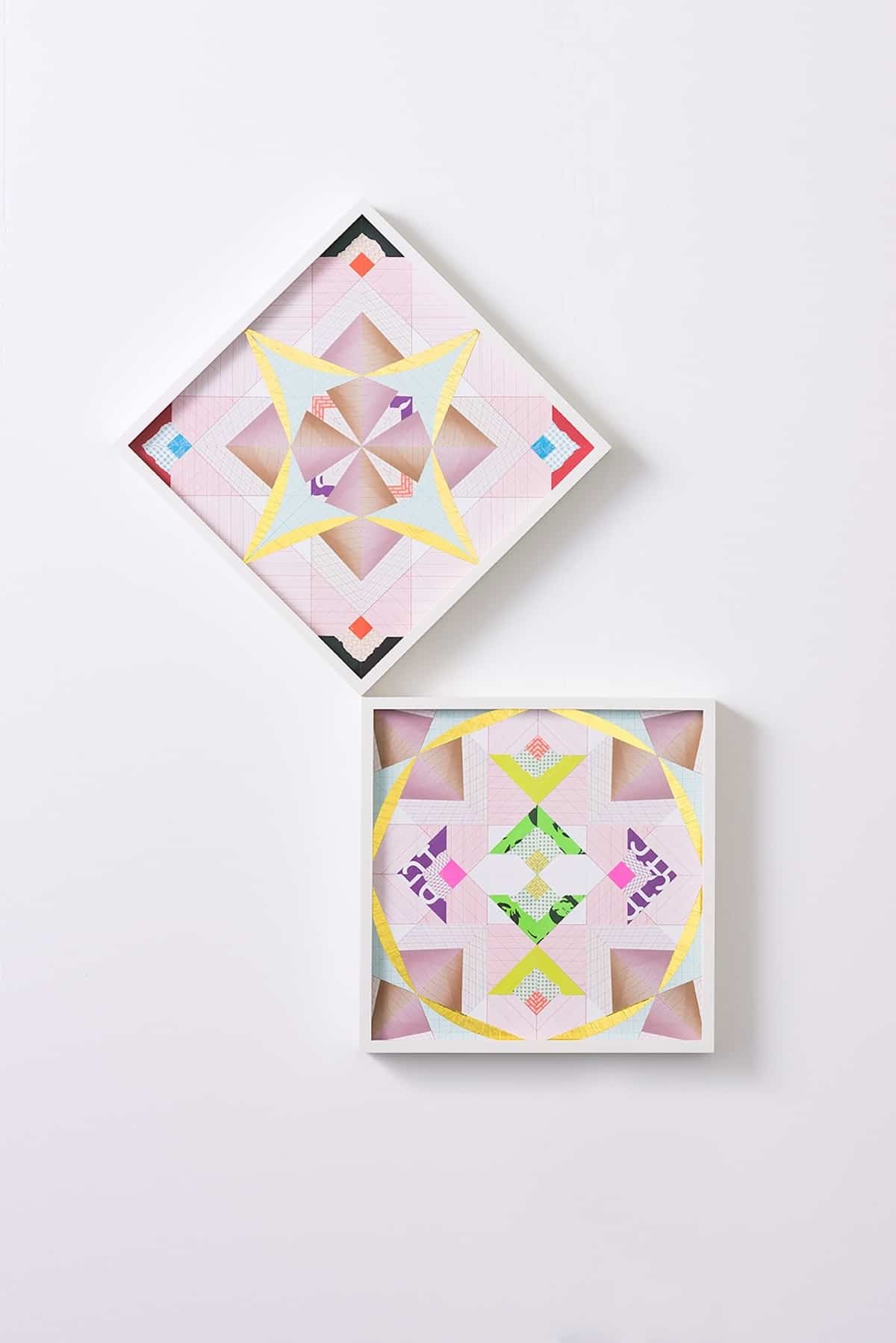 Haegue Yang, Minuscule Kaleidoscopic Clock Faces—Trustworthy #322, 2017
Kurimanzutto's presentation featured Haegue Yang's Trustworthies, the artist's ongoing series of paper collages that employs the security patterns printed on the insides of envelopes to protect personal information, raising questions of the visible and the hidden in our everyday surroundings. With a variety of colors and patterns, this body of works further explores optical effects of geometry, symmetry and gradation.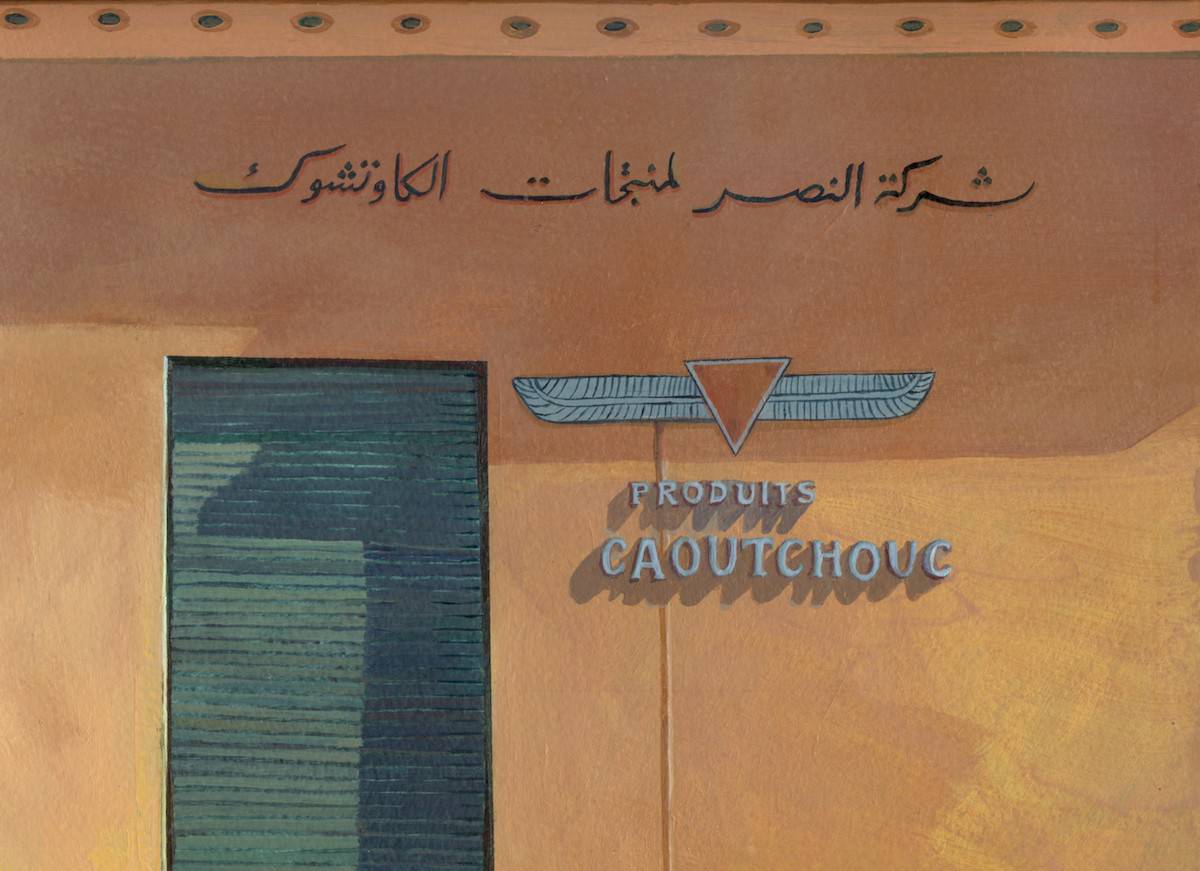 Farida El Gazzar, Produits Caoutchouc, 2017
Also part of this year's Kabinett, Kalfayan Galleries presented a series of works by Egyptian-born artist Farida El-Gazzar that reflect upon the socio-political aspects of ordinary moments and objects, inspired by El Gazzar's birthplace of Alexandria. Conceived as an artist's journal, these portraits of urban life also serve an x-ray of the human condition where solemnity goes hand in hand with lightness, and glory co-exists with kitsch.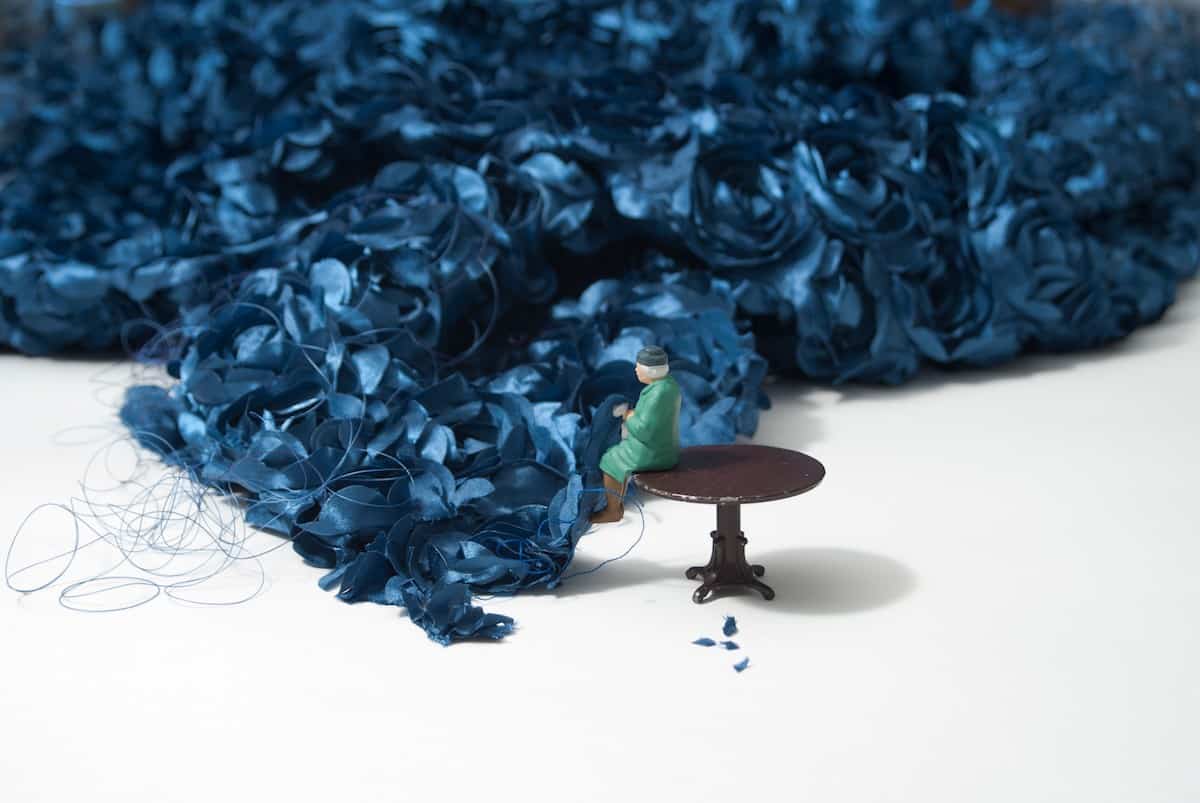 Liliana Porter, "The Task," 2014
As for some of the highlights from the main sectors of this year's booths, Liliana Porter at Ruth Benzacar Galeria de Arte presented a piece from her recent installation at the Venice Biennale. In her body of work, Porter questions the boundary between reality and its representation through the use of toys and small figurines that she finds in flea markets and antique stores. The Task (2014) seeks to offer a metaphor of the human condition. The small figurine, representing a weaver at work, occupies a monochromatic background, addressing larger philosophical questions and emotional states.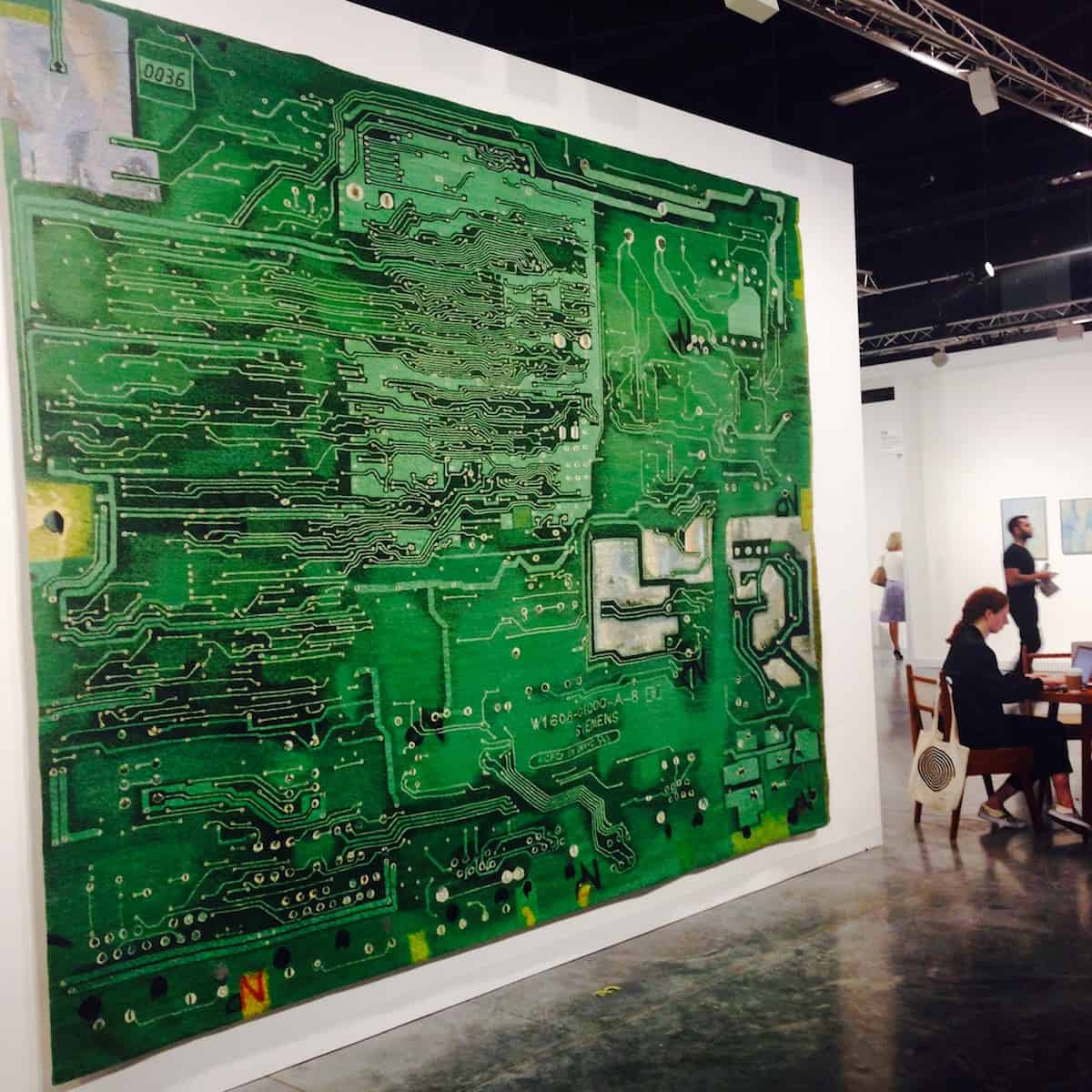 Damián Ortega, Microchip IV, 2013
Tapestry and weaving, main themes in this year's edition of the fair (used both literally in the materials and metaphorically as a process) were also highlighted in Kurimanzutto's feature of Microchip IV (2013) by Damián Ortega. The Mexican artist plays with a scale that ranges from the molecular to the cosmic. In this wool tapestry, Ortega takes the micro (a circuit board) and presents it in a macro scale, while reflecting upon the relationship between the technological and the traditionally handmade, or analog process of weaving.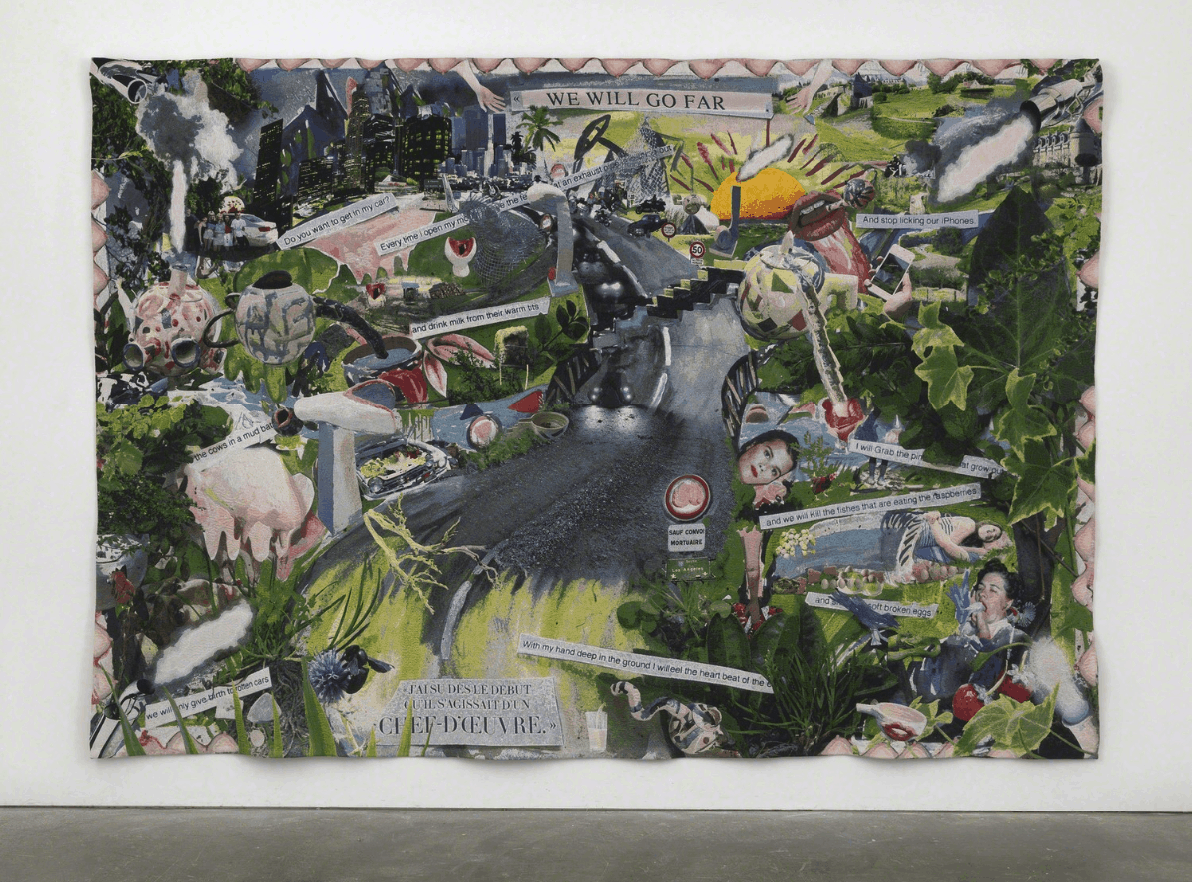 Laure Prouvost, The Smoking Image, 2015
Laure Prouvost—Turner Prize winner and rising star in the global art world—is recognized for dismantling preconceptions about the functionality of language, objects and images. The Smoking Image (2015), featured by Lisson Gallery, presents a rich, tactile assortment of images and phrases. Through this 4.5m-long tapestry, Prouvost addresses the viewers directly, pulling them into her disruptive, imaginary visions.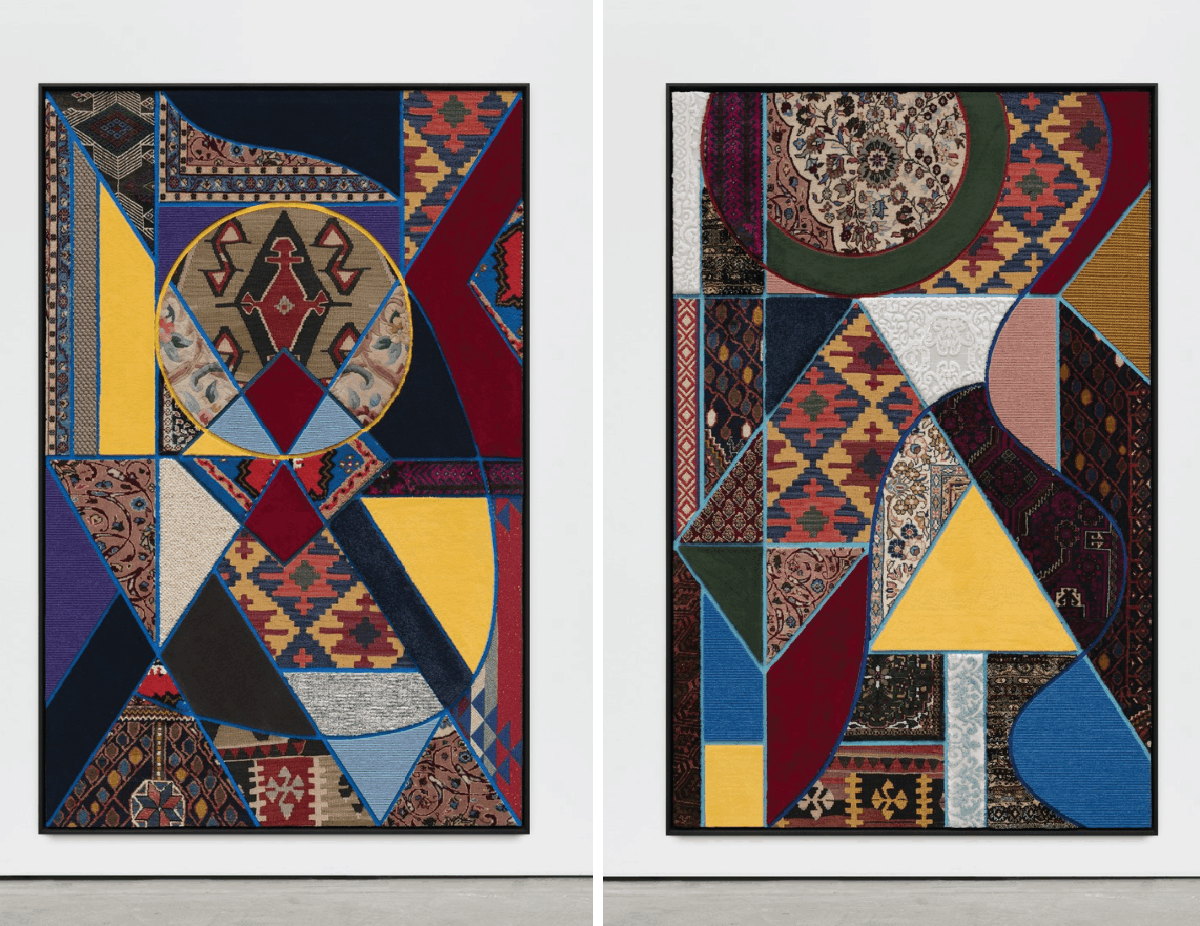 Nevin Aladağ, Social Fabric, blue petrol yellow, 2017; Social Fabric, turqouise blue red, 2017
Another highlight of the show included two works by Turkish-born artist Nevin Aladağ  featured at Wentrup. The works, titled Social Fabric (2017), combine pieces of tapestry and carpets from various parts of the world. Different patterns and motifs from Persia or from Eastern Azerbaijan join monochrome segments more representative of the industrial carpets produced in the Western world. Ornaments, wild cats, and birds from the Iranian regions of Tabriz, Nain, and Balochistan with their symbolism (fertility, power, and happiness) are contrasted with monochromatic color fields. In these fabrics, craftsmanship going back hundreds of years encounters the modern process of industrial production. As examples of cultural hybridity, these works further present us with questions about the concrete conditions of production, globalized trade, and postcolonial perspectives.
For the full gallery list and further details on the artists featured in Art Basel Miami Beach 2017, click here.
Written by Betty Briceño, MA Art Business alumna
---