After studying MA Contemporary Art, alumnus Alexis Sarfati has gone on to become associate director at Galerie Nathalie Obadia. We spoke with Alexis about his time at Sotheby's Institute and how he made it an experience to remember.
---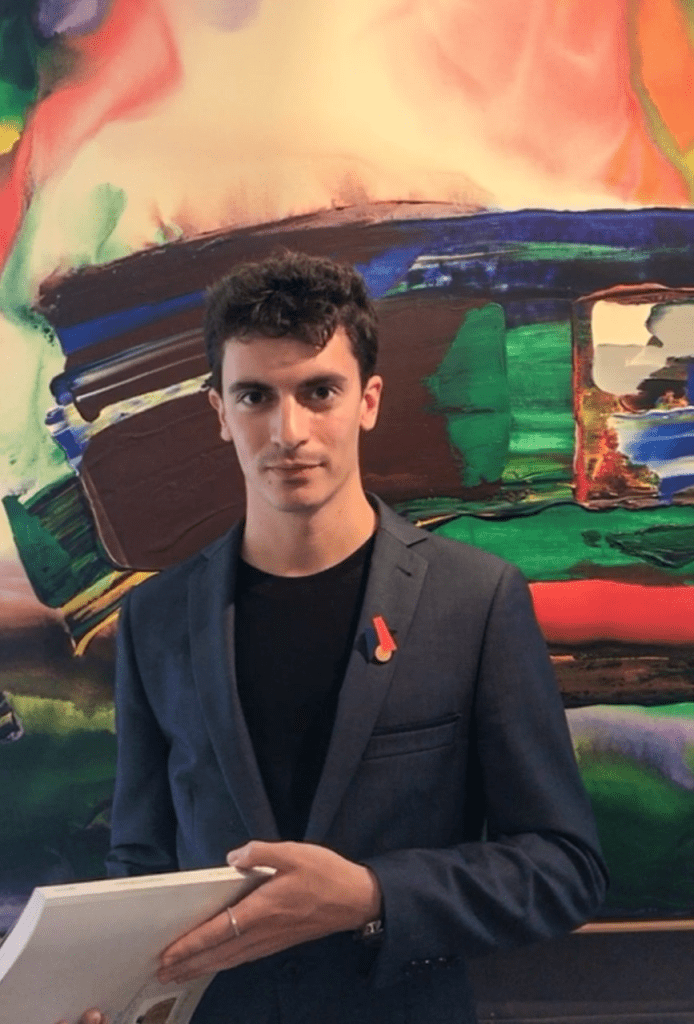 How would you describe your Sotheby's Institute of Art experience?
My experience at Sotheby's Institute was very well rounded. Classes are always built on a foundation of critical reading, presentations and discussions with the teaching body, as well as encounters with industry professionals, which always make for a welcome networking opportunity. Class trips to London art institutions and study trips abroad are a great way to cement these learnings on the ground, and experience art in the flesh, something paramount to a complete understanding of both contemporary art and the art market.
What drove your decision to apply for a Sotheby's Institute MA program and what did you study?
After completing my BA and MA at Sciences Po Paris in social sciences and communications, I yearned to further my art history education. I chose MA Contemporary Art at Sotheby's Institute because it is one of the only academic institution to frame art history within the art market. Knowing I wanted to pursue a career in the primary or secondary market, at auction or in a gallery, I found Sotheby's Institute to be the perfect fit. At the Institute I was able to develop the foundations I had in contemporary art history in a way that catered to the industry I sought to join. All of the assignments I completed effectively had a practical ground, exhibition reviews, auction catalogue entries but also further learning to speak about an artwork to an audience.
What does your current role entail?
As associate director at Galerie Nathalie Obadia, my role is twofold. I am artist liaison to four artists of the gallery, Guillaume Bresson, Laura Henno, Youssef Nabil and Shahpour Pouyan. As their direct point of contact I am entrusted to manage their careers, overseeing their exhibitions both at the gallery and in the various institutions they show at. I am also in charge of sales which entails collector relations and participating to a number of fairs throughout the world, Art Basel in Miami, Hong Kong, Basel and now Paris, The Armory show, Tefaf Maastricht, Art Paris, Paris Photo, Art Geneva or Art Monte Carlo to name a few.
How did the course electives impact or help your career?
I chose the elective curating contemporary art which was a great opportunity to further deepen the teachings of the contemporary art segment of the master's programme. The course adds a necessary historical context to the art of curating, surveying seminal exhibitions and their curators. This proved complementary to the experience of working with artists studying at Chelsea college of art and curating exhibition of their work. Fundamentally, curating is something you learn on the ground and having that practice was instrumental in learning to work with artists and understanding the kind of support you can show them.
What is it like to be part of the alumni network and how has forming a network helped in your career?
I have kept in touch with a lot of my friends and peers from the Institute, some of whom I often see while traveling to fairs internationally. The school's network of students is very international by nature, in turn you will always find a friendly face in most art capitals you go to!
What advice or tips would you give to applicants?
Make the most of your experience at the Institute and take advantage of every opportunity but also create opportunities of your own. One of the reasons I chose Sotheby's Institute was to experience the London art world which presents a wealth of occasions to immerse yourself in art and the art market. I recommend attending as many exhibitions openings or museum talks you can, reaching out to industry professionals to learn from their perspectives, creating your own projects, and going the extra mile. Your experience at the Institute is what you make of it, I recommend making one you remember.