The Venice Biennale is one of the most conspicuous events in the art world calendar and a prestigious platform for contemporary art. It is also a prominent platform for curators and for the staging and testing of curatorial ideas. Every Art Biennale, a new Director is appointed and tasked to bring their own curatorial vision to the Central Pavilion in the Giardini as well as the Arsenale, the other key venue. Below, Semester Study faculty Lilian Cameron examines the logistical challenges and curatorial opportunities tackled by four of those Directors.
---
A Question of Space
The Central Pavilion within the Giardini, built in 1894 and renewed many times since, is an imposing structure set out across different levels, with rooms of varying sizes and dimensions. Visitors enter the Pavilion through a large, central hall and will often take a diversity of routes from that point. The structure of the 16th century Arsenale, which lies about 700 meters away, couldn't be more different: this former ship and rope-making complex is long and rectangular, with the Corderie building alone measuring 317 meters in length. Composed of masonry and brick with both wooden beams and concrete for ceiling, a "neutral" gallery space this is certainly not. From 2013-2019, we have seen four directors approach the biennale in subtly distinct, deliberate ways, selecting artists, choosing themes, unfolding narratives, and using exhibition space to create experiences that they hope will be different to those before and which form a response to that particular moment in time.
---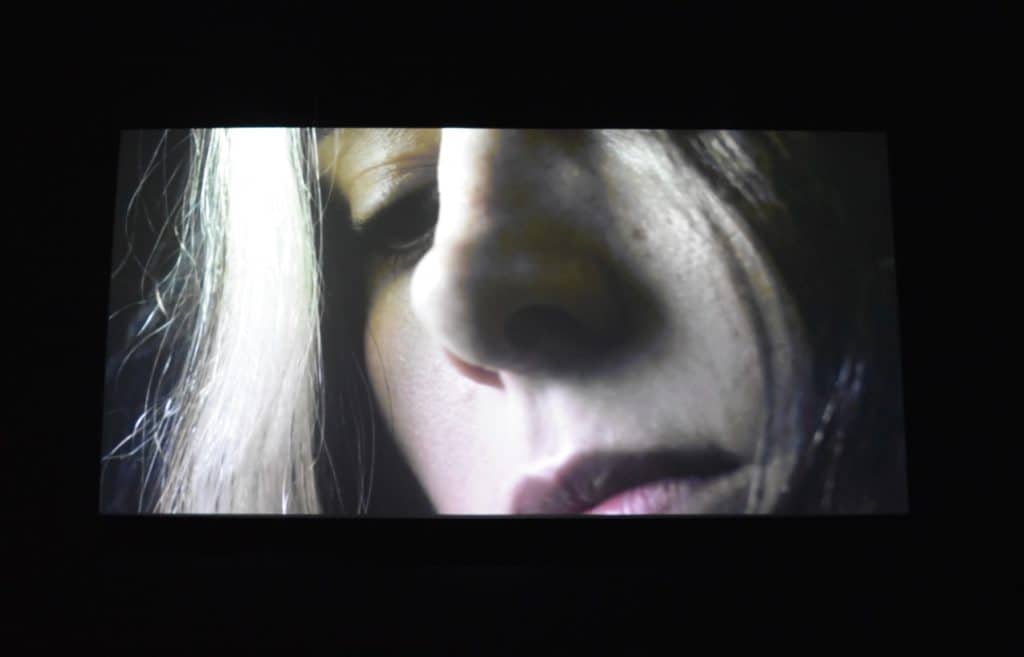 Arthur Jafa, The White Album (2019)
2019: "May You Live in Interesting Times," Curated by Ralph Rugoff
Rugoff divided the main exhibition into two discrete sections, an approach distinct from those in recent times; "Proposition A," staged within the Arsenale, and "Proposition B" in the Central Pavilion of the Giardini. With work by 79 artists, and all of them living, this was the smallest number of artists in the main exhibition in recent years. But Rugoff's strategy of showing the same artist twice—once across each venue—enabled a nuanced encounter with many of the artists' works and a deeper familiarity with artists' practices, in a context known for overwhelming its visitors. His strategy had varying outcomes, at times highlighting the diversity of an artist's practice across different media, as was the case with works by Ed Atkins and Arthur Jafa.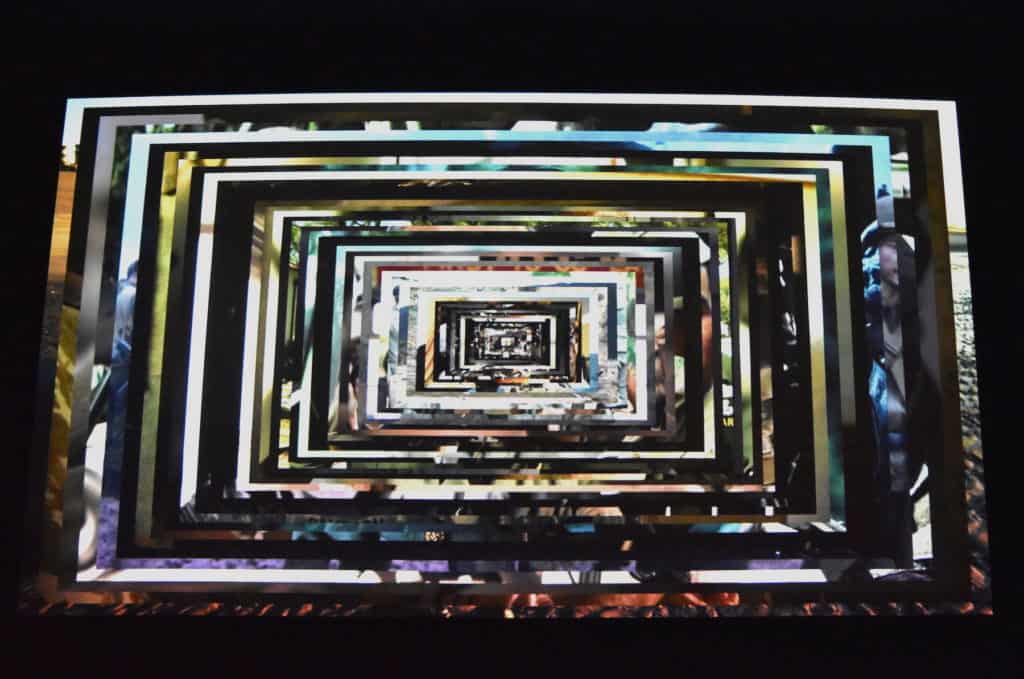 Christian Marclay, 48 War Movies (2019)
It also showed lesser-known strands of an artist's work or practice, as was the case with Apichatpong Weerasethakul and Christian Marclay. Rugoff broke the relentlessly linear structure of the Arsenale with false walls at instances, to contain the view point, or create spaces for more concentrated viewing for particular works or series.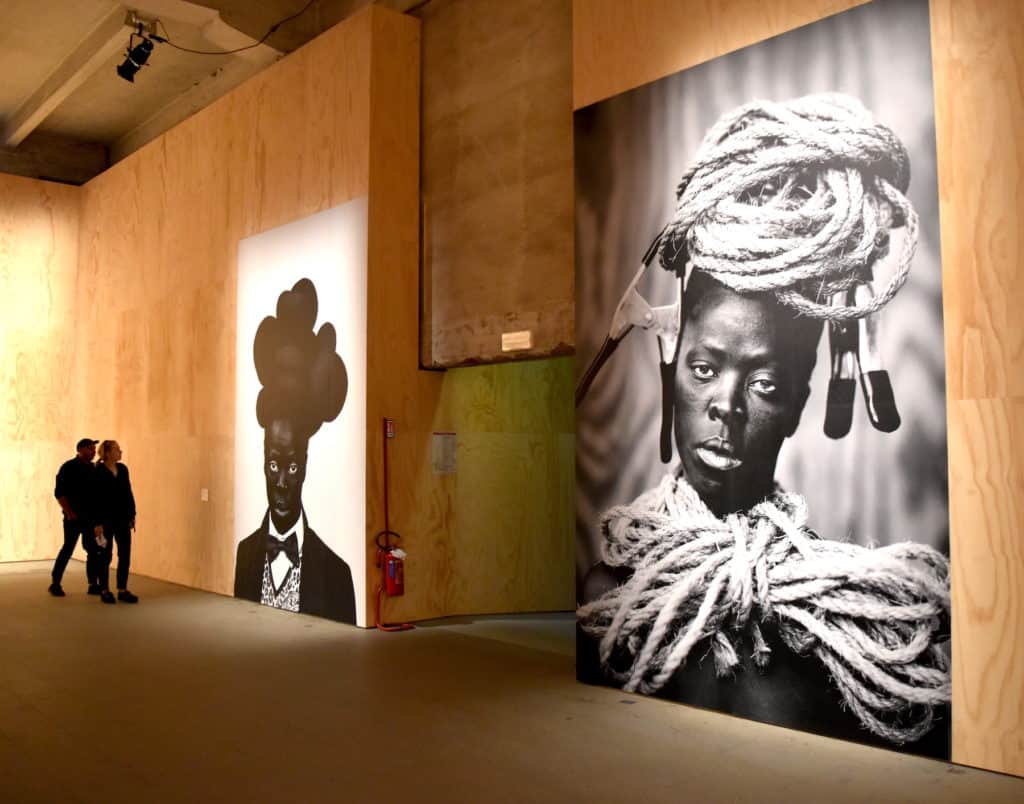 Works by Zanele Muholi in the Arsenale (2019)
Large-scale, black and white portraits by Zanele Muholi were shown throughout, dramatically separated rather than set close together, suggesting a tempo, pace or structure to the visitor's journey.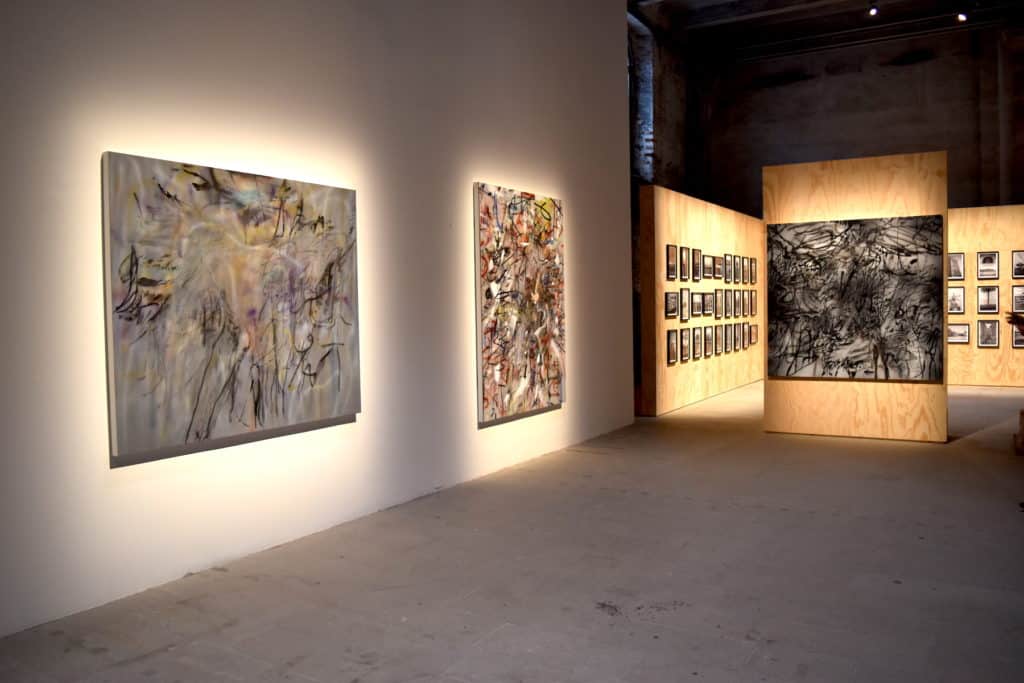 Works by Julie Mehretu (2019)
The show promised a multi-valent reflection on the challenges and peculiarities of our times, with fake news and discriminatory history among the themes represented, but it was also a presentation of the diversity and longevity of artistic media, with large-scale paintings by Julie Mehretu and Michael Armitage shown alongside works exploring robotics and augmented reality.
---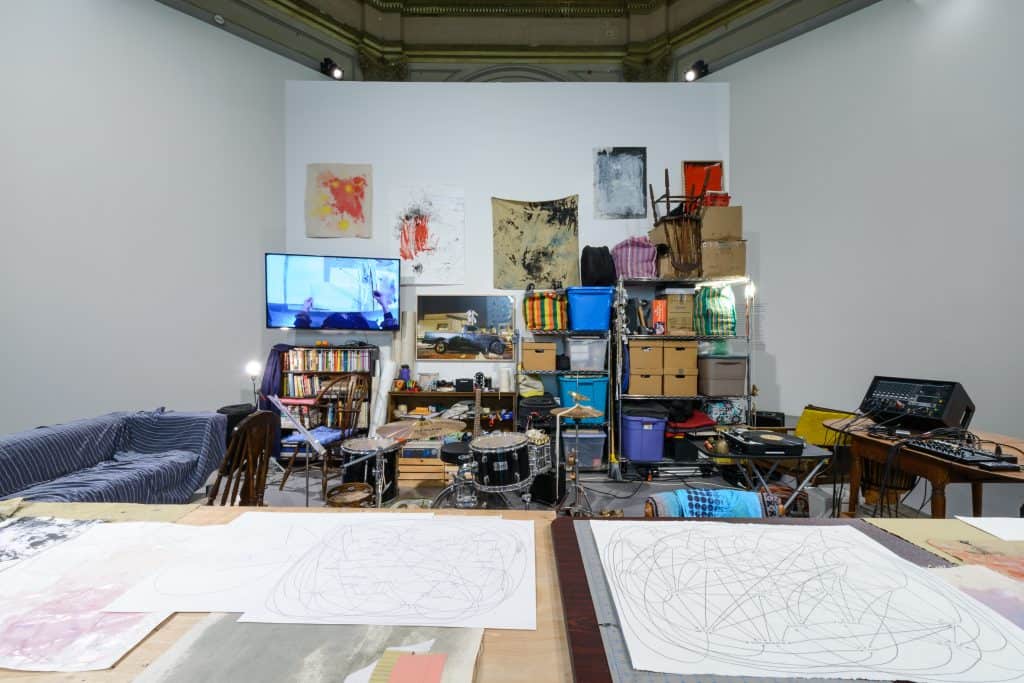 Dawn Kasper, The Sun, The Moon, The Stars (2017)
2017: "Viva Arte Viva!," Curated by Christine Macel
With its exclamatory title, "Life, Art, Life!," this Biennale positioned itself as a declaration for the importance of art. It formed a single exhibition across the Biennale's two main venues and presented work by 120 artists, 103 who had not exhibited at the Biennale before. Macel showed art from the mid-twentieth century alongside contemporary works in an effort to revitalize artists who had been neglected or overlooked. She also divided the spaces of the exhibition into nine sections—or "trans-pavilions"—beginning at the Central Pavilion and continuing through to the Arsenale, a reverse of the order suggested by Rugoff's "Propositions." Sections were flagged with a panel explaining the theme of the trans-pavilion, beginning with the "Pavilion of Artists and Books," in which Dawn Kasper turned the hall of the Central Pavilion into a working studio space, through to the pavilions of "Earth," "Shamans," and "Colours," and finally "Time and Infinity," featuring a large-scale installation by Alicja Kwade.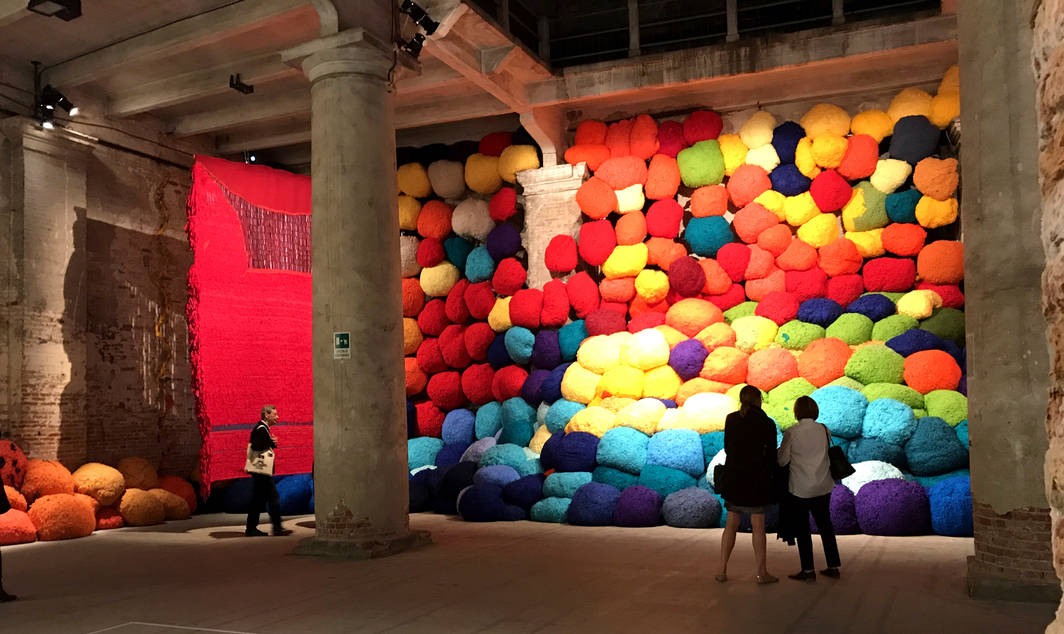 Sheila Hicks, Scalata al di là dei terreni cromatici / Escalade Beyond Chromatic Lands (2016-17)
The Arsenale showed an immersive installation by Ernesto Neto, an interactive work by Ling Mingwei (in which the artist mended pieces of clothing belonging to the public) and an enormous wall of colored yarn by Sheila Hicks. This Biennale was characterized by its positivity and (neo) humanism, but the "trans-pavilion" structure also contained within it a critique of the organization of art by national pavilions.
---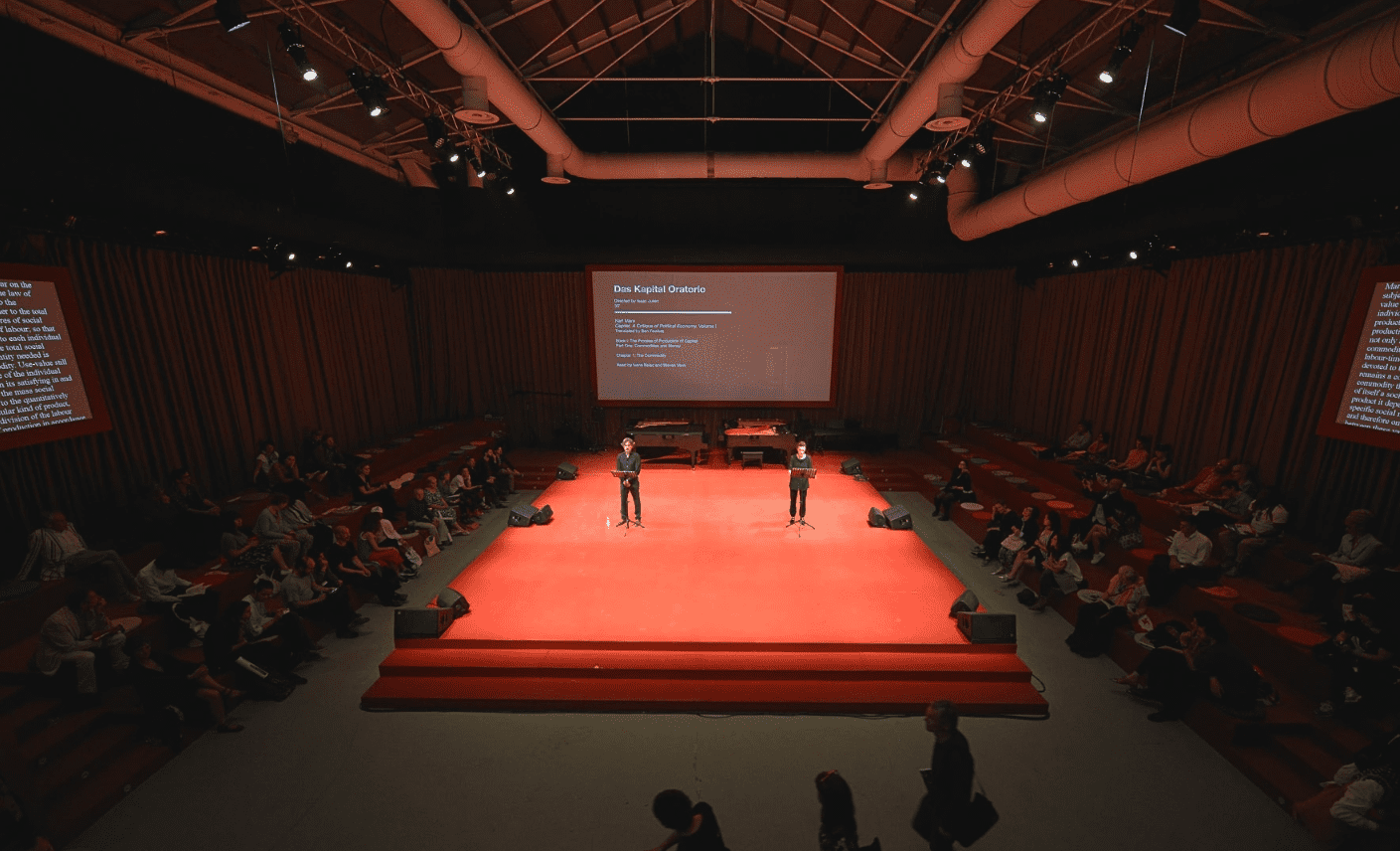 Isaac Julien, Capital: A Live Reading (2015)
2015: "All the World's Futures," Curated by Okwui Enwezor
Enwezor invoked Walter Benjamin's famous "angel of history" in his framing of this Biennale, who is blown forward into the future, even as his face is turned toward the past. This Biennale positioned its presentation within a context of socio-political change and disorder, posing the question, how can art respond to an era of crisis and uncertainty? Key within Enwezor's approach to the main exhibition were three frameworks, or "filters," through which art in the main exhibition would be seen. These were "Liveness: On Epic Duration," an attempt to realize/unearth the space of the exhibition as a dramatic event, the "Garden of Disorder," which sought to engage with the Giardini and its national pavilions as a lens for the socio-political present, and "Capital: A Live Reading," a program of performances, discussions, scripts and music exploring expanded concepts of capital, beginning with a live reading of Marx's Das Kapital. This unfolding element of the exhibition took place in the Central Pavilion, within a structure designed by David Adjaye.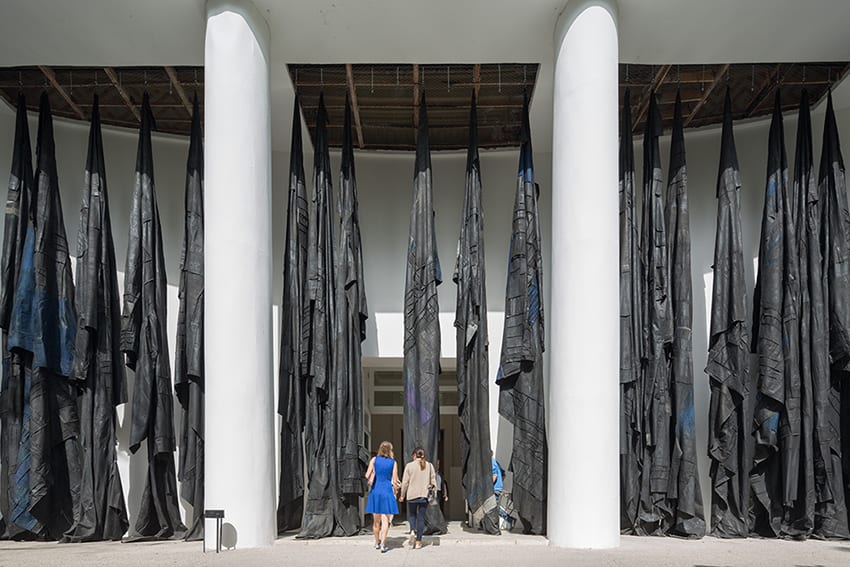 Oscar Murillo, signaling devices in now bastard territory (2015)
Work by Jeremy Deller in the Central Pavilion and Rirkrit Tiravanija in the Arsenale explored themes of work and capital in varied ways, while large pseudo-flags by Oscar Murillo draped on the façade of the Central Pavilion were echoed by a vast installation of coal sacks in the Arsenale corridor by Ibrahim Mahama. With work by 136 artists from over 36 countries, this was an ambitious biennale, putting the political and social front and center, and also questioning the separation of the political from the aesthetic. Known for its sober tone, Enwezor's exhibition was also significant in its attempt to realize the exhibition as a live space.
---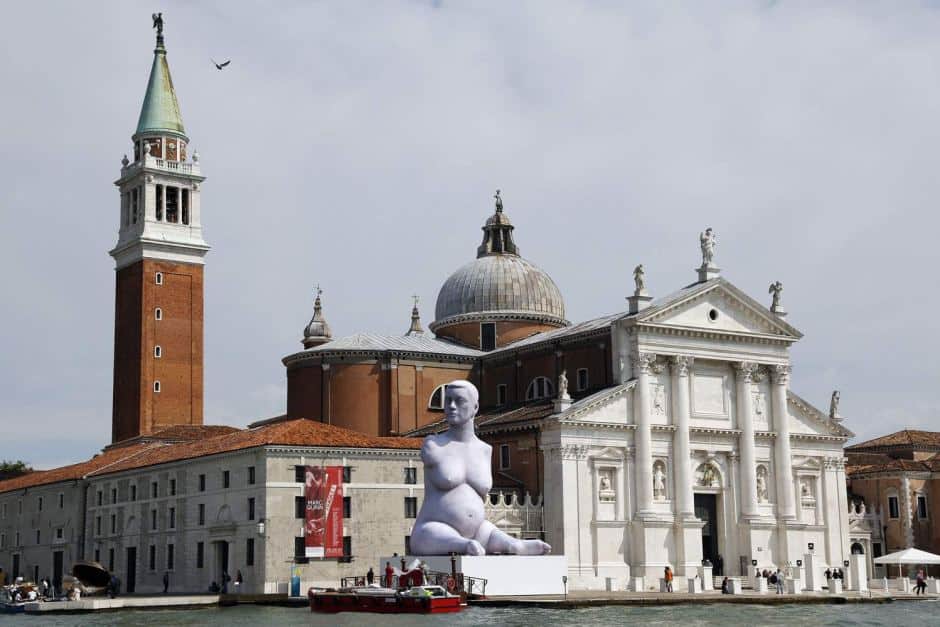 Marc Quinn, Breath (2012)
2013: "The Encyclopedic Palace," Curated by Massimiliano Gioni
Inspired by the idea of a museum for all human creativity and knowledge—or, more precisely, the hallucinatory nature of such an enterprise and the impossibility of ever realizing one at all—Gioni presented 158 artists across the main exhibition, a number of whom were not artists in the traditional sense at all. The exhibition commenced with a display of Carl Jung's Red Book in the Central Pavilion and continued to artists both historic and contemporary, in and outside the canon.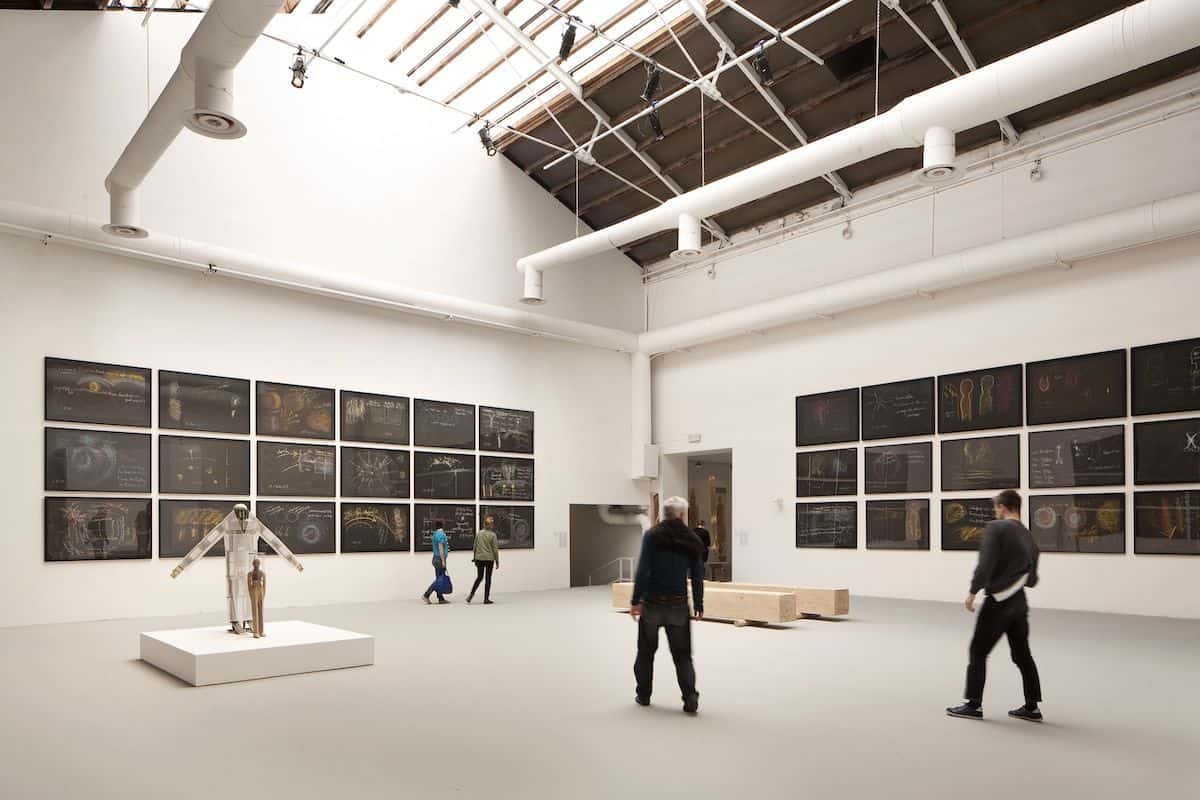 Installation view of Rudolf Steiner's various blackboard drawings (1923)
Rudolf Steiner, Hilma af Klimt and Emma Kunz were shown along with works by Harry Smith and Morton Bartlett, in a section themed around an exploration of internal images such as dreams.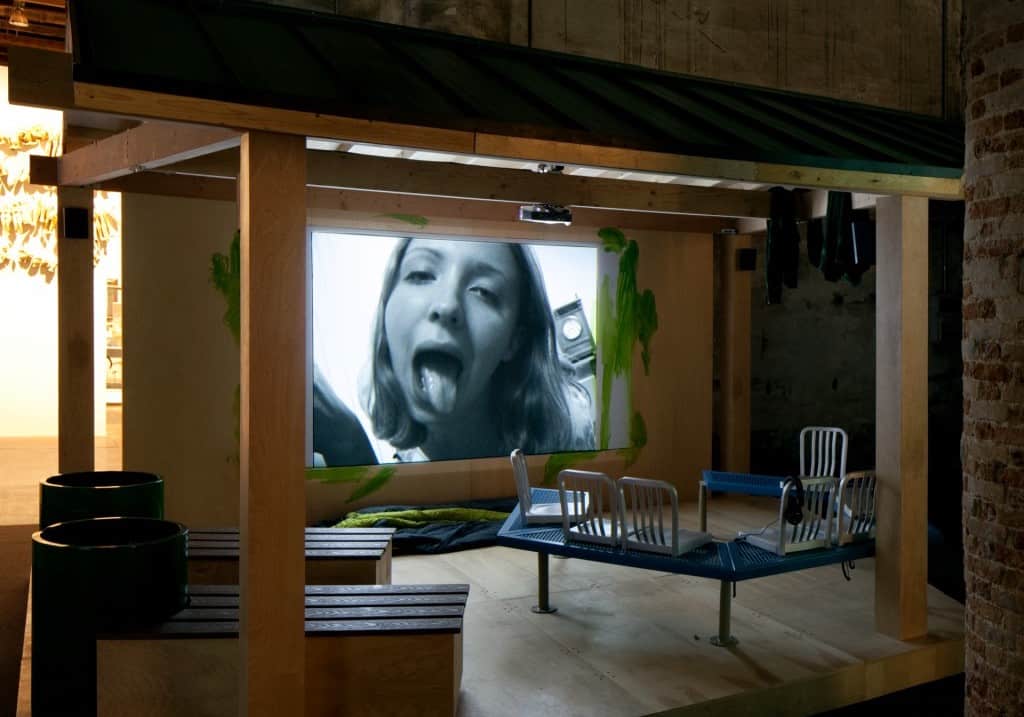 Lizzie Fitch/Ryan Trecartin, Priority Innfield (Villa) (2013)
In the Arsenale, Gioni explored the "domain of the visible" in a presentation that also engaged with notions of collecting. He responded to the space of the Arsenale by dividing the exhibition into sections, loosely mirroring the themes of a 16th century cabinet of curiosities, and attempted a more "neutral" presentation through an extensive build of false walls. Work by Enrico Baj and Arthur Bispo do Rosario shared an exhibition with a film by Camille Henrot as well as an immersive installation by Ryan Trecartin, which seemed to explore our possession by images on the internet.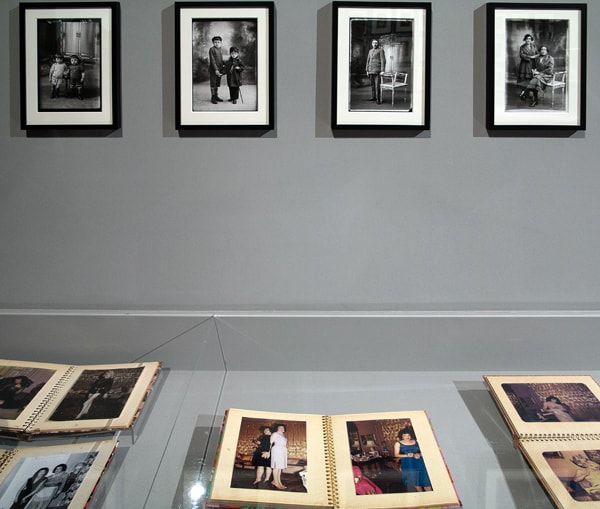 Photographic albums from the collection of Cindy Sherman
A section given over to Cindy Sherman, as both artist and curator, dissected images of self and role-play, evoking a curatorial frame of anatomical theatre. In a biennale that was often intrigued by ideas and artists from the past, Gioni was also concerned with synergy between past and present, with the relationship between the impulse towards encyclopedia and totality and our experience of the internet one of Gioni's interests.
Written by Lilian Cameron, Course Leader, Art Museums, Galleries and Curating Semester Program
---
Experience the art world like never before with our 15-week Semester Programs in London. Learn more.