Earlier this summer, we had the honor of having acclaimed contemporary art advisor Kim Heirston speak at our Commencement Ceremony in New York. For more than twenty years, Heirston has worked with clients worldwide to develop post-war and contemporary art collections for private residences, corporate headquarters, hotels, and foundations. Throughout her vast career, Heirston has placed works by acclaimed artists Richard Prince, Cindy Sherman, Jeff Koons, and Damien Hirst, along with curating spaces on film sets for the renowned Sex in the City. Kim Hierston continues to advise a broad base of international clients from diverse places such as Jeddah, Warsaw, and Mumbai.
We were very grateful when Kim Heirston took time from her busy schedule to sit down with Institute Director Ann-Marie Richard and talk about some of the most influential moments in her career, and the guiding factors in her curatorial decisions. The interview is packed with valuable advice for entrepreneurial art novices, while illuminating Kim Heirston's stellar career in the art world. Read on:

---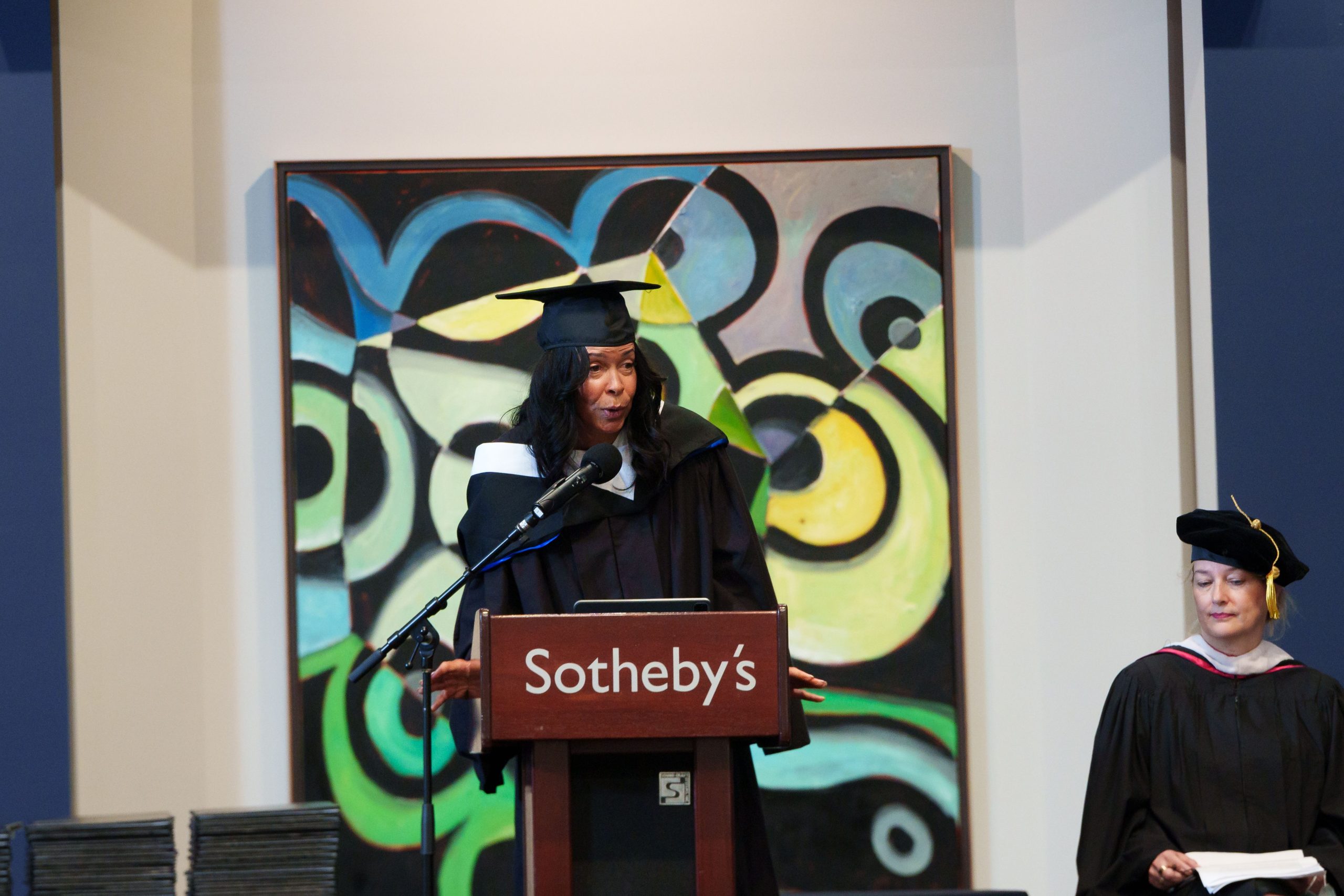 Kim Heirston giving the commencement speech to the MA Graduates in New York.
What propelled you to choose this career?
This career path seems to have chosen me! When I think back on the forks in the road, there are two that stand out:
The first was when, upon graduating from Yale, I had the choice of going into the museum world, or into the commercial gallery space. I was courted by Brenda Richardson, then-Senior Curator, and Arnold Lehman, then-Director of the Baltimore Museum. In the end, I thought my temperament was better suited for a faster-paced, and more commercial environment of  a gallery.
The second moment of "choice" came about in 1992, when a highly-regarded international collector offered to back me in starting my own gallery. It would be difficult to contemplate now, when the art-world seems to be on an endless row. However, I remember sitting through auctions when the word "pass" was heard much more frequently, and when the room and phone banks were deadly silent.
I went back to that collector and told him that we should use the downturn in the market to focus on building a world-class collection, which we did, scooping up, and commissioning important works by Jeff Koons, Richard Prince, Cindy Sherman, Nan Goldin, and Damien Hirst. The very first painting we acquired together was a Peter Halley. This was how I became an Art Advisor. At the time, in 1992, there were less than a handful of Advisors, and the profession was very vaguely defined.
How did you first obtain the experience required to excel in your business?
I worked in both blue-chip, and cutting-edge, galleries. As a student at Yale, I worked one summer as an Intern for Pace. That was my very first major gallery exposure. What I learned there was a commitment to scholarship, as I often helped with research for upcoming exhibitions. Pace was rather regimented, and a bit corporate, which I consider a good thing. However, discipline was imparted to me very early on. So, it all felt quite natural. I marveled at the precision and smooth functioning of the operation of Pace, probably the first true mega-gallery.
I also worked at the Robert Miller Gallery. There, the notion of deep scholarship was also enforced. This experience was also an immersion into the aesthetics of the art business. To this day, I think it was one of the most beautiful galleries ever to exist. It was a jewel box of a space with white lacquered floors, brushed silver Warren McArthur furniture, and blond wood features. The Miller Gallery, with its lavish catalogs and beautifully typeset, embossed invitations, designed by the Director and visual guru, John Cheim, would set the tone for gallery chic for years to come…. until the advent of cast concrete.
However, it was the program that was so utterly prescient, and had such a profound impact on me. We worked with the estates of both Andy Warhol and Jean-Michel Basquiat. We represented Robert Mapplethorpe, and Jack Pierson, who, like Warhol, identified as gay and dealt with issues of gender fluidity. The Miller Gallery also represented a staggering number of women artists, or their estates: Eva Hesse, Louise Bourgeois, Dianne Arbus, Patti Smith. The gallery handled the paintings of all the NINTH STREET WOMEN, and represented both Lee Krasner, and Joan Mitchell. I knew Joan, and would come to think of her as a mentor, ultimately spending time with her in Vetheuil, France – her gardened property which had once belonged to Monet.
Later, I would become the Director at Stux, which was a very hot Soho gallery at the time. I worked closely with such artists as Andres Serrano, Doug and Mike Starn, and Vik Muniz. Believe it or not, we used to go through boxes of slides to identify up-and-coming artists. This experience really refined my eye and helped me develop a sense of quality. The gallery hosted a yearly invitational which, in 1992, showcased Doug Aitken. Until today, whenever I run into Doug, he introduces me as the gallery director who put him in his first New York show! Being so fully immersed in the emerging milieu simultaneously offered me a very early, painful, lesson about how fleeting artist stardom could be… and the values of perseverance. So many of those artists are still creating, exhibiting, and contributing in their own special ways.
What informs your curatorial decisions?
Context! I am most interested in how the history, architectural characteristics, and natural setting of a space might enhance the meaning of a painting or sculpture, and vice versa. For instance, a Palm Beach estate designed by Maurice Fatio requires a very different perspective than a Peter Marino townhouse in New York City. I take the surroundings as a point of departure. I also focus on the way that works might rest comfortably, and engage in active dialog, with one another. As an art advisor, I endeavor to establish some sort of DNA thread that ties everything together. This might be art historical, conceptual, thematic, or purely visual. Connecting the dots is what I do!
Chief advice for entrepreneurial art novices?
There are several important pillars that I have always adhered to in my practice:
Always behave ethically.
Never fake an answer.
Never hyperbolize.
Under-promise, over-deliver.
Research, research, research!
Always endeavor to know more than anyone else in the room (without feeling the need to showcase the fact!)
When you hit a roadblock, find an alternative route. There is always a detour.
I am so proud to have clients with whom I have worked for over 20 years. This, I attribute to looking at the big picture. In terms of sales, for instance, forgoing an opportunity in the short-run can be the best long-term investment.