This December, MA Art Business candidate and emerging artist, Danny Glass, will exhibit a body of work called "Appraising the Art World" at the juried contemporary art show, Spectrum Miami. The solo exhibition captures glimpses in time of people engaging with works of art displayed in accessible public spaces, or with works rarely seen because they are tucked away in blue-chip settings—such as private equity firms or awaiting sale by an auction house.
Among the works being shown in Miami are two important new paintings, Cohort B and Harlem Jazz Museum. In anticipation of the show's opening, here is a closer look at these two painting.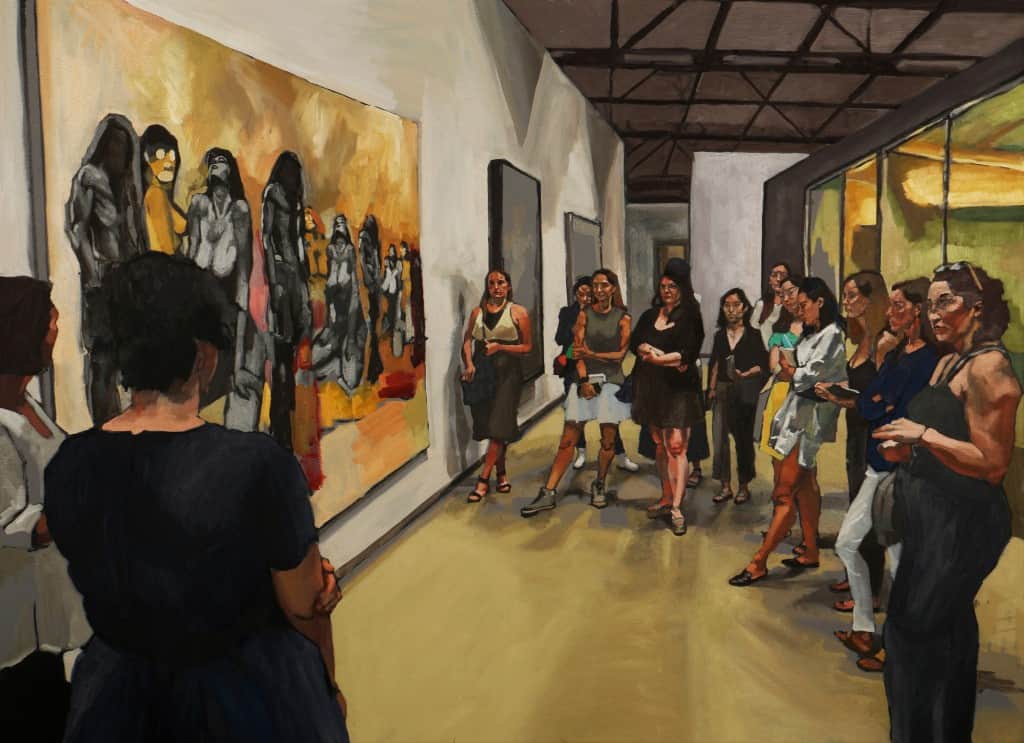 Danny Glass, Cohort B, 2017
In Cohort B, Sotheby's Institute students attending Art Basel Miami observe a painting by appropriation artist Richard Prince in Dacra's Art & Design private collection. Appropriation artists use pre-existing images or objects, sometimes with little or no transformation applied to them, in the creation of a new work. Prince's use of an image from Patrick Cariou's book Yes: Rasta resulted in a copyright infringement suit that claimed the work was not transformative enough.
Glass offers no judgement in Cohort B. The painting is an objective appraisal of the work drawn from photographs taken at the time by the artist. And yet, a painting of a controversial painting of appropriation art might be looked upon as an appraisal of the form. Does he approve? In rendering this view, does Glass join the next generation of appropriation artists?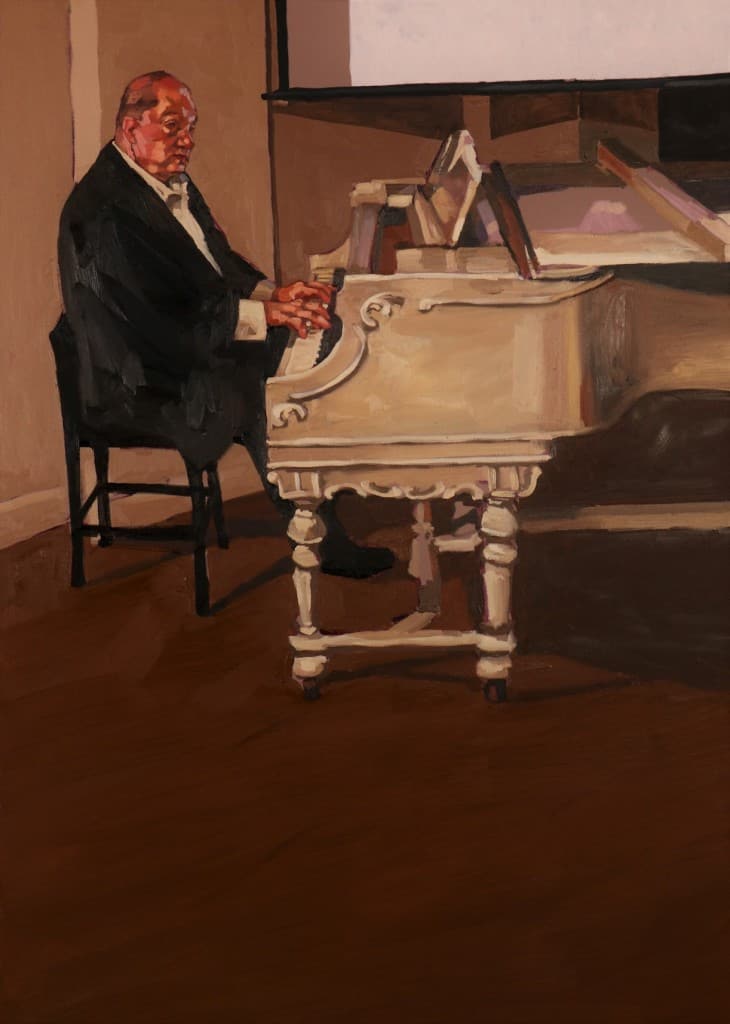 Danny Glass, Harlem Jazz Museum, 2016
In Harlem Jazz Museum a tuxedoed pianist, Loren Schoenberg the jazz historian and Founding Director & Senior Scholar at the National Jazz Museum in Harlem, tests the tuning of Duke Ellington's white baby grand piano for a final time as it is being appraised for sale at auction. Glass pulls back the curtain on the auction business. While working at an auction house in Manhattan he was there, recording the moment. Opening bid for the piano, $12,000.
Other new paintings depict individuals as they engage (or don't) with Art Basel itself. In one painting, artists take care of paperwork. In another, visitors sit in a lounge – a woman texts on her phone. Is this an appraisal of the show? No, it is the painter showing the viewer what people do at an art show when they are not looking at art.
The striking compositions in Glass' paintings are reminiscent of master painters Edouard Manet and Edward Hopper. His subject matter and work as a draughtsman has been compared to Eric Fischl, who has influenced his drawings and paintings.
---
Danny Glass's solo exhibition at Spectrum Miami (Booth Gallery S1116) runs concurrently during Art Basel from December 6 – 10, 2017 as part of Miami Art Week. For tickets and show hours, click here.