May 2017 brought art headlines to the fore with a record-breaking sale for Basquiat, major installations rising in New York, and the first-ever Modern and Contemporary African Art auction.  Read below for our roundup and insight into the art market this month.
Basquiat Joins The $100 Million Club
The title of top-selling American artist now belongs to Jean-Michel Basquiat. At the Sotheby's Contemporary Art Evening auction on May 18th, Basquiat's Untitled from 1982 blew past its low estimate of $60 million and sold for $110.5 million to Japanese billionaire Yusaku Maezawa. The painting is the sixth most expensive work ever sold at auction, and the first work made after 1980 to sell for more than $100 million.  Read more about the news that shook the art world in our recap of the "Basquiat Bonanza".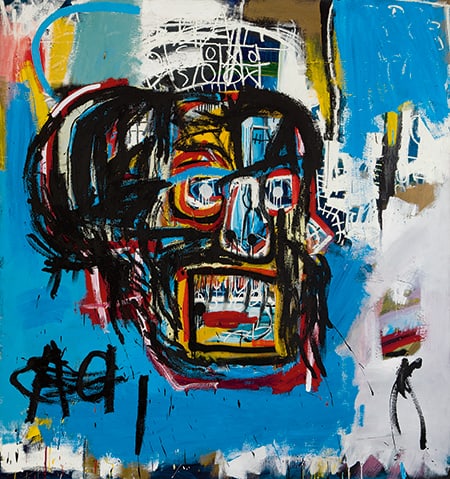 Basquiat's Untitled from 1982
(photo: sothebys.com)

In Case You Missed What Else
Sold This Month
Basquiat was not the only record-breaker of the month. Peter Doig's "Rosedale" from 1991 sold at Phillips earlier that evening for $28.8 million. This sum is an all-time high for the Scottish-born artist, earning him a spot among just five living artists who have sold for more than $25 million at auction. At Christie's, "La Muse Endormie" (1913) by Brancusi sold for a whopping $57.3 million, almost
double
its estimated value of $25-35 million and a new record-high for the artist. Gerhard Richter set a new auction record at Sotheby's with his work "Untitled (5.4.86)". At $2.2 million, it is the most expensive work on paper for the artist.
Anish Kapoor Makes Waves in Brooklyn Bridge Park
Early this month, Anish Kapoor unveiled his latest installation piece. Descension is a whirlpool fixed next to the East River in Brooklyn Bridge Park. The 26-foot-wide spinning pool of water is supposed to incite political feeling. "In New York at this moment, yes descension!" Kapoor said. "I toyed with the idea of trying out the title Descension in America to be more particular and to point harder at the current state of things, but I don't think I need to."  Descension is one of our faculty picks for what to see in New York this summer. Use this list to plan your summer outings, or sign up for a summer course to experience New York and London's art worlds with expert instructors. And if you're in London this summer, don't miss our London summer guide, too.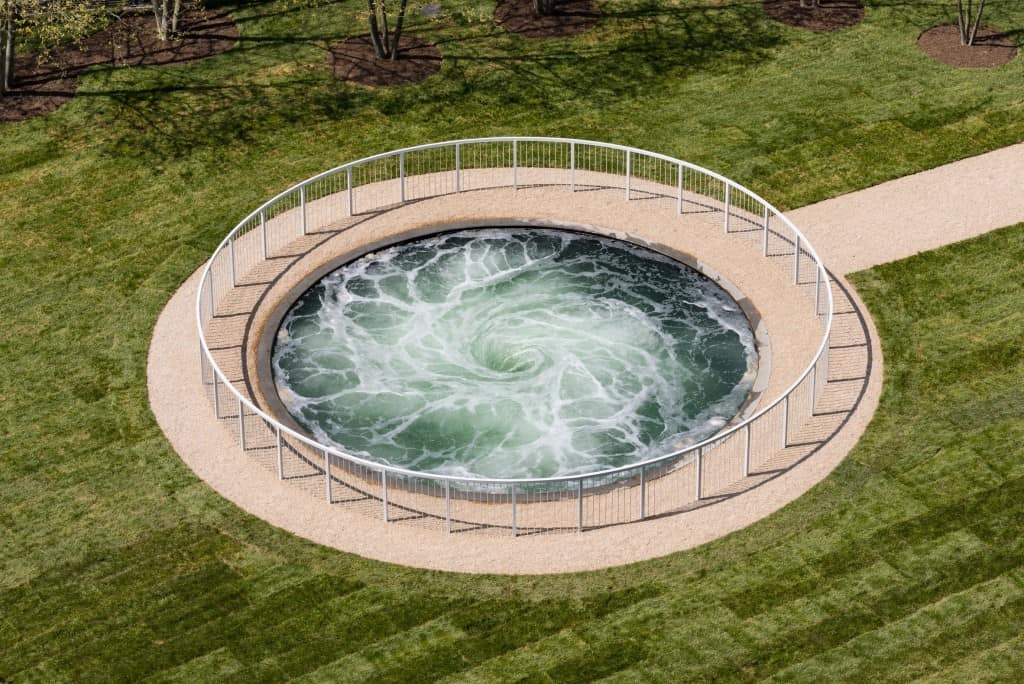 Anish Kapoor's Descension
(photo: www.dezeen.com)

Jeff Koons Waltzes into Rockefeller Center

Jeff Koons' latest sculpture,
Seated Ballerina
, has taken center stage in Rockefeller Center. In collaboration with the Art Production Fund, the infamous artist has returned to what he does best: blowing up everyday objects to show them from a new perspective. Unlike the Koons classic,
Balloon Dog
, this piece is not a work of metal that is supposed to look like a balloon.
Seated Ballerina
is an actual balloon, inflated to the size of a Macy's Thanksgiving Day Parade blimp. The calm, introspective figure is supposed to convey a sense of reflection and hope:
"It is really about beauty and even a sense of contemplation, a sense of ease," Koons
said
. He hopes the meditative quality of the dancer will inspire the viewer to consider "what it means to be a human being."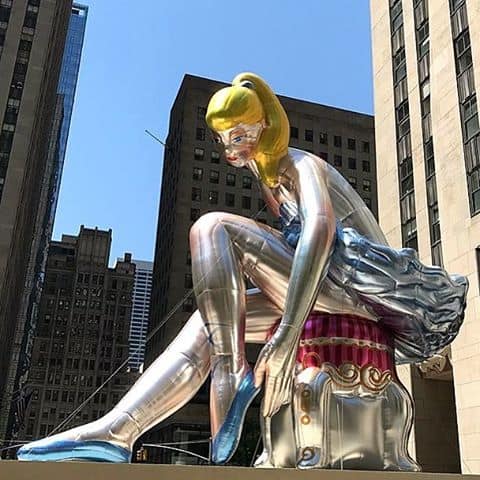 Jeff Koons' Seated Ballerina
(photo: sothebysinstitute.com)

The Inaugural Sale of Modern and Contemporary African Art Takes Place in London
Sotheby's auction house hosted its first-ever
Modern and Contemporary African Art
sale. The sale total, over $3.1 million, broke records and exceeded its low estimate by over $20 thousand. The highly anticipated work by El Anatsui,
Earth Developing More Roots
, earned over $800,000, and Irma Stern's
Sunflowers
reigned in nearly half a million dollars.
Listen
to Sotheby's Head of Modern and Contemporary African Art, Hannah O'Leary, provide exclusive insight on the emerging art market in Africa from our special program recorded at Sotheby's Institute in London in March.
El Anatsui's 
Earth Developing More Roots
(photo: sothebys.com)

Frieze New York
The sixth edition of Frieze New York brought amusement and intrigue to the city's discerning art world insiders. More than 200 galleries showed their best artists from around the world- from new talents to old masters. Visitors
enjoyed
solo shows by celebrated painters like John Currin, experienced dynamic group shows by galleries from London to Brazil, and got a sneak peek at many artists represented at the later Venice Biennale. The turbulent cultural climate was a common theme; as galleries presented works by politically engaged artists like Cindy Sherman and Mike Kelley. Artists voiced their opinions on everything from immigration to feminism, and started off the season inviting us all to be more politically reflective.