MA Art Business
alumna
Kami
Gahiga
is Head of VIP & Gallery Relations at 1-54, the first and only international art fair dedicated to contemporary African art
.
She spoke with us about the
nuances of the global art market
 a
nd
some of her favorite emerging African artists.
---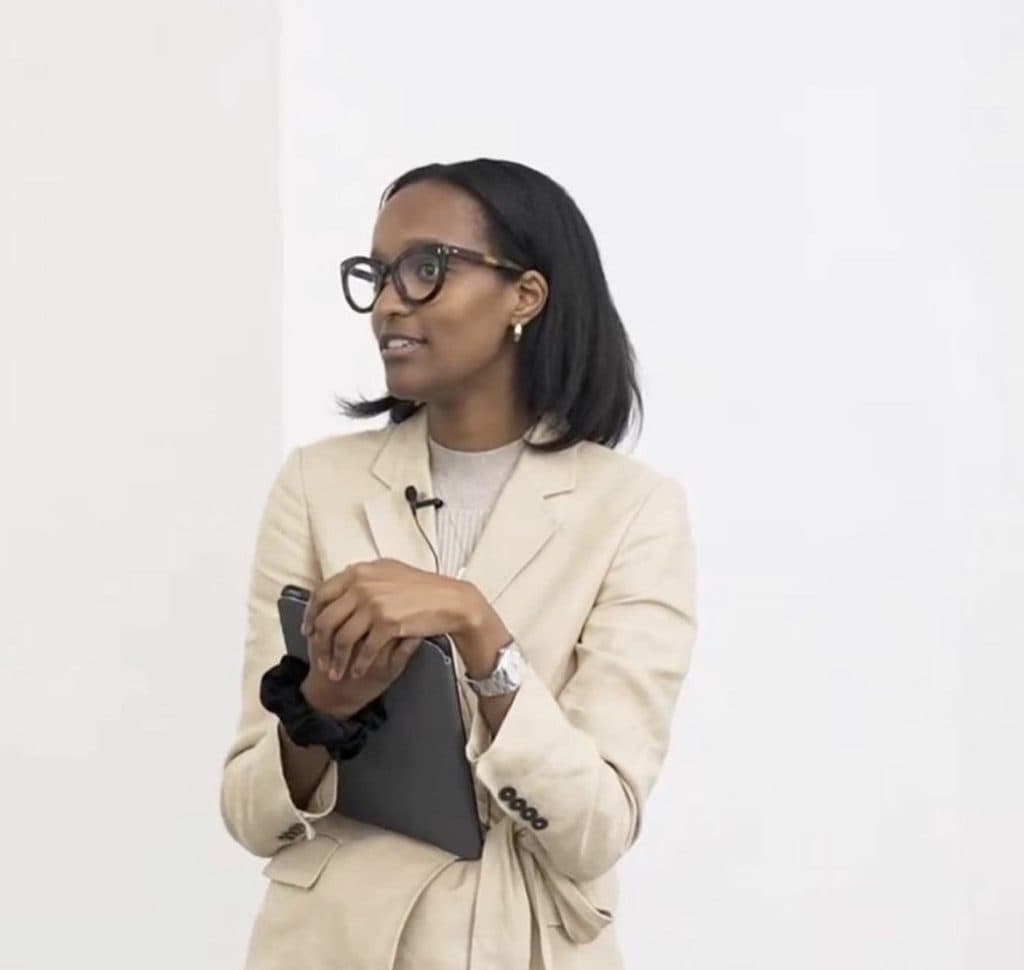 What drove your decision to apply for a Sotheby's Institute MA program? 
I knew early on that I wanted to pursue a career in the arts. I was first introduced to Sotheby's Institute of Art during a summer internship at Sotheby's in Zurich almost a decade ago. At that time, one of my colleagues had recently completed her master's degree at Sotheby's Institute in London and spoke highly of the program. I also come from a family of avid collectors who encouraged me to pursue a career in the art world. 
Looking back, how did the MA Art Business program at Sotheby's Institute of Art equip you with the tools and knowledge to navigate the art industry?
The program coupled with professional art experience provided me with a comprehensive understanding of contemporary art, critical art theory, and the institutions shaping the art market.  
I highly valued the opportunity to learn from the industry experts that spoke at Sotheby's Institute of Art, which included writers, museum curators, art lawyers, auction specialists, and art conservators. One memorable talk that I recall vividly was given by Georgina Adam, art market correspondent for the Financial Times and author of Dark Side of the Boom: The Excesses of the Art Market in the 21st Century. 
In my opinion, a thorough understanding of both art history and the art market is crucial for a profound comprehension of the global contemporary art scene. The program at Sotheby's Institute of Art encouraged the integration of these two aspects. This, combined with my keen interest in exploring the nuances and intricacies of contemporary African art, has been instrumental in my career development. 
What does your current role at 1-54 entail? 
As the Head of VIP & Gallery Relations at 1-54, my role encompasses a wide range of responsibilities and is multifaceted. In essence, I am responsible for cultivating relationships with 1-54's VIPs and galleries. This involves representing the fair at local and international events and fostering collaborations with various groups, including museums, cultural institutions, and collectives. I frequently travel to prominent international art fairs, biennales, and exhibitions to connect with key stakeholders. 
In addition, I conduct comprehensive research and strategic reports on a regular basis to continually enhance and deliver the best possible fair experience for 1-54's galleries and our audience. At 1-54, our founder, Touria El-Glaoui, has instilled a shared collective goal within our team. We strive to consistently provide exceptional fair experiences across all editions, while recognizing and respecting the diverse cultural contexts in which we operate, whether in Marrakech, New York, London, and next year, Hong Kong.  
With the increasing importance of digital platforms in the art world, how do you see the future of art fairs, especially in relation to contemporary African art? 
Collectors of contemporary African art are highly international and buy from all corners of the globe, which means buying art online is not new to them. Also, the international nature of collectors in this market means that even during economic uncertainty, there is no dependency on one specific economy for its sustainability. Looking ahead, we are likely to see a continued integration of hybrid physical and digital art platforms, which is what 1-54 will continue to adopt. 
Are there any emerging African artists you're particularly excited about right now? 
Absolutely! I have quite an extensive list. To highlight a few of them – Francis Offman, whose abstract practice incorporates repurposed papers, fabrics, and substances; British-Nigerian painter Jamiu Agboke, who recently exhibited stunning landscape paintings at White Cube; Tunisian artist Monia Ben Hamouda, whose calligraphic work possesses a unique sculptural quality; as well as Ethiopian-Italian artist Jem Perucchini, whose work is infused with renaissance imagery and Ethiopian Coptic iconography.  
What advice or tips would you give to Sotheby's Institute applicants? 
I highly recommend staying connected with the faculty at Sotheby's Institute. The lecturers are not only incredibly helpful and supportive, but they also become invaluable mentors and guides. Nurture your connections with the faculty, as they can become lifelong sources of guidance in your career path.