Talk to the Professionals is a series of sessions, held by art world professionals including curators, auction house specialists, fine art dealers, art critics, art restorers, and art educators, where students have the opportunity to gain insight into various roles within the art world. Students can benefit from the experience of professionals who are passionate about their work and willing to share their "behind-the-scenes" perspective.
---
Jos Hackforth-Jones Director, Sotheby's Institute of Art - London  

Topic discussed: The Exhibition Process

---
Chantal Brotherton-Ratcliffe, MA in Fine and Decorative Art and Design
Topic discussed: The Art Restorer

---
Nadia Berri, Consultant Lecturer
Topic discussed: Working in a Commercial Gallery

---
Rachel Barnes, Consultant Lecturer
Topic discussed: Working in Museum Education
---
Stefano Casu, Guest Lecturer
Topic discussed: Curating a Private Collection: The Pittas Collection
Stefano G. Casu (PhD, University of Pisa 1999; Laurea, Catholic University of Milan 1994) teaches Art History at California University EAP in Florence. His area of expertise is Italian Gothic and Renaissance art. He carried out his research at the Fondazione Longhi, Accademia Nazionale dei Lincei, Warburg Institute, Francis Haskell Memorial Fund, receiving a series of scholarships as well as post-doctoral research grants from the Italian National Council of Research and from the Italian Ministry of University. He has been a member of research committees and a curator of major exhibitions in Italy and abroad. His publications include essays on 15th-century Venetian and Paduan painting, art and politics in the Italian Renaissance, Leon Battista Alberti, Ciriaco d'Ancona and Filarete. He is curator of the Pittas collection based in London and Limassol and in 2011 published the first volume of its catalog: The Pittas Collection. Early Italian Paintings 1200-1530. He is currently working on the second volume, which will be published in 2016.
---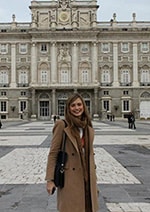 Nicola Elvin, Guest Lecturer
Nicola Elvin is a communications professional with a heritage and museums background. In her time at the press office at the British Museum she has fulfilled the role of press officer and is now in a managerial role overseeing the press team. Her current role is to manage, develop and implement the British Museum's media and external communications strategy for programming. Within this, her role leads on the press campaigns for temporary exhibitions in the Sainsbury Exhibitions gallery of the Museum, the largest temporary exhibition space at the Bloomsbury site. Nicola also consults on the Museum's international activity and wider crisis management, including advising the Museum directorate and curators.
---
Flavio Gianassi, Guest Lecturer
Topics Discussed: Working as a Dealer

Flavio Gianassi started to collaborate with Moretti Fine Art while still studying comparative law at the University of Florence. He became the director of the London gallery since its opening in 2005, for which he now follows the relationship with private and public clients worldwide. 
Moretti Fine Art, with galleries in Florence, London, and New York, deals in Italian Old Master Paintings and it was internationally recognized since the very beginning for its specialization in gold ground and Renaissance painting, mostly from Tuscany.
The gallery is present at the most prestigious art and antiques fairs in Europe and the United States. These fairs include TEFAF - Maastricht, Frieze Masters in London, Palazzo Corsini in Florence, and the Biennale des Antiquaires in Paris.
Although Gianassi's specialism is Italian paintings from the fourteenth to the seventeenth century, in recent years he has gained experience in the field of modern and contemporary work, areas now required in order to have a complete view of the international market.
---
---
Angus Haldane, Consultant Lecturer
Topic discussed: Working as a Dealer
Angus has worked as a senior expert at both Christie's and Sotheby's and has extensive experience of attributing, valuing, and researching pictures from the sixteenth century to the present day. He studied Classics at Oxford University where he was drawn to the field of antique sculpture. He then studied for a postgraduate degree in Byzantine and Early Renaissance art at the Courtauld Institute, before joining the Bridgeman Art Library. It was from here that he moved to Christie's as a specialist in the Nineteenth Century, Impressionist, and Modern Art Department. After some years in this field he moved to Sotheby's to become a specialist in the field of British pictures where he worked from 2002 to 2007 until becoming an art dealer, consultant, and art advisor. He has lectured on the history of art in Italy and Greece, and he is currently writing a book on the portraiture of the English civil war.
---
Tina Rackham, Collector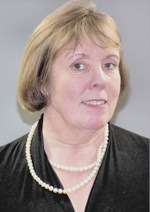 Topic discussed: Working in a Regional Auction House
Tina Rackham is an inveterate collector, as well as an ex-dealer with many years' experience behind her. She is now employed as a fine art consultant and valuer, working with the leading provincial auction house, Canterbury Auction Galleries in Kent.