July 18, 2017, Los Angeles, CA—Jonathan Neil, Director, Sotheby's Institute of Art-Los Angeles announces

 two new appointments in the MA in Arts Management and MA in Art Business programs.
---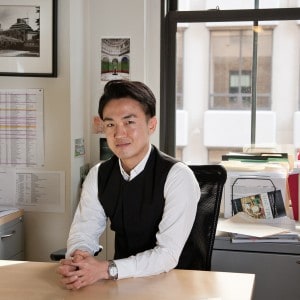 Kibum Kim has been appointed Associate Director of Sotheby's Institute of Art-Los Angeles and Head of MA Art Business.
Kibum has served as Clinical Assistant Professor of Art Business since January of 2016, leading courses in art markets, art law, art fairs, and directing projects in the Startup Studio. In this new role, in addition to his academic appointment, Kibum will oversee Sotheby's Institute of Art-LA's Art Business curriculum in its entirety, charting its direction for the future and working closely with other directors and full-time and adjunct faculty across CGU's other schools and departments as we develop new degree offerings and extra-curricular programs.
Kibum brings to this new position a wealth of experience in the professional art world. He is the Co-Founder and Director of NEWD Art Show, an art fair dedicated to artist-run spaces, non-profits, collectives and independent curators; and he is the owner of Skibum McArthur, a gallery and exhibition platform in Frogtown, Los Angeles. He is also a regular contributor to a number of publications on contemporary art and the art market, most recently the Los Angeles Review of Books.
​Amy Shimshon-Santo has been appointed Associate Director of Sotheby's Institute of Art-Los Angeles and Head of MA Arts Management with a coterminous faculty appointment as Clinical Associate Professor of Arts Management.​
Amy has been​ an adjunct faculty member since 2015, in which she has led courses on social and cultural entrepreneurship and fundraising while also overseeing student capstone projects in our Startup Studio. Amy now joins the Institute as a full-time faculty member and will oversee the Arts Management curriculum in a parallel capacity to Kibum. Amy has already begun re-engineering the Arts Management Practicum sequence and is developing new faculty and courses for the AM program.
​Amy recently completed an MFA in Creative Writing from Antioch University and holds a PhD in Urban Planning with an emphasis in Arts and Community Development from UCLA. She has held positions and taught at UCLA, UC Irvine, and Art Center College of Design. Most recently, she founded CREO Worldwide, an arts and social enterprise consultancy that has worked with Film Independent, Arts for LA, Community Partnership, Kaiser Permanente, and the Chicano Park Museum.​ Her "Creative Justice: Arts and Urban Planning Education for the City," was just recently published in Public: A Journal of Imagining America.