Kibum Kim is the Associate Director of the MA Art Business program at Sotheby's Institute-LA. Having moved from New York to LA three years ago, Kibum shares the differences he perceives in the art world on the two coasts and how LA has nurtured changes in the business models of art institutions.
---
At the moment, LA is really the lab in the art world and—perhaps in the broader cultural domain—for how art can be produced, exhibited, and engage the public in the larger economy. There are incredibly ambitious projects that have launched here in the past few years that don't fit neatly into existing categories. If these projects were developed in New York first, they may not have worked. But there's something about LA—as a physical and psychological space—that conveys a strong sense of freedom and open-mindedness, which makes LA fertile ground for experimentation. Here are three examples of spaces that are pushing the boundaries of their categories: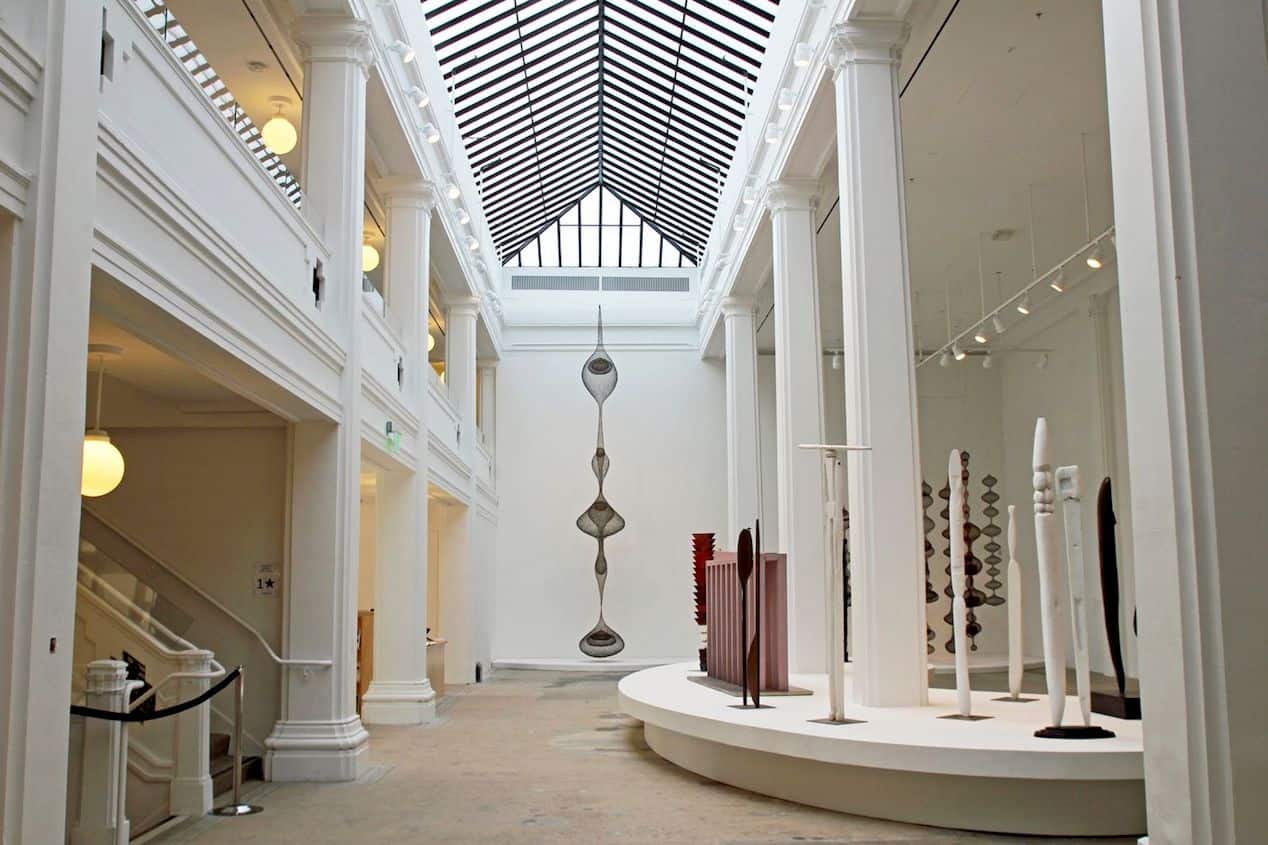 Photo by Carolina A. Miranda
Hauser & Wirth Los Angeles is a gargantuan 100,000 square feet space that looks and functions more like a museum than a gallery, but a museum where one can buy works off the walls. The programming has leaned historical and challenging, with the inaugural show featuring a survey of Post-war female sculptors, and not all the works on display are for sale. The scale at which Hauser Wirth DTLA is pursuing its programming is outstanding. They even have a dedicated education department. With a bookstore, restaurant, and a public courtyard space where they encourage people to hang out, Hauser eschews the hushed white cube commercial gallery model and unabashedly invites the public. It's an interesting experiment.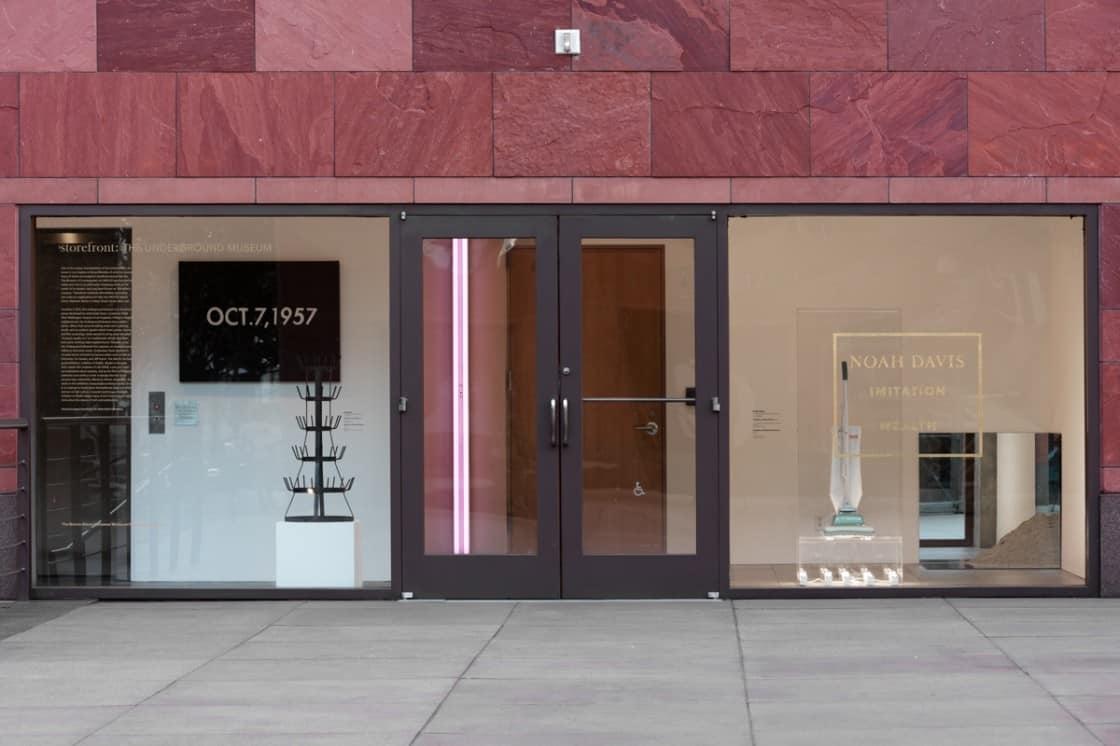 Installation view of storefront: Noah Davis: Imitation of Wealth at MOCA Grand Avenue. Photo by Fredrik Nilsen
The Underground Museum is in Arlington Heights, south of Koreatown. It was the vision of artist Noah Davis, who wanted to bring museum quality art to this underprivileged neighborhood and make it be open and welcoming. A place where people could come hang out and really engage with art and their community. When Noah Davis first came up with the idea, he reached out to museum curators and directors and, of course, they all said no. The primary reason for this was logistical issues. Museum quality works incur tremendous insurance costs and most artwork gets damaged in transit. So a small space, off the beaten path in Los Angeles, poses a big risk. Noah Davis went ahead and created a museum show by himself. He bought an old vacuum from eBay, put it in a plexiglass box, and recreated an iconic Jeff Koons piece from the '80s. He stripped the lights off of the ceiling and recreated a Dan Flavin piece. That kind of DIY, bold move, really resonated. Unfortunately the artist passed away from cancer a couple of years ago but before he died the Museum of Contemporary Art (MOCA) partnered up with the Underground Museum and made its collection available. For 3 years the show at the Underground Museum was curated by Noah from MOCA's collection. So, that's a special story about an art institution that is also redefining itself, but in a way that looks very different from something like Hauser & Wirth.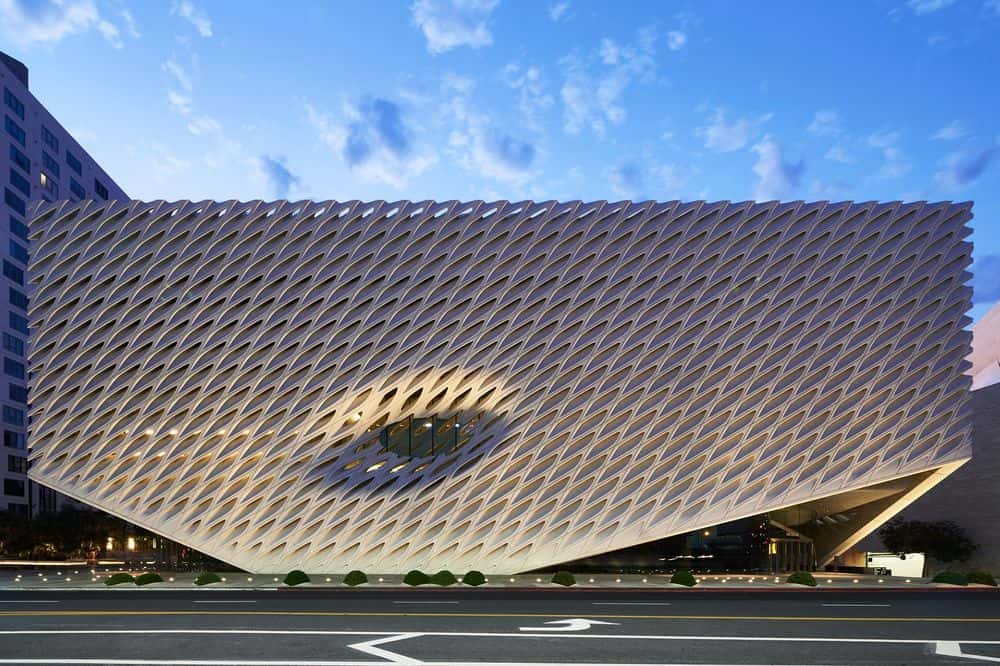 Photo by Spencer Lowell
The Broad is a private museum that opened in 2015 in Downtown LA. It is founded by philanthropists Eli and Edythe Broad, and houses their 2,000-work strong collection. The top floor showcases the permanent collection and the first floor hosts rotating exhibitions, often blockbuster exhibitions like retrospectives of Cindy Sherman, Yayoi Kusama, and Jasper Johns. The museum offers free general admission and hour-long lines usually form around the block. The Broad really has captured the public's imagination and people are excited to go see its very impressive architecture (by New York-based design studio Diller Scofidio + Renfro). Once inside the space, especially the top floor, you quickly realize it's a stunning space in which to view art. The space in built out with this honeycomb-like exterior that lets in natural light.
Even though it is a private museum, the ambition of The Broad is really to act like a public institution. There are a lot of people who go to The Broad who have never stepped foot into MOCA or LACMA. In its first year, The Broad had 800,000 visitors. (MOCA across the street, by comparison, typically receives 250,000 per year.) A few key factors contribute to this success: free admission, spectacular architecture, and an approachable staff that is trained to go up to people and speak to them about the artworks in an accessible way. Eli Broad is known to to have said that his inspiration for the museum was not other art institutions, but the Apple store. He wanted the experience at The Broad to feel friendly and accessible to all.
---
Ready to enter the LA art world? Learn more.