Event Information
When: Thursday, June 27th, 2019 | 6 - 8 pm
Where: P.P.O.W. Gallery, 
535 W 22nd St, New York, NY 10011


This event is free and open to the public. Copies of the book will be available for purchase at the event.



New York New Wave: The Legacy of Feminist Art
Join us in congratulating Kathy Battista, Sotheby's Institute of Art – New York f
aculty member, on the release of her book New York New Wave, The Legacy of Feminist Art. 
---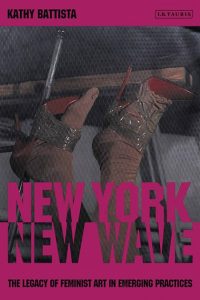 P.P.O.W. Gallery will host a book launch event and panel discussion about the past, present, and future of feminism and art in conjunction with the recent release of Kathy Battista's newest publication New York New Wave: The Legacy of Feminist Art. Organized on the occasion of Prunella Clough's exhibition, Blast, the conversation will focus on the history of women artists and their intersections with the canon of art history, the legacy of second-wave feminist artists today, the current popularization of feminism in the mass-media and digital platforms, as well as the trajectory for the movement in the 21st century. Intergenerational artists Betty Tompkins, Martine Gutierrez and Cindy Hinant will give frank accounts of their engagement with feminism, the art world, and how their histories are recorded. Additionally, P.P.O.W. co-founder Wendy Olsoff will offer a gallerist's perspective on the market and public reception of feminist art. This discussion will be moderated by the author.